Stunning stone entryways, patios, and fireplaces may seem like a distant dream for some homeowners who think features like this are too expensive, time consuming or difficult to install. But Professional Stone Products (PSP) is making projects like this a reality for those who want to finally attack that dream remodel and add an extra touch of beauty to their homes.
Starting in June, PSP will be featuring customizable "Do It Yourself" (DIY) patio kits; a pre-established kit that arrives at your doorstep that you can lay out and put together yourself.
Owner Charles Grimmer encourages novices and veteran craftsmen alike to come down to the showroom located on Mottman Road in Tumwater to see example kits and have their questions answered.
PSP will be hosting an event and barbecue on June 30 from 11:00 a.m to 2:00 p.m. to showcase the latest in self installation home remodel kits. Enjoy grilled barbecue as you chat with knowledgeable staff, tour the showroom and choose from a huge selection of stone styles and colors. There will also be a sale on select products, specifically natural stone pavers and flagstone, with prices cut to wholesale cost.
"Most people are visual, so it's important for them to see pictures, look through catalogs, and see and feel the products in stock," Grimmer says. "This really helps to get the wheels turning and spark new ideas for homeowners."
Since roughly 60 percent of project costs are labor, Grimmer says the DIY kits are the most affordable option for getting the patio of your dreams. Financing options are also available for those worried a project like this won't fit into the summer budget.
Curious customers will be met with knowledgeable staff who can help them narrow down the product they're looking for based on budget, style, look, etc., and will be given samples to bring home upon request. Grimmer says he works closely with customers during the home installation process and encourages homeowners to come back in or contact his staff at any time with questions.
"For any type of home remodel, homeowners who need direction on the basics of stone installation can come in and we will teach, train and walk them through the process," Grimmer says. "We really try to go the extra mile to make their experience as simple and seamless as possible."
Fire Pits and Outdoor Kitchens
In addition to patio sets, freestanding outdoor fire pits and customizable aluminum framed outdoor kitchens are extremely popular items. Priding itself on being a one stop shop, PSP can even supply all the grills, cabinets, refrigerators, ice chests, and much more!
The product line continues to grow and evolve as Grimmer is mindful of his customer's wants and needs. One of their most popular lines, Creative Mines, is a manufactured stone company that produces high quality masonry veneers. Grimmer says this product is on the cutting edge of masonry and PSP was one of the very first businesses in the state to supply it, carrying a larger selection of any of their competitors.
From natural stone to contemporary board form, practical pavers to luxury thin veneers, the product options at PSP are seemingly endless.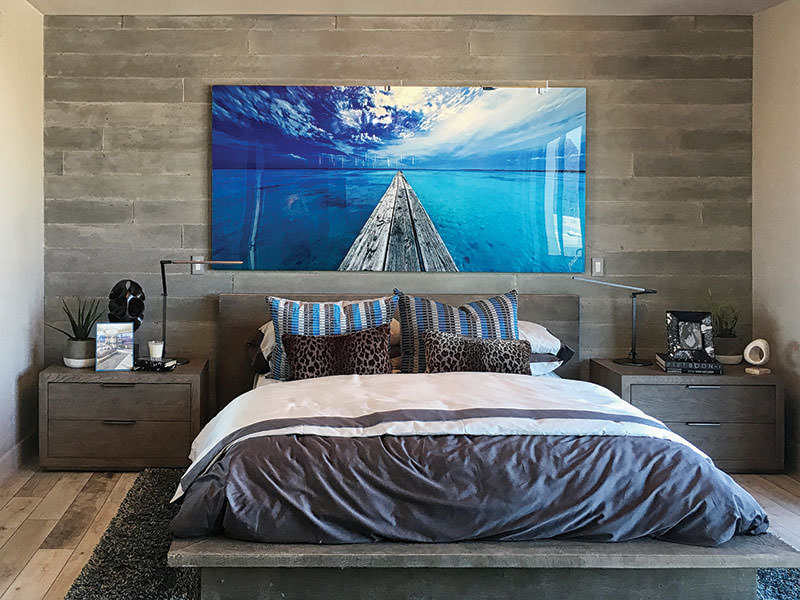 "We try to narrow down the products customers are looking for based on different price points and budget, texture and color," he says. "Once they've decided, they can begin to start the project on their own or hand it off to their builder."
The PSP Difference
PSP prides itself on quick lead times and order turnaround and carrying the biggest selection of premium stone products with over 300 different styles of stone to choose from. Grimmer works tirelessly to select the top-of-the-line stone from different quarries and works closely with multiple vendors to get the absolute best products available.
After finishing his fourth year as a family owned, local business, Grimmer says he's just getting started, but accredits the success to his staff's professionalism and commitment to customer service.
"It's been our busiest year by far and that's because we strive to be the best in every avenue of the business, from products and pricing to service," he says. "It's challenging for sure, but it's extremely rewarding as customers refer PSP to their friends and family. I invite you all to visit our showroom and see the PSP difference first hand and enjoy the fun and exciting experience you can have with home remodeling!"
For more information on the showroom barbecue, check the event website. For more information on PSP's extensive product line, visit the Professional Stone Products website, call 360-489-0763 or drop by their showroom.
Professional Stone Products
2621 Mottman CT SW STE F in Tumwater
Monday-Friday: 7:30 a.m. – 4:30 p.m.
Saturday: 11:00 a.m. – 3:00 p.m.
Sponsored