Every June, we celebrate not only the grads of the region, but also the dads in our lives. While most Father's Day activities revolve around having a barbecue or going to a ballgame, this year we are hoping to inspire and encourage heading out into the great outdoors. Lucky for us, Thurston County is surrounded by

wilderness beauty of all types, perfect for any style or level of nature enthusiast. Whether you are looking for an epic view, a quiet night camping in the woods or a memorable paddle adventure below the Olympic Mountains of Washington State, the perfect Father's Day adventure is just a short trip from home.
Hike the Upper South Fork of the Skokomish
While the masses flock to the more popular hikes on the Olympic Peninsula, those hoping for towering old growth stands along an awesome trail need look no further than the Upper South Fork of the Skokomish. Just over an hour from Olympia, this overlooked trail is open seasonally, perfect for hikers looking for something new and offers great wilderness trekking. With a memorable bridge crossing and then later a ford of the river to reach the other side, this trail can be as easy or difficult as you'd like. Highlights of this trail include giant trees, relative solitude and a chance – for those in good shape – to explore one of the forgotten corners of Olympic National Park. If you need more Olympic Peninsula hikes, pick up one of these awesome guidebooks as a gift that keeps on giving!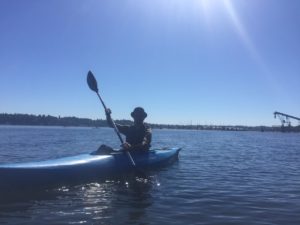 Paddle Budd Bay, Hood Canal or Lake Cushman
Being so close to the Puget Sound, a fjord and amazing lakes, there are numerous options to get out and paddle the scenic waterways of the region. Close to Olympia, getting out on the water is as easy as heading down to Tugboat Annie's and renting a kayak. Perfect for those hoping for a unique view of Olympia, as well as getting up close to some seals, kayaking Budd Bay is scenic, fun and memorable. If you seek to get outside of town, there are great options around the Hood Canal. The first is heading to Alderbrook Resort and renting a kayak or boat to explore Hood Canal. Offering majestic views and unique wildlife, you'll never want to leave these waters. If the salt water isn't what you wish to explore, head west from Hoodsport and rent a kayak at the Skokomish Park at Lake Cushman. Under the stunning mountains of the Olympics, paddling here is as good as it gets.
Climb a Mountain
One of the many great things about Father's Day is that when it arrives, some of the mountain snow has melted. For dads who enjoy incredible panoramas, there are a handful of mountains waiting for you to summit around the region. While you could head east toward the Cascade mountains, your best bet for a snow-free or mostly snow-free peak will be in the southeast corner of the Olympic Peninsula. Here, there are six mountains to climb, each varying in difficulty and views. The most popular, Mount Ellinor, will have snow on it, but just below that, Mount Rose will be accessible for hikers capable of gaining a few thousand feet in a couple of miles.
Catch a Sunset
If your days are already full of activities, don't worry! All around Olympia, awesome spots to catch the sunset are easily found. A few local favorite destinations for a Father's Day sunset are at the end of Marine View Drive past Swantown Marina. Here, as the Olympics loom large to the north, enjoy the last rays of light on Budd Bay. Another great place to see the setting sun and colors is at Boston Harbor Marina. For an added bonus, consider renting a kayak here and being on the water during the last hour of daylight.
Camp at Mount Rainier's Ohanapecosh
On Father's Day weekend, campgrounds around the county fill up as everyone wants to enjoy the warmth June brings. While many will flock to places closer to the I-5 corridor, consider heading to the eastern slopes of Mount Rainier at Ohanapecosh. Surrounded by incredible hiking for the entire family, leading to old growth forests and waterfalls, as well as some challenging hikes to lookout towers for more active campers, staying in the lush forests of Ohanapecosh gets you into the wilderness quick. If this interests you, be aware that the campground doesn't take reservations until the weekend after Father's Day, so sites will be first come first served.
Explore Close to Olympia
Finally, if heading out of town is too much, consider sticking close to home and exploring the parks and natural beauty around Thurston County. With Millersylvania and Tolmie State Parks close to I-5, as well as the always scenic Nisqually Wildlife Refuge, the parks around the region are sure to provide a fun Father's Day walk or picnic on our local Public Lands.