In North Thurston Public Schools, serving others is part of the school culture and the strategic plan. One of the district's core beliefs is that compassionate attitudes and actions create a culture of service, starting with the students.
"I volunteer because it is such a rewarding feeling to know that you made one person's day a little bit better and that they felt touched by your efforts and energy towards them," said Izzy Coulson, an Aspire Middle School 8th grader and an active volunteer.
Research says that habits developed before the age of 10 are the ones we stick with throughout our lives. By encouraging volunteerism at an early age, students—and their community—can reap a lifelong benefit.
"We love our volunteers!" Jeannie Dimico, volunteer specialist for the North Thurston Public Schools (NTPS), shares. "Encouraging our students to become more involved in the community by volunteering aligns with the NTPS strategic plan and core beliefs especially 'compassionate attitudes and actions create a culture of service.' At NTPS, we are committed to excellence: preparing all students for rewarding careers, fulfilling lives, and compassionate global citizenship."
Faculty and staff help students jump right in. "At the high school level, we require students to complete 20 hours of community service as a graduation requirement," says Dimico. "This is an area we are working on especially with the implementation of the varsity letter in community service program and the inclusion of volunteer organizations at the annual college and career fair in October which is available to all students."
Starting in the 2018-2019 school year, students interested in obtaining the new varsity letter can track volunteer and community service hours through the school towards a goal of reaching the 145-hour minimum requirement.
Another community involvement opportunity for students is the 13th annual Kiwanis Day of Champions Track and Field event. This year's meet takes place at South Sound Stadium at North Thurston High School and is open to their students as well as those from the Griffin, Hood Canal, Olympia, Rainier, Rochester, Shelton, Tenino, Tumwater, and Yelm school districts.
More than just a track meet, organizers describe this as "a very unique, non-competitive, highly-modified track and field event designed specifically for students with special needs. This free, all-volunteer event, features modified events such as: big ball, obstacle course, shuttle run, and more."
Karen Schoessel, chairperson for the Day of Champions, is excited by the amount of participation and help provided by NTPS students. "We have over 300 total student volunteers with more than 100 from NTPS (the rest are from Tumwater, Black Hills, Capital and Olympia High Schools). This year we have 760 participants (students with disabilities and challenges)—the largest number ever. The student volunteers always tell us that they get more out of this day than the participants and I believe them. It's a day of a million smiles!"
Another big volunteer opportunity for students happens through "Day of Caring" projects at the middle school level. Students and staff take a day to go out into the community or other schools and work on a particular volunteer project. It started 11 years ago at Komachin Middle School under the leadership of Katherine Davis, a math teacher and advisor. Today students go to over 30 projects every year!
"Tom Condon, Raven Skydancer, our community leader Sarah Ballard, and I developed this service learning day as a way to get students more involved in our community. It has grown throughout the years and I'm thrilled that other schools are now taking part as well. Students come back with amazing stories of how they talked with an 85-year-old man who served in WWII or how they planted over 100 trees in a day. They clean the grave sites at Wolf Haven and read to kindergartners. It changes the lives of many people. It takes a willing staff and the support of our administration, support staff, transportation and all the community partnerships to make it happen!"
Giving back and compassion are a big part of NTPS. Earlier this year Aspire students developed a community-building project 'Start with Hello,' a youth violence prevention program created by the survivors of Sandy Hook. The goal is to build an inclusive community by saying hello to people who might be isolated.
"In the world we live in today, it is extremely important to have a safe, caring, and connected community," said Coulson, the Aspire student. "Your community is like your family in which you need to be safe and be able to connect with. "I hope to continue volunteering by improving my school community and creating an even more accepting place where present and future students feel they can connect with others."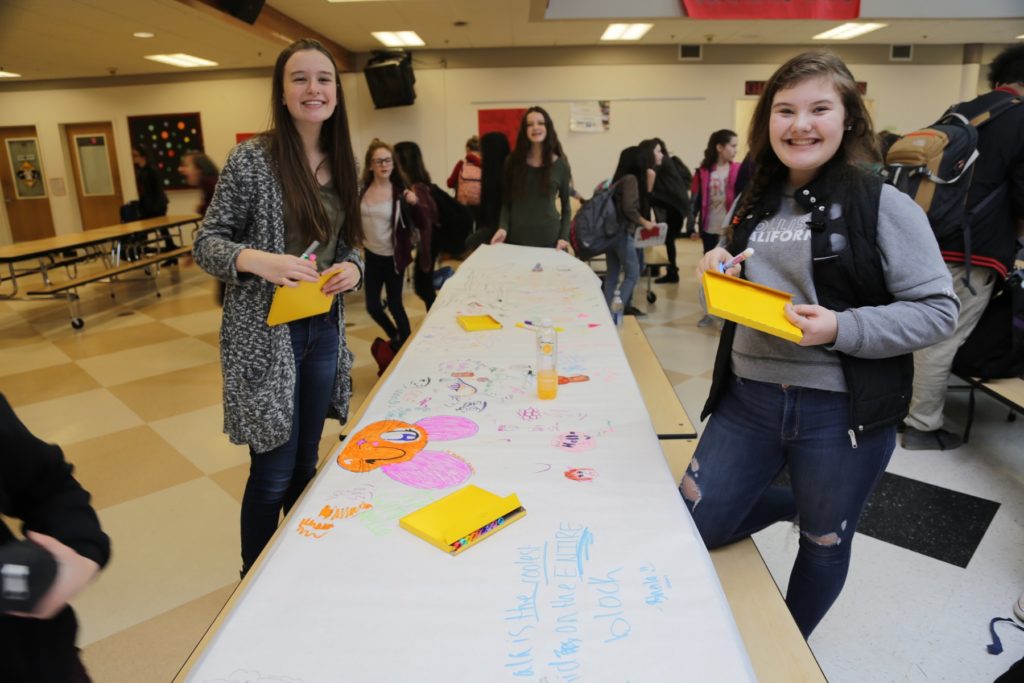 At Chinook middle school students in Mary Robles' Advisory class built "Buddy Benches" for their feeder elementary schools. Materials were donated by their Partner in Education Lewis/Cutler Construction Inc. The benches are designed to give children who might be lonely, or bullied or need a friend a place to sit. If someone sees another child sitting on the buddy bench, they go sit with them or invite them to play at recess.
"Community service can be a great way to learn how to be responsible and how to be a part of your community," said Sofia, a Chinook 8th grader. "When doing community service, even if the project is small and seems insignificant, it can change at least one person's life or perspective."
To learn more about the NTPS volunteering options, email Jeannie Dimico at jdimico@nthurston.k12.wa.us or call 360-412-4451, ext. 40374.
Note: Nationwide, the U.S. Census Bureau reports that 62.5 million volunteers provided 7.9 billion hours of service at a value of $184 billion. But that's still less than 25 percent of Americans. More always helps. Consider finding ways for your family to share their time with an organization, school or neighbor in need. There's no age limit and the rewards are lifelong!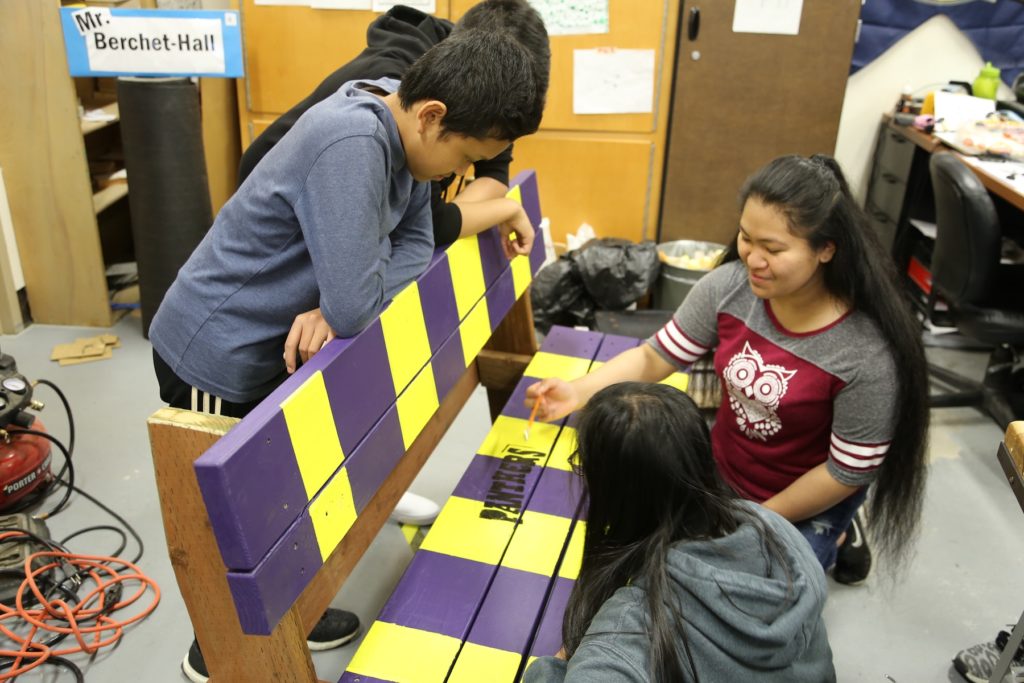 Sponsored