Madi Frampton admits that during her first three years of track the 300 hurdles intimidated her.
"It completely did," Frampton stated. "That event always freaked me out. Actually meets, in general, always made me nervous."

The Black Hills High School senior has definitely shooed away all the butterflies and eliminated any phobias during her final season as she heads into the Class 2A state track and field championships as one of the premier hurdlers in the state.
Frampton and other local athletes will compete in the 2A/3A/4A state championships at Mount Tahoma High School on May 24-26.
Frampton will participate in four events, competing in the 100 and 300 hurdles, the long jump and triple jump.
"You don't see it now because she is just so good," Black Hills coach Brad Dudley said, "but if you had seen her when she started you would be amazed with how much she has improved our her four years here."
Frampton was a gymnast during her elementary and junior high school years before deciding to make the transition to track as a freshman.
She was immediately drawn to the hurdles.
"She wanted to hurdle," assistant coach Andy McLaughlin said. "She was a hurdler from day one. "She can do any event. She's long, tall and very athletic."
"She had the balance because of gymnastics," Dudley said. "And she has length. The big thing she's been working on is the speed. She puts in the work and she just kept getting better and better."
The first time Frampton ran the 100 hurdles she crossed the wire in a shade under 22 seconds. During that same meet she needed a tad over 56 seconds to complete the 300 hurdles.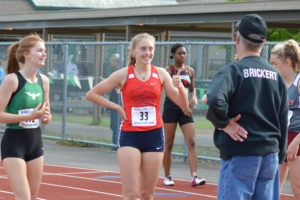 "She's wasn't fast. That's always been her problem all along," McLaughlin said. "This year she has done a lot more running. We've just been trying to get her sprint speed up."
It's worked as Frampton won the 2A District 4 championship in the 100 hurdles in a school record time of 15.01 seconds. It marks the second time this season she has posted that time in the event. The mark also represents the second fastest among 2A competitors in the state this season.
Only Ellensburg's Tia Hill has been faster this year in the 100 hurdles in the 2A ranks, coming into the state meet with a season-best time of 14.63.
Frampton also finished third at districts in the 300 hurdles, stopping the clock in 47.80. Her best performance in the event came at the 54th annual Shaner Invite in early May when she broke the school record with a time of 46.19.
Remarkably, it occurred in the one event Frampton was scared of the previous three years.
"She was intimidated by the 300 hurdles until this year," McLaughlin said. "She would always run it and she did well in it, but she would do it was caution. This is the first year she's wanted to work at it. She used to start out pretty slow. Now, she just goes after it. You can see the change in practice. Every day you can't get her away from hurdling. She always asks for one more time. Every day you have to pull her away from it. It's been amazing to see four years of growth."
Despite being reluctant, Frampton finished ninth at state last year in the 300 hurdles.
"This year I kept with it," said Frampton, who also placed fifth in the 100 hurdles in 2017. "Previous years I took some time off. This year I just kept it up and that's made huge improvements."
"She's a thinker," Dudley said. "It didn't take that long, but there was definitely some pains when she started track. She's been working on quickness, working on getting out of the blocks. Before she would worry about false starting. Now, it's just instinct for her. And if she gets out of the blocks people are in trouble."
Hurdles will not, however, be the only event at the state meet Frampton will compete in as she will also look to claim state titles in the long jump and triple jump.
Frampton finished third at the district championship in the long jump with a distance of 16 feet, 7.25 inches and claimed the district title in the triple jump with 35-6.5. Both are personal records for her.
"The thing about Madi is you just want to see her to do well," Dudley said. "She deserves all the accolades she receives because she is just such a great person."