Starting a new business isn't always easy, especially when you have lots of competition. But for real estate brokers Nicole Braam and Chelsea Bamrick they are doing something just right. Recently, their real estate company, Better Properties Lacey was nominated for not just one, but two Best of South Sound Awards. And this comes after only being in business for this past year. "We were really surprised to get nominated as a brokerage because we are so new," Chelsea shares, "but it's very exciting. It just means we are doing something right and makes us want to do even better."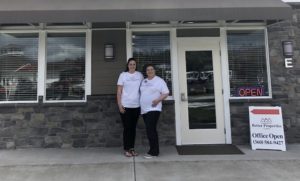 "It meant the world to us that we have made such an impact on our community in a way that people thought of us to nominate for Best of South Sound," Nicole adds.
Although their office is new to the real estate scene, Chelsea and Nicole definitely are not. They have a collective eight years of experience – Nicole has six and Chelsea a little over two. After working together at another office, the two decided it was time to go out on their own and it's proving to be the right choice. Nicole says they have one of the smaller teams in the area, but all are highly trained, educated agents who honestly care about their clients. And they're always on top of the latest trends, even providing weekly free classes for their team. "We're extremely passionate about helping others and making a difference in people's lives," Nicole shares. We want to give them honest and ethical real estate services above all else."
That commitment to excellence shines through with their Better Properties Lacey's recent nomination as one of the top three real estate offices in Best of South Sound. But it wasn't just the office either, Nicole Braam also received a personal nomination for best broker in the area. Chelsea says she was not surprised at all to see her partner nominated. "She's a hardworking, very driven, ethical broker," she explains. "Her client's needs always come before her own and she's very good at what she does."
But Nicole and Chelsea know it takes more than just real estate knowledge to be a great office and top brokers. That's why they are very devoted to being a part of their community as well. As members of both the Thurston County and Lacey South Sound Chamber of Commerce, Better Properties Lacey is making sure people know their name and what they stand for. And they aren't stopping with just the Olympia area either. Many of their team members have military ties, so the pair tells me they make it a point to be involved in activities with JBLM as well. "We really try to make sure we are out in the community, doing open houses and just being a part of everything," Chelsea explains.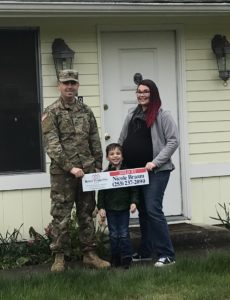 So whether you're in the market to buy or to sell a home, now may be the perfect time to check out Better Properties Lacey and why they're one of the Best of South Sound. "It's definitely a good time to sell," Chelsea advises. "If you have a house to sell, now is the time to do it. We're really focused on making people's hopes and dreams come true and just being a part of things, that's what is important to us. Our reward comes from helping people."
"And we are just getting started," Nicole chimes in.
Better Properties Lacey is located at 3201 Willamette Dr. NE, Suite E in the Hawk's Prairie area and can be reached at 360-584-9427.
Sponsored