Step into Pellegrino's Italian Kitchen, and you may notice something different. The dining areas, both upstairs and downstairs, have received a well-deserved face-lift. The new décor, dining room furniture, murals, and even lighting have added a bright and cheery atmosphere to the family-friendly environment. Behind the scenes, larger renovations streamlined the staff areas, adding a new service station and reorganizing the kitchen to make it more efficient.
But while the appearance has changed, the friendliness, service, and dishes that customers have come to know and love about Pellegrino's Italian Kitchen have not changed. The pasta house continues to serve all its customer favorites, alongside the regularly rotating seasonal specials. Joe Pellegrino, general manager, assures us that the Pellegrino personality customers have come to expect is stronger than ever.
Now it's back to business as usual, but during the remodel, Pellegrino's ran into a few hiccups. One such mini-emergency centered around the drink station, and the renovation could not continue until they came up with a resolution. As good fortune would have it, a representative from L&E Bottling strolled in the door to see how the remodel was going. When they explained to him what the issue was, L&E was able to come up with a resolution that moved the project forward, averting the mini-crisis that was brewing. "He was the exact right person we needed," says Joe, "at the exact right time."
L&E Bottling has been Pellegrino's beverage distributor from the very beginning, and even before that with their previous restaurants and catering business. It is a company Pellegrino's has come to know and trust. That relationship, anticipating and responding to the needs of their clients, Joe says, has been invaluable in Pellegrino's partnership with L&E Bottling. They are practically part of the family. "There have been times we've asked about a product," he continues, "something they don't currently offer, and they find a way to get us what we are looking for whenever they can."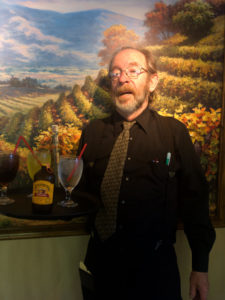 "They have excellent customer service," says Pam Pellegrino, co-owner of Pellegrino's Italian Kitchen.  "Anytime we need anything, they are there." And excellent customer service is something that Pam and her husband Sam know a lot about. With decades of experience in the restaurant and catering business, Sam Pellegrino shares his Italian heritage and hospitality with patrons. Year after year, Pellegrino's is consistently rated as number one in The Olympian's Best of South Sound for "Best Italian Food" and also number one for "Best Takeout" and "Best Catering."
Pellegrino's has been a family affair from day one. Pam tells me that in addition to herself and Sam, all nine of their children have worked in the business in some capacity or another. Many of her children have built a great work ethic and business mindset working for the family business and have since moved on to other occupations, while some like Joe and his sister Maria are hard at work in the restaurant and event center. And now some of their grandchildren work in the family business, too.
If you've never been to Pellegrino's Italian Kitchen, you will be pleasantly surprised. They serve traditional pasta options like spaghetti, fettuccini, and lasagna. But they don't stop there. They offer three different types of tortellini, two dishes of gnocchi, and house specialties like the chicken picatta and Tour of Italy. If you are in search of lighter fare, you will be pleased with five entrée sized salads to fill you up.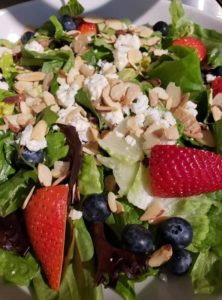 Customers rave about the ciabatta bread with oil and balsamic glaze, the house-made Alfredo sauce, and the Monte Cristo sandwich. If you still have room after dinner, Pellegrino's offers a number of house-made desserts that are sure to satisfy. Try a cannoli, crème brule, cassata cake, or tiramisu. Order one of each and share around the
table. They also offer after-dinner cocktails and coffee.
Sunday through Thursday, Pellegrino's Italian Kitchen offers their sunset dinner special between 4:00 p.m. and 6:00 p.m. Each dinner comes with a salad, a side of ciabatta bread with oil and balsamic glaze, and cassata cake with strawberry topping for dessert. A number of delicious entrees are available with the sunset dinner, such as spaghetti and meatball, chicken fettuccini Alfredo, and chicken parmesan, just to name a few.
Reservations at the restaurant are not required but are encouraged during peak hours. Gluten-free substitutions can be made for a small charge. However, patrons should note that all items are made in a gluten environment.
In addition to Pellegrino's Italian Kitchen, the family runs Pellegrino's Catering and Event Center, which can host small gatherings or large events with catered meals that can either be delivered, provided with full service, or anywhere in-between.
In the fall Pellegrino's Italian kitchen will celebrate its 15-year anniversary. As much as customers have savored the food, most of all they've loved the service and atmosphere for the past 15 years. Even though the dining room is upgraded, Joe assures you, the care in customer service and inviting space for families and friends to gather remain the same.  Come, mangia, be part of the family!
Pellegrino's Italian Kitchen
205 Cleveland Ave SE in Tumwater WA.
360-709-9020, for takeout orders and reservations
Sponsored