Make your way to south Thurston County for free tours, hayrides and educational activities during Prairie Appreciation Day on May 12 from 10:00 a.m. to 3:00 p.m. But bring directions!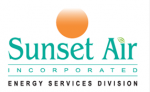 I am completely lost in an area I thought I knew well. With mounting frustration, I wonder why there isn't any cell phone coverage. Why I didn't do a better job printing directions. Why there isn't a map in my glovebox. Eventually, I see a road sign and end up on a well-maintained dirt road. At last, I am certain this is the right spot. Not because of the large, obvious, commemorative sign in front of me, but because of what I can see beyond it – the loveliest color of amethyst resting on the landscape, looking almost like a mist and extending far into the distance. It is breath-taking and my frustration evaporates at the sight of it.
This is the Black River – Mima Prairie Glacial Heritage Preserve. An eco-system so fragile it is only open with reservations and on one special day a year: Prairie Appreciation Day.
Dennis Plank, president of Friends of Puget Prairies, welcomes me. Under his cap and bushy beard is a face that has spent a lot of time on the prairie. He is dressed in all dusty, khaki colors, from his cap to his boots. We are walking behind two county employees, also headed to the prairie. "It is basically several hundred acres of wildflowers," Plank says of Glacial Preserve. "It's hard for people to realize that when Thurston County acquired Glacial, it was literally a field of old growth Scotch broom and now you hardly see any."
Indeed, the "swales," or small valleys within the prairie, are filled with an amazing assortment of blooms and vegetation. In an age of "bigger, faster, stronger" this place calls for slowing down, adjusting your senses, listening. What appears as tall grass, under closer inspection, reveals myriad plants and flowers, birds and butterflies, beetles and frogs. And quiet. "Hear that?" asks Stacy Klein, a Thurston County public information officer, as we approach them. We all stand a moment appreciating the quiet hum of the prairie.
"And you never see three varieties of Camas all clumped together," says Marisa Whisman, motioning in front of her. She is a biologist for Thurston County with Habitat Conservation Plan. She and Klein are here to look over their booth site for the upcoming Prairie Appreciation Day. Both will be here during the event, teaching visitors about prairie habitat and flower identification.
"Marisa makes amazing field guides," says Klein. "A real broad spectrum, young and mature samples. The county will have those at the booth." The two circle around their designated area inspecting plants they will use as examples.
Whisman is pleased with what she sees. "Thank you," she says to Plank, as her eyes continue scanning the ground. "The Collinsia, you never see that anywhere."
Whisman is surrounded by Camus, Indian Paintbrush and, apparently, Collinsia.
In addition to the Thurston County plant identification booth, there will be 17 other booths with plenty of activities for everyone from young children to avid naturalists. This section of the event follows a one-mile trail. "There will be all different aspects of the ecosystem's animals and plants," says Plank, gesturing to the acres of blooming prairie. "You can walk maybe half a mile and then you can catch the hayride back to the beginning or walk back."
For those who want to stretch their legs, there is also a self-guided four-mile trail around the perimeter with interpretive signs.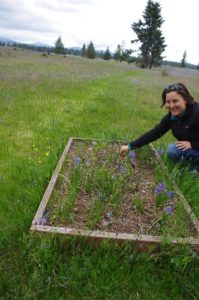 Whether a hiker or stroller, everyone is welcome, says Klein. "Come for a couple hours or half an hour," she says encouragingly. "Just come out. We have water and lots of friendly people here."
At about that time, Angela Winter arrives. She is another biologist, representing the Center for Natural Land Management. She and Whisman immediately strike up a conversation, speaking mainly in Latin. Winter's booth is directly across the way from Whisman and Klein's. Her booth will cover gardening with native plants. "We'll be making seed bombs with native seeds for people to take home and use in their landscaping," says Winter. She has been involved in much of the reseeding and planting on this prairie. As we walk around the outer trail, we come to an area known as "Volunteer Corner." Here is where both Plank and Winter started their work at Glacial Heritage; Plank, with the pulling of Scotch broom and other invasive species, and Winter with the reseeding of indigenous prairie plants.
"The seed program has come a long way," says Winter as they approach the corner. Plank agrees and points out the absence of Scotch broom. "And oat grass," adds Winter. They are standing side by side, surveying where it began – a corner cleared and reseeded by hand that now extends close to 1,000 acres.
While Glacial Heritage is the main attraction for Prairie Appreciation Day, there are four other sites included in the event: Mima Mounds with paved trails; Shotwell's Landing, a native plant garden and seed nursery; Violet Prairie, a seed farm with rows of blooms; and Colvin Ranch, an example of a working prairie ranch. All tours begin at 10:00 a.m. excluding Colvin Ranch which runs from 11:00 p.m. – 3:00 p.m. There is a 7:30 a.m. bird watching tour through Black Hills Audubon Society at Glacial Heritage Preserve. They advise you bring binoculars for this outing. Most visitors bring a picnic lunch and spread out a blanket for a memorable meal. No food is available on-site so pack a meal and go ahead and bring some extra cans for the Thurston County Food Bank.
"So much of it has been paved or taken over with Douglas fir," says Plank. "People drive by on the freeway and see the beautiful blue flowers and they have no idea just a few miles away are hundreds of acres of Camus in bloom."
Plank is right. I was raised less than 10 miles from here and never expected to find such beauty tucked away between the freeway and Mima Mounds. Take advantage of this one-day opportunity to tour this backyard treasure. And, be sure to bring a map.