The annual Oregon Relays is one of the premier high school track and field meets in the Northwest. It has tradition. It has prestige. What it doesn't have, however, is markings for the handoffs in the girls' 4×200 relay – something that brought Capital High School junior Lexi Solis to tears.
Usually when they compete, Solis and her Cougar teammates – Regie Grady, Paris Crawford and Kyra Skipworth – know exactly where they need to be to make the crucial passing of the baton. Taking place at the University of Oregon's Hayward Field, with its college configurations, the Oregon Relays fail to feature such markings at this relay distance.
"It's historic and it's awesome," Grady said about the venue.
And a little bit confusing?
"It is," Grady answered. "It's just set up differently than we were all used to. We kind of went into it blind. It was difficult for all of us."
Both Solis and Skipworth admit to always feeling worried before a race no matter where it's held, but not having the markings increased the usual butterflies in their stomachs tenfold.
"I was a little bit freaked out," Solis said before coming completely clean on the situation. "I actually cried during the race because I was so nervous."
Grady described the race as "less than ideal" due to the awkwardness of the handoffs, but when the clock stopped, it read 1 minute, 48.18 seconds. It was the fastest time among all Washington teams at the Oregon Relays and, at the time, marked the top performance for any 3A program in the state at the distance.
"I think we all knew we ran well," Crawford said, "but the time surprised us all."
For a brief moment, it was the fastest time in the state. It has since been surpassed by a handful of schools, but there's no denying the motivation it has served for the four as they move forward toward the postseason.
"There's been some teams pass them on the list," Capital girls' track coach Kevin Wright said, "but that doesn't mean it's going to stay that way. The Oregon Relays was the actually the last time we had them all together for that event. We're looking for great things out of them."
The team has yet to follow up their Oregon Relays performance due to a handful of circumstances. Solis and Crawford missed a week while participating in the National DECA conference in Atlanta, while Skipworth was sidelined over the same amount of time with a concussion.
The 58th annual Shaner Invitational at Tumwater District Stadium will be their first time running together since April 13. All four expect big things the rest of the season from each other.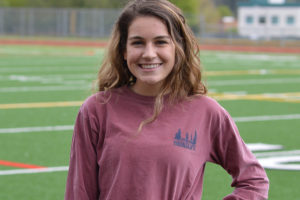 "The meet right after Lexi and I came back from Atlanta, we both PR'ed in the 200," Crawford noted. "We're ready to get back out there."
Grady and Solis were both members of the Cougars' 4×400 relay team that advanced to the Class 3A state meet last year and it was from that experience where this year's squad began its foundation.
"It started out because I really wanted a strong 4×400 team because it's my favorite event," Wright said. "We started putting them together just to see what they could do."
According to all four it was instant chemistry.
"We just clicked," Solis said. "We are all so different, but together we just complement each other out there. Kyra is super encouraging, Paris is competitive and Regie just keeps us all calm."
Or as Crawford put it, "Regie is just Regie."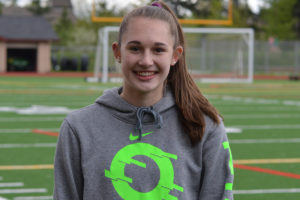 Which means fast as the speedy senior continued her assault on the school record book after setting the Cougars' top 400 time ever at the Shelton Invite on April 28 with a time of 58.26 seconds. She had previously set the school record in the 100 as a sophomore and in the 200 last year.
Should Grady team up with Solis, Crawford and Skipworth to add the 4×200 relay school record to her resume, they would have to better the time of 1:44.25 – set by Emily Enz, Mary Agnes Villanueva, Aubrey Cronk and Tosha Hollingsworth in their third-place performance at the 2009 Class 3A state meet.
"I think when we set (the top time in the state), we were definitely surprised and didn't really think much of it," Skipworth said, "but now that other teams have passed us we need that spot back. It's something everyone is focused on now."
The Cougars will have some time for a little fine-tuning, but not much as the South Sound Conference Championships will open up the postseason on May 10 and 12 in Shelton. From there, the district meet will be held May 17 and 19 with top placers heading to the state meet, which will be May 24-26 at Mount Tahoma High School.