What if instead of walking into your favorite healthy restaurant, you could drive up in your car? Now of course, exercise in any form is great, but maybe you've got tired kids with you or are just in a hurry. It doesn't mean you have to eat unhealthily; now you can hit the drive-thru at MiSo in Hawk's Prairie. "We're trying to help make a healthy lifestyle easier and more convenient," explains Ryan Rommann, who owns MiSo with his wife Leena. "Five years ago if you wanted to eat healthy and get in shape you'd have to cook at home. We want to take the hassle out of eating right. We're really trying to change the way people actually see fast food." At the latest MiSo location, guests can still get the great "Fit, Fast and Fresh" food they know and love, but now even easier with the added drive-thru.
Of course, it's still a great experience to go inside the Hawk's Prairie MiSo with it's perfect blend of modern and rustic design, complete with a jaw-dropping silk cherry tree to greet you. With an easy location just off the freeway, near the Lacey dog park and many other businesses, this may be your new favorite hangout. Because they can now accommodate up to 50 people, this MiSo restaurant is perfect for sports teams, large families, or even a business gathering. And with the warmer weather upon us, guests can now grab a table on the patio to enjoy the sunshine. Ryan says they were very specific about where they wanted to open their second restaurant. "I think we really chose a great location, specifically being in Hawk's Prairie because it's definitely a growing neighborhood," he adds. "There's a great lunch crowd of local workers and then at dinner we get a lot of families."
For those who have never eaten at MiSo, you might not know what to expect for your first time because it's still a relatively new concept. "While people know sandwiches, they often don't know what some of our ingredients are," Ryan explains. "We don't have a crazy number of choices, but they're new choices for a lot of people because no one else is doing this." Leena recommends coming inside for your first time, so you can really get a feel for everything and learn about the many ingredients and choices available. Sometimes it can be overwhelming, but their amazing staff will help walk you through it and answer any questions.
"We are a healthy restaurant with a little bit of Asian flavor," Leena shares. Which means some of their options may leave their guests a little perplexed at first. So let's take the guesswork out of a few of the most popular items. Bibimbap Sauce, a homemade MiSo staple, is a unique and flavorful spicy Korean sauce made from chili paste. Also on the menu is something called kimchi, similar to sauerkraut, made from spicy pickled cabbage. And one of my favorites, the edamame, is a baby soybean. Make sure and also try the mochi ice cream for dessert. What's that? "A sweetened pounded rice cake that almost tastes like a thick marshmallow that's filled with light ice cream," Ryan explains.  Simply put, it's delicious, like everything else I've tried from MiSo.
For those first timers Leena says she often steers them towards the curry chicken, which has just enough heat and tons of flavor. Different from the other curry around town, MiSo puts their own flare on it, while keeping it healthy. In fact, I'm happy to learn most of their meals stay right around 500 calories or less depending on what you decide to put on it. I say pair the tasty curry chicken with their famous corn slaw – a blend of sweet corn, peppers, onions, and mayo. It's made from scratch every day and is always fresh.
Even with a rather unique menu, Ryan and Leena agree that they can please just about anyone that comes in, including kids. "You have to meet halfway, what your market wants and what aligns with your own values," says Ryan. "It's a compromise sometimes. We try to have delicious and hearty food while still being light and healthy." MiSo relies heavily on their customer feedback and is always looking for new ways to serve their guests.
"At the end of the day we are just trying to bring healthy choices to fast food," he adds. "Who knows, ten years from now we might have a different menu. But we'll never not be healthy. That's our one unwavering principle that we're not willing to compromise." Recently, MiSo took suggestions from guests and added ahi tuna to the menu along with a Misorrito, which is a spinach tortilla wrap filled with your choice of ingredients.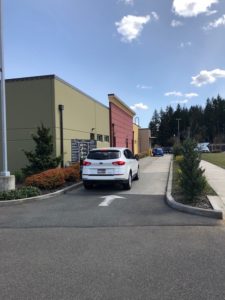 Bringing a healthier fast option to our community, and exposing people to new ideas, has its own personal rewards. Leena says the best feedback they've gotten is hearing from someone who's life is better because of MiSo. "Even if we can just change their lives a little bit, make them a little happier," she says. "It's really rewarding on this end. Those comments and compliments are what keep us going."
Miso at Hawk's Prairie is open seven days a week from 10:30 a.m. to 8:30 p.m. and is located at 2539 Marvin Rd, Suite A in Lacey.  They also participate in Uber Eats and offer catering.
Sponsored