If you talk to anyone involved with the Big Brothers Big Sisters of Southwest Washington, you will hear the passion in their voices – passion for kids, families and providing opportunities for every child. I have heard more than one board member talk about being on "the most fun board in town" and the smiles on the faces of kids who participate says it all.
Being a Big Brother or Big Sister is truly one of the most fulfilling and enjoyable experiences you will ever have. Just ask Amy Evans, who has been on the board of the local Big Brothers Big Sisters chapter for seven years. "I started by being a Big Sister in Montana 13 years ago," shares Evans. "I believe in the hand-up mentality." Evans' "little sister" was the first of her family to go to high school. As Amy explains, "Everyone has their own path and no one is better than another, but I am passionate about helping kids see all their opportunities."
Anyone can be a mentor by getting matched with a child who needs a caring and positive role model in their lives. Simply incorporating a child into your everyday life can make a big difference in theirs. Research has shown that having a one-on-one mentoring relationship with a child facing adversity can have measurable and transformative impact on that child's life.
What if you aren't in a place in your life where you can volunteer? Big Brothers Big Sisters of Southwest Washington has created lots of fun ways for anyone to support the organization by raising much needed funds to match as many kids with mentors as possible, including Rock 'n Bowl for Kids' Sake. Rock 'n Bowl for Kids' Sake is a great way to get involved. The event will take place at the Westside Lanes on May 18 and 19, 2018.
Create a team of four to six friends and collect pledges from friends and family members. Each bowler is encouraged to raise a minimum of $75 to join in the fun, but why stop there? Form a team at your workplace and create a friendly competition with a match from your employer. In the past, local banks have brought teams to compete against other banks. The biggest rivalry of all is often  between local law enforcement and fire departments, and they're ready to face off this year, ditching their badges for bowling shoes.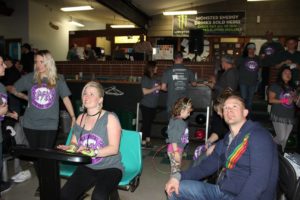 Being a good bowler is definitely not a requirement, but your creative spirit will be tested as teams are encouraged to decorate their team shirts with the provided materials at the tables set up during the event. This family-friendly event will provide bumpers for the kids and snacks at every lane. A no-host bar and a modified menu will be available at the snack bar.
It is Big Brothers and Big Sisters so the adults can't have all the fun. Capital High School DECA student Isabela Valdenegro is serving on the committee and excited to get her fellow students involved. Isabela has participated in the bowling event in the past with her mom and step-dad and volunteered this year to help organize the event. Isabela is the Vice-President of Social Media and Public Relations for her DECA chapter and has created a Value Village fundraiser to help support the event. "Our DECA officers plan to be on a team and bowl, but we wanted to find a way for everyone to help," she says. Students will collect used clothing items and the money raised will go directly to Big Brothers Big Sisters. "It is such a wonderful organization and I definitely plan to be a Big Sister when I am old enough," she adds.
Leslie Shahan, Vice-President of Operations at Big Brothers Big Sisters of Southwest Washington, says the Rock 'n Bowl is unlike most other fundraisers. "You don't have to physically train for a  half marathon or climb 1500 stairs, you don't even have to be a good bowler!"
Funds raised from this year's bowling event will help support the Military Mentoring program that provides supportive, school-based mentoring to military-connected students in elementary school. As Shahan shares, "Come and spend a few hours with your squad, a DJ and awesome prizes to celebrate you and the funds that you raised to help create life-changing friendships for youth in our community."
Get your teammates together, lace up your bowling shoes and get ready to Rock 'n Bowl for Kids' Sake!
For more information about Big Brothers Big Sisters of Southwest Washington, visit their website or call 360-943-0409.
Sponsored