Olympia Pet Emergency has officially opened their new clinic location at 4441 Pacific Ave SE in Lacey. The move was spurred by the desire for room to grow and a desire to improve patient care and client experience. The 24-hour emergency veterinary hospital sees people when they are emotionally upset and their pets are suffering. While it's never a good thing when you are at the emergency vet, Olympia Pet Emergency wanted to ensure they are doing all they can to make the experience as easy as possible and the new location provides more ways to do just that.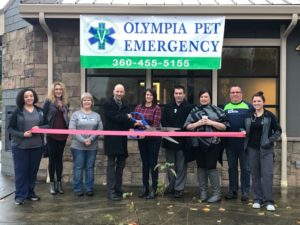 For starters, at 5,400 square feet, their current location almost doubles their size. That extra space is important for a clinic that sees between 2,000 and 3,000 pets annually. They now have four treatment tables instead of two, a larger surgery room, five exam rooms, a separate triage room and new and improved lighting in treatment and surgery areas.
Part of the move also included upgrading their radiology to a digital radiography (DR) system. "This increases our ability to take x-rays more quickly which is important when you have a pet lying on the table," explains Trisha Jones CVPM, hospital administrator at Olympia Pet Emergency. "The patient doesn't have to be on the table as long and the client gets their results more quickly so everyone is happier."
Olympia Pet Emergency also upgraded their endoscope allowing them to perform less invasive surgeries, including removing foreign bodies, without actually incisions. And, they added more monitoring equipment, including mobile monitoring, so that your pet can be watched even more closely when onsite.
Because patients are their number one priority, Olympia Pet Emergency is designed so staff can keep an eye on the pets in their kennels at all times. Even the isolation room was designed with two large viewing windows so staff can check on the animals in quarantine.
The extra space also allowed a special room just for feline patients. "We created cat condos for the patients that need to be more secluded and be away from any dogs, especially if they are loud," says Trisha. "It's right next to our treatment area so they can still be watched by our staff, but it's so much nicer for them. Kitties don't like to be by each other, or really anyone, when they don't feel well, so our new set-up will make them more comfortable."
"Many of the things we've added were done to greatly improve and expand what we can offer for our a pet's care and also for our staff in taking care of pets," says Dr. Blair Burggren, DVM, medical director and associate veterinarian at Olympia Pet Emergency. "It also allows us allow to help more patients."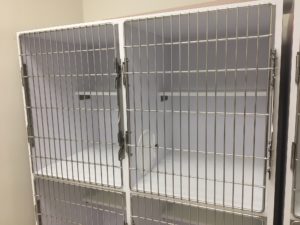 There is a fully-enclosed, secure yard with grass, to, allowing pets outdoor exercise and bathroom breaks. Upgraded security systems ensure everyone – pets, patients and staff – are safe no matter what hour they are at the clinic. "Since we are here 24 hours a day, we wanted to make sure everyone was safe," adds Burggren.
Improved Client Comfort
"We wanted better visibility," says Jones of the old building's hard-to-find location. "Our old place was difficult for clients to find, especially when they were in a panicked state. They were not sure where to turn and there was no sign on the road, which made it difficult to find us." The new building is big and easy to spot with signs on both Lacey Blvd and Pacific Ave.
In addition, the new clinic has upgraded conveniences and comforts for clients. The lobby is larger with a TV and refreshments for those waiting. It also has a kid's corner with stools and a collection of coloring and activity books.
Their new triage room has a side entrance allowing access for patients needing immediate attention without passing through the lobby. Adjacent to this is a quiet comfort room. Furnished with comfy seats and a working fireplace, clients are welcome to stay there as long they need and can leave again through the side door. "It's so hard when you are upset and crying and have to walk back through the lobby," says Jones. "This way, they can stay as long as they need, leave when they wish and not see anyone else. This was really important to us for our clients."
Olympia Pet Emergency is still settling into their new space and will continue to improve the clinic. For example, they have ordered a table and chairs to create a sitting area on the Pacific Ave side of the building, where the Woodland Trail passes by. "It will be a pet friendly, human friendly pit stop along the trail," says Burggren. They are also working on a system allowing clients to check-out from their exam room to keep the lobby from becoming crowded.
At the end of the day, everything in the new building is a reflection of Olympia Pet Emergency's passion to give pets in emergency and often life-threatening situations their best chance of returning home to the family that loves them.
To learn more about the team and the new building, visit the Olympia Pet Emergency website. For emergencies, call 360-455-5155, contact them online or go directly to the clinic at 4441 Pacific Ave SE, Lacey.
Sponsored