Drea Schwaier hasn't been back to the Regional Athletic Complex in Lacey since last year's Class 3A state fastpitch championship game.

"I might have some PTSD when I go back there," the Yelm High School senior said. "I guess I'll be fine if I don't have anyone run into me."
Yelm was a perfect 28-0 and ranked No. 1 in the state when it headed into its state championship showdown against Redmond in 2017. The Tornados won the program's first state fastpitch title in 2004. Notching banner No. 2 appeared to be very much in the works last year.
However, that would not turn out to be the case.
Finding itself in a rare early deficit, the Tornados, who trailed the Mustangs 3-0 midway through the third in the title contest, looked to rally in their bottom half of the inning. Schwaier, a Whitworth commit and last year's 3A South Sound Conference pitcher of the year, stepped up to the plate with the bases loaded. Schwaier made contact, sending the ball down the first-base line. As Schwaier raced to first she collided with the Redmond pitcher, sending Schwaier crashing to the ground. Her pitching hand hit first, breaking Schwaier's fall, but also injured in the process.
Yelm was able to push two runs across home plate that inning to pull within a run at 3-2, but it definitely came at a price as Schwaier, who went an amazing 12-0 with a microscopic 0.61 ERA during the regular season, was unable to pitch after the collision. Redmond would go on to win, 9-5, handing the Tornados their only setback during a simply spectacular season.
Schwaier and her teammates waited nearly nine months to get back out on the field, all harboring the same goal of avenging that lone loss.
"This team is different than other teams," said senior Jaeden Ells, a first-team all-South Sound Conference pick as a utility player last year after hitting .461. "We all have the same goals. We want to go to state, we want to play for each other. It makes it easier. We know the expectations."
Talent-wise, Yelm has little to worry about.
Yes, the team graduated Ally Choate, last year's conference most valuable player, from last season's squad. Choate, who batted an eye-popping .585 for the Tornados in 2017, is now playing at Seattle University.
Few programs could lose such a superstar and fill the void relatively seamlessly. The Tornados happen to be one of the few.
In addition to Schwaier and Ells, Yelm also brings back a slew of talent from last year, including second team all-conference picks in catcher Taylor Gubser and pitcher Tayelyn Cutler, who posted a 5-0 record with a 1.12 ERA during the regular season last year.
So while the team had minimal concerns with its play on the field, that's not to say everyone's mindset at the start of the season was stress-free.
"There was a lot of pressure coming into this season," Ells said. "I think we will felt we had to be the same exact team as last year."
The pressure was not just felt by the players as head coach Lindsey Walton, last season's conference coach of the year, was right there with the team.
"I was putting it on myself for some reason," Walton said. "We had a conversation as a team a week and a half ago. We were all feeling pressure. We had a really good season last year, but we're a different team this year. We win differently, we score runs differently and we're figuring out what our game is."
The team meeting proved to be a highly successful one as all the pressure created through last year's triumphs melted away, allowing Yelm to focus on what they do best, winning fastpitch games.
"Now that we know we're not the same team, we're back to where we were. We're having fun," Ells said. "It's definitely a different team, but we still have the spirit and energy from last year."
Another enormous advantage is Yelm now has the blueprint of what it takes to win a state championship.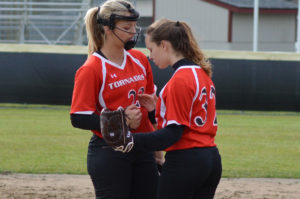 "We know what it takes to get there. We know the work that it takes and the time," Walton said. "It's easier to recognize where we need to make adjustments now. We've noticed we are picking up things faster this year. The girls know when we need to pick up our game, and when we need to be louder in the dugout."
Although it is admittedly a different squad the team is putting up results very similar to last year as the Tornados opened the season a perfect 7-0, outscoring opponents a combined 55-8 with a trio of shutouts.
And as for the pressure?
"There's always pressure. We just approach it differently now," Schwaier said.
So, what's the secret?
"The main thing is we're just here to have fun," said Schwaier, one of five seniors on the roster. "You can't relive your senior year. So, that's what we're going to do this year."