Submitted by Olympia Farmers Market
On Thursday, April 5, the Olympia Farmers Market will celebrate the opening of its 43rd season with the ringing of the bell, entertainment by Tarik and vendor specials.
Beginning on Sunday, April 1, the market will be open Thursday through Sunday from 10:00 a.m. to 3:00 p.m.
Though the Olympia Farmers Market has been open on Saturdays through the winter months, April marks the beginning of the growing season with even more vendors offering, local vegetables, Washington grown fruit, prepared food, artisan crafts, with 8 restaurants, set to live music in a family-friendly atmosphere.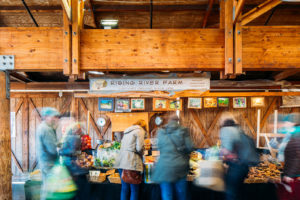 WHAT — The Olympia Farmers 43rd Season Opening Day
WHEN —Thursday, April 5 at 10:00 a.m. – 3:00 p.m.
WHERE — 700 Capitol Way N
FOR MORE INFO —Main Office info@olympaifarmersmarket.com or call (360) 352-9096.
About The Olympia Farmers Market
In operation since 1975, the Olympia Farmers Market is home to over 80 vendors from around South Puget Sound. In the 152 days of our market season, we see approximately 400,000 visitors.
We have a dedicated staff, comprised of two managers and a committed Board of Directors. Our mission is to promote and encourage the development of local, small-scale agriculture and ensure a dynamic market balance for small, local growers and others to make available their products to residents of this community. We are proud to be an active component of the Olympia community for 40 plus years.
Centrally located on the waterfront of downtown Olympia, in close proximity to the Hands on Children's Museum and WET Science Center,  area residents & visitors can enjoy local produce, fresh fruit, artisan crafts, baked goods, meat & dairy, with eight restaurants, all set to daily live music.