People's initial reaction to Paul Tschetter and Greg Schoenbachler's business, Rooted, is usually, "That's weird!" Conversation ensues, and after a few sentences the comments turn to, "That makes sense."  Rooted provides a service for you after your pet dies and answers the question, "What do I do now?"
They skillfully and ecologically honor your companion animals by converting their bodies into a thriving, organic soil that can be used to support plant life or be donated to an outdoor project. More plainly said, your pet is thoughtfully and carefully composted.
Now you might have the same thought, "That's weird." It's important to get the whole picture. The process is tightly controlled and highly technical. Tschetter and Schoenbachler have spent the past two years forming their idea, developing a prototype and building their facility, which is located on a ranch in Tenino. The challenge was to manage the process on a micro level. Schoenbachler has worked in the commercial composting industry for years, but this was different. Their goal was to invent the equipment and systems appropriate for animals weighing less than fifty pounds.
Rooted has designed and produced self-contained vessels where temperature, aeration, moisture and heat are closely monitored and controlled. The remains of your pet are gently and carefully placed within a pod that is primarily filled with organic matter. The containers hold over 700 pounds of material like grass and yard waste.
Over the next eight weeks the pod contents go through a specified series of temperature changes. The initial thermophilic stage maintains temperatures at 55 degrees centigrade. That's hot, about 131 degrees Fahrenheit. Then temperatures are intentionally reduced to allow different microbes to flourish. The third stage, which is around 40 degrees centigrade, (that's still over 100 degrees Fahrenheit) provides time for the media to cure and cool. Schoenbachler handles the operations and explains the science and the sense with enthusiasm. "It's way different than back yard composting," he said.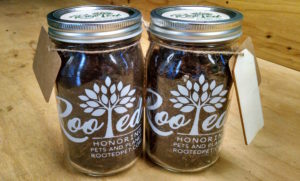 The process is all about balancing the carbon and nitrogen while managing the moisture and maximizing the oxygen.  "We are controlling everything," explained Tschetter. The pods remain stationary and the contents are not churned. Air and moisture are controlled through the bottom and top of the containers. Heat is uniform throughout the pod. "The temperature dictates the purity of the sterilization of the product," he added. The final soil is totally safe for use in your garden or other outdoor project.
Tschetter and Schoenbachler are life-long friends and first met in kindergarten. They attended college together, and their adult lives continued to intersect. "We're both entrepreneurs," said Tschetter. Both men have been involved in a wide range of business activities from commercial composting to real estate. Their joint venture Rooted seemed to be a natural extension of their skills and interests. Tschetter handles the marketing side, meeting veterinarians and connecting with the community. Schoenbachler takes care of the technical operations at their facility.
Speaking from personal experience, it's a sad day when a pet passes away. For me the joy of having a furry feline over time far outweighs the pain of her death. Since our human life spans are longer than our pets, it's inevitable that we will need to deal with our pets' deaths.
People renting houses or living in apartments do not even have the option for a pet burial in their own yard. This is possible for landowners. Washington law allows this, but specifies the manner in which this may occur. Regulations can vary from city to city. When the time comes, you can contact Rooted directly or through your vet. Transportation for the animal will be arranged. When the process is complete, you have a few choices. You can have the organic remains delivered to you in an appropriate pot in which you might plant a tree or other plant. The contents could be added to your garden. You can also donate back to Rooted who will donate the soil for use by groups such as Forterra that are involved in land restoration projects.
My husband and I used to own flip phones. When you opened his phone, my smiling face would appear. My phone, on the other hand, would display my dear feline Missy. We have great love for our pets. Our culture is not especially skilled in talking about death and dying. Fortunately, we are skilled about conversing about ecological impacts. Rooted takes into account our sentiments about our pets and the earth. Rooted offers a brilliant combination of good sense and tender considerations.
Your beloved beast will always live on in your heart. Rooted allows your pet to continue to contribute to the well being of the planet. Now that does a heart good! You can visit the Rooted website for more information or follow Rooted on Facebook.