This year the dental assistant program at South Puget Sound Community College is upgrading its radiography equipment to a new digital Panorex radiograph machine. What does that mean? Well, it means that patients of the SPSCC dental clinic will be able to get fully digital panographic x-rays. It also means the dental assistants training in the program will be familiar with the most up-to-date equipment to prepare them to work at any dental clinic they apply to after they graduate at SPSCC. The Panorex easily provides a full digital picture of the patient's mouth, but getting a full picture of the types of students enrolling in the dental assistant program at SPSCC is a bit trickier.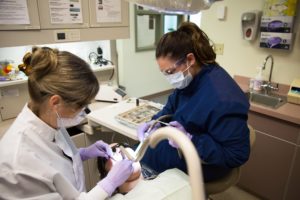 The Dental Assistant program is filled with all kinds of people, but the one thing they have in common is the goal to excel in the program and get the most out of their training.
Three years ago, if you asked Anita Melick where she would be now, she probably wouldn't have told you it would be at SPSCC studying to be a dental assistant. At that time, Anita had a good position at the post office. But then they downsized, eliminating her position. She found herself middle-aged with two teenage kids, going back to school. "You are never too old to learn," Anita says. "Grasp the changes that happen in life and make a great fresh start from it rather than let it hold you down."
Courtney Smith also found herself changing careers after an injury on the job ended her ability to work as an EMT. Already enthusiastic about a career in healthcare, dental assisting seemed like an ideal opportunity.
Meg Smith is a mom of three young children. She wants to complete the program and get a good job at a local dental clinic to support her kids. And she seems on the right path to do it. The Bureau of Labor and Statistics indicates a growth rate of 19 percent in the next ten years for dental assistants, outpacing the average growth rate for all occupations, which is at 7 percent. Most grads, about 90 percent, are hired as soon as they complete the program and some even before they graduate, according to Dental Assisting Program Director Dr. Dana Larson. Students can expect to earn $16-$18 an hour working 8-5 schedules.
All three students attribute their success in the program to the support of faculty and their classmates. "We all spend so much time together that we become sort of like a family, who's there for each other through the good times and the tough ones," says Courtney. Meg agrees.  "We encourage each other and push each other to do better every day," she adds. She and fellow classmates get together and study over pizza.
Meg knows that she will be a valuable employee wherever she is hired because she has learned how to effectively anticipate the needs of the patient, doctor and fellow coworkers. She also has gained experience making temporary crowns, taking impressions, processing radiographs, making custom trays and a whole host of other skills.
Anita hasn't begun looking for a job yet, but she has put out some feelers and three clinics have already encouraged her to apply once she completes the program, so she feels very optimistic about her prospects. Based on their experiences with local clinics so far, Meg and Courtney are equally optimistic about their future employment.
Larson also points out that for dental assistants that would like additional roles in their clinics, SPSCC offers the Expanded Function Dental Auxiliary Certificate of Achievement (EFDA) program. This program is for dental assistants that have 3 years restorative chairside dental assisting experience within the last 5 years and would like to be licensed to place fillings. The program is three quarters of evening classes, and once students complete the program and pass the test for licensure, they can expect to make about $30 an hour.
The American Dental Assistants Association has designated the first full week of March as Dental Assistant Recognition Week. It's a week when dentist around the US and Canada can recognize dental assistants for the variety of duties they perform every day to support good dental care for their patients.
The SPSCC dental clinic offers dental treatment services for about 30 percent less than private dental care facilities. They can perform exams, x-rays, fillings, crowns, cleanings, fit bleaching trays and night guards and simple extractions. More complex cases will be referred out. All treatment is provided by licensed dentists and licensed dental hygienists. Beyond the great value in dental care, you will be providing dental assistant students like Anita, Courtney and Meg an opportunity to practice their skills and gain real life experience under the close supervision of their instructors. To make an appointment, call 360-596-5464.
If you ready for a career change like Anita or Courtney or are looking for a career that can help support your family like Meg, the SPSCC Dental Assistant Program is currently accepting applications until April 2.