Boasting a new logo and a new name, the Olympia Downtown Alliance (formerly Olympia Downtown Association) is excited to announce new services to benefit downtown business owners and the patrons they serve. The Alliance's approach is multifaceted, from advocacy to providing business support tools to downtown event planning and serving as an information hub, the Alliance is ready to meet the needs of the downtown community.
Businesses young and old all have a stake in the success of downtown.
"Oly Fed has been a long-time partner and supporter of the Olympia Downtown Alliance because the organization is at the heart of creating a collaborative, safe, clean and vibrant community," shared Lori Drummond, Olympia Federal Savings president and CEO. "The Alliance is at the heart of creating opportunities where small businesses can thrive and people can enjoy the arts, the waterfront beauty and activities, and its wonderful and unique shops and restaurants. We have been a part of the downtown community for close to 112 years and we're honored to be a part of its rich history as a special destination for our region," Drummond continued.
Downtown Alliance board president Dave Wasson stresses the importance of finding common ground among the various stakeholders downtown and the changing from an association to an alliance reflects that vision. Wasson is also president of Batdorf & Bronson and the company's flagship coffeehouse has been located in the heart of downtown Olympia since 1986.
Cody Goodwin, general manager of Chelsea Oyster Bar and Alliance Promotions Committee member says, "The Olympia Downtown Alliance has done a great job at restructuring itself into an organization that is seeking tangible results through member-oriented action." Though new to downtown at their 222 Market location, Chelsea Farms has had ties to Olympia for the past 30 years.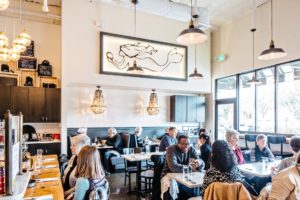 Advocating for high quality development and capital investments is just one of the functions of the Alliance. "Downtown is in the midst of an incredible revival, with many recently completed developments and several new residential and commercial projects on the horizon," shared Ryan Betz, Olympia Federal Savings marketing and public relations manager. "The Downtown Alliance plays a critical role in not only helping with the economic progress of our area, it also ensures we're creating opportunities to further strengthen a network of social and health services to serve the needs of all our neighbors."
In partnership with the Thurston Economic Development Council, the Alliance proudly offers tools to downtown business through the Business Improvement Services (DO-BIS) program which uses City grant funding to provide complimentary one-on-one business coaching for downtown businesses, confidentially addressing their individual needs from management skills to finances.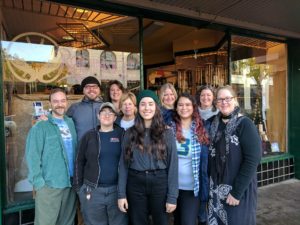 Planning is also underway for the 2018 DO-BIS conference which will be hosted and presented by the Olympia Downtown Alliance with support from the City of Olympia. Goodwin's enthusiasm about the conference is undeniable. "We are busily planning several tracks of classes based on the feedback we received from downtown businesses.  Potential topics include marketing, clean and safe neighborhoods, financial assistance, and business planning."
Additionally, the Alliance hosts downtown training academies presented to local businesses. The most recent meeting hosted the City of Olympia speaking about the implementation of the public safety levy passed last fall and the services of the Ambassadors and Clean Team. Topics vary for the monthly training but all offer timely and relevant information to the local business community.
Along with all these changes, comes a renewed commitment to continue services that have proved valuable to the community over the years. Business listings and a comprehensive downtown events calendar are in the works on a fresh, new website as well. With so many things happening, from major events to visual and performing arts to store promotions, the Alliance seeks to become a consolidated source of information for all the offerings happening downtown.
With Music in the Park is in its 39th year and the success of other events, like Downtown for the Holidays and Sip, Savor and Stroll, the Alliance has plans in motion for a new monthly event, Third Thursday. Goodwin says over 30 business owners recently gathered to brainstorm the new event series. "This level of enthusiasm is a positive sign, and I can't wait to see the results when we have more of the public enjoying our vibrant downtown," he shares.
Downtown events, both beloved traditions and new ventures, will continue throughout 2018 and beyond, brought to you by the Downtown Alliance's event partner Redbarn Communications.
Dean Jones, owner of Encore Chocolates & Tea, is an Alliance board member and chair of the Downtown Vibrancy committee which works to ensure the downtown environment is clean, safe and welcoming for all those that live, work and play in downtown. For any city, this is no easy task, but Jones is optimistic. The Alliance facilitates communication between the City of Olympia and local businesses to meet immediate and long-term needs and find solutions to benefit shop owners, patrons and visitors alike.
However, Olympians aren't the only ones benefiting from Olympia's vibrant downtown. Neighboring communities of Lacey, Tumwater and other smaller towns partake in and enjoy the downtown events and businesses and should consider themselves stakeholders, too. Jones is optimistic that better communication with all municipalities will be beneficial the city's core and all who use it.
The many offerings of the Olympia Downtown Alliance are made possible by the financial contributions of donors and members and a marketing partnership with the Parking and Business Improvement Area (PBIA).
Currently, the Olympia Downtown Alliance has a job opening for an Imagemaker – a marketing coordinator who is creative, organized and passionate about downtown Olympia to market downtown events and build relationships with downtown stakeholders. Applications are due by 9:00 a.m. on March 5.
The new Olympia Downtown Alliance is excited for the future of Olympia's downtown core. By working together with businesses, visitors and citizens, the Alliance sees a bright future for downtown – one that we will all build together.
Sponsored