As a former public-school teacher, I made the assumption, long ago, that I was well-versed in the educational options and opportunities available to our students and families. I believed I saw the shortcomings and successes of every model and while none were exactly, or completely what I knew good education to be, I eventually accepted them for what they were and learned to work as best as I could within them.
All of this changed the day I visited Olympia Community School (OCS).
"The work we do here is all about ownership and partnership between students, teachers and parents," explained Heather Antanaitis, OCS parent. "There is no outside input into how the school is run, the parents themselves are the board and the district. Everything Olympia Community School does aims at nurturing each individual student so that they can reach, and explore beyond, their full potential.
"At OCS, kids have the chance to be themselves and learn about others in a truly genuine way."
OCS was founded in 1973. Their mission is to provide quality elementary education that extends beyond foundational knowledge and standardized exams. They work to instill within children a curiosity for learning, a belief in their unique potential and a drive to participate and contribute to the greater community and world. Professionally certified educators deliver organic, inspiring, child-centered instruction to the school's nearly 40, K-5 students.
This model, while not new in thought, remains a progressive approach to education and as such, an invaluable and necessary component of our community.
Why OCS Stands Above the Rest
The Teachers
OCS currently has three professionally certified educators on staff:
Becky Schmid – Pre-Kindergarten and Kindergarten
Jeriann Schriner – First and Second
Joanna Gibson – Third, Fourth and Fifth
Each educator is responsible for designing and implementing innovative and individualized curriculum. The freedom to create meaningful curriculum, specific to the needs of their students, allows OCS teachers to ensure every learner is engaged at the appropriate developmental level. Coupled with their extensive professional experience and training, teachers at OCS provide an engaging and meaningful classroom experience.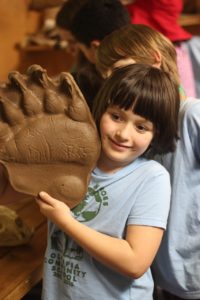 "Students at OCS engage in weekly workshops," shared Becky. "During workshops they lead small, multi-aged groups of peers in activities of their choosing. Students from all grade levels, and their families, have opportunities to teach throughout the year. Some examples of workshops we have done in the past include making bouncy balls, creating plays, making race cars, baking cookies, how to draw flowers, extracting DNA from a strawberry and marshmallow constellations."
The Curriculum
"Teaching at OCS is amazing because there is no adapted curriculum to adhere to" shared Joanna.
"Each teacher explores the state standards for their grades and builds their own curriculum around them."
One way OCS teachers develop curriculum is through thematic inspiration.
"I have been teaching at OCS for over 13 years now, and one of my favorite things has always been our themes," said Jeriann. "Each year, we select a theme that serves as our guide through lesson planning, field trip planning and so much more. Last year we explored Earth Heroes and this year we are all Extreme Explorers."
OCS uses these themes to not only introduce and work through the required standards with the students, but to infuse their studies with topics such as environmental awareness and social justice.
"Parents are required to contribute a minimum of 45 volunteer hours every year," said Heather. "During my time at the school I have seen some amazing things. It's impossible not to notice how advanced each reader is for their age. And in Kindergarten, my daughter is working on math problem solving, building equations from mathematical stories that she has created. It's incredible to hear her and her classmates explain their thinking in such elaborate detail."
The Structure
An undeniable factor to OCS's success is its structure.
"Our class size limit is 14 students," said Jeriann. "Because of these smaller sizes we are able to increase opportunities for one-on-one instruction and cater to every child's individual needs."
The moment you walk in you, you will be taken aback in the most pleasant of ways. From the open spaces to the community tables to the reading nooks. Everything about the school is planned with thought and care. Teachers even make sure every student has rainboots in their cubbies for those inevitably rainy, Northwest play days.
"We chose this school because of their early learning options and we have been so pleased with the teachers and the program," said Heather. "Even in Kindergarten, the students are goal setting. All the work they do is based on how each individual learns and grows."
Like most schools, students have a schedule of enriching electives, but at OCS, parents vote on yearly elective options and students choose on their own which of these they want to participate in from week to week. This year students can choose from music lessons, Joenastics (that's gymnastics taught by Joe!) and Spanish. At OCS, children are empowered to explore learning that interests and inspires them.
The Value of Community
"What I really want people to know about our school is that we really are about teaching and nurturing students to see the value in community, both inside our school and beyond," said Heather.
Whether they are celebrating the holidays together, volunteering, rehearsing for their upcoming play or packing up their gear for a whole-school family camping trip, they are learning the skills and qualities that will make them dynamic, contributing citizens.
"Because of OCS, my daughter continues to grow into a person that inspires me," added Heather. "She has taken the time and effort to learn every student's name in the school. Mentors come in every age and background and she loves school. There is nothing more important than that."
OCS is non-profit. Funding comes from a variety of sources, such as donations, event proceeds and individual student tuition.
"Enrolling your child in OCS is definitely an investment," admitted Heather. "However, there are tuition assistant opportunities and paid parent jobs, that can alleviate some of the cost."
For the last two years, OCS has proudly called St. John's Episcopal Church its home.  As they continue to expand and grow, however, they are searching for a more permanent home in the Olympia area. Anyone with recommendations or connections to possible properties is encouraged to contact Janice Rosen at enrollment@olympiacommunityschool.org or 360-866-8047. Learn more by visiting the Olympia Community School website.
Sponsored