Though the snow may have canceled school and office hours for many around Thurston County, the staff at The Cottages of Lacey weren't going to let a bit snow and slush stop them from their big day of celebrating their grand opening.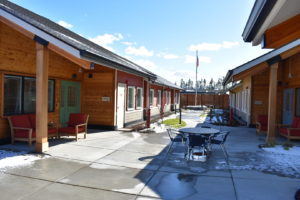 On February 22, 2018, staff was joined by the Lacey South Sound Chamber of Commerce and other community members (including Lacey Mayor Andy Ryder) as they held an official ribbon cutting ceremony for the new senior living community. The Cottages of Lacey is "a memory care community (that) combines the best features of both adult family homes and commercial assisted living communities…an intimate environment where residents receive individual attention provided by a professionally managed, highly trained and compassionate staff, available 24 hours a day and seven days a week."
Team members at The Cottages of Lacey are more than happy to answer questions you may have about how their facility might be the right match for a loved one in your life. Check out photos from the grand opening/ribbon cutting ceremony below.
Visit their website here for more information.
The Cottages of Lacey
8570 Martin Way E
Lacey, WA 98516