Every college campus has a gathering space. A hub for music, sports, community events and carefully organized chaos. At Saint Martin's University in Lacey, this honor falls to the Hal and Inge Marcus Pavilion and Norman Worthington Conference Center.
For 50 years, the Pavilion's distinctive barrel-shape has been the gateway to Saint Martin's Lacey hilltop campus. Divided into the 31,000 square foot Marcus Pavilion and nearly 5,000 square foot Worthington Conference Center, it hosts everything from civic festivals to graduations galore.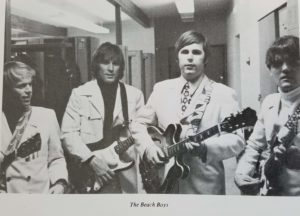 Saint Martin's athletic director Bob Grisham recalls how in its storied past, the Marcus Pavilion has hosted musicians and groups such as the Beach Boys, John Denver, Julio Iglesias, Jefferson Airplane, , The Turtles and Louise Mandrel, and sports teams such as Seattle SuperSonics basketball team and the University of Washington football team…just to name a few.
Saint Martin's works with many community partners to host events that are open to the public. The annual Lacey Spring Fun Fair, sponsored by the City of Lacey and Lacey Community Events, welcomes families for carnival games, pony rides, educational booths and crafts galore. The springtime Capital Food and Wine Festival showcases local food, wines and beers.
Saint Martin's own annual fundraiser, the Saint Martin's Gala, brings to the area black-tie elegance and celebrity chefs. In 2017 alone, this event raised $1.2 million for student scholarships.
But the Pavilion had very slow and humble beginnings back in the 1960s, recalls Tom Barte, Saint Martin's Class of 1968. "I came out to Saint Martin's College in 1964 from New York. When I arrived, the Pavilion was just shell, a foundation. It had a sign out front on Pacific Avenue noting: 'Partners in Progress.'"
"I remember that we were bussed to various high schools in the area (North Thurston and Olympia) to watch the basketball games, as we had no venue on campus," Barte recalls.
In the autumn of 1964, however, students decided to make a change. "In October or November of '64, Mike Waske, the student body president, rallied the students to rise up early on a Friday morning and literally walk to Fife to bring attention to the lack of an on-campus venue," shares Barte. "As it happened, the Fife High School gym was the only venue available for our 'home' game. I remember walking for hours along the railroad tracks and getting as far as South Tacoma Way before I was provided a ride to the game."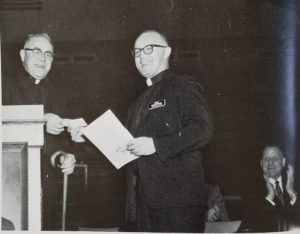 They won the game and kick-started the Pavilion's rebirth, though with a few unorthodox supporters. "It was soon after that walk that things started to happen on campus. There was extensive publicity and Fr. Meinrad Gaul, OSB, a history professor, started pushing his 'cuss jar' fines to enhance the funding for the Pavilion. Fr. Meinrad knew the importance of having a venue and athletic programs. Through his efforts and Fr. Michael Feeney—then Saint Martin's College President—working with the community, the project to complete the pavilion resumed. We started using the building in the fall of 1967 and my class ('68) was the first class to use the building for graduation. Governor Dan Evans was our guest speaker."
The first game played in the new Pavilion was held in November 1967 against Linfield College. Then senior Vince Strojan recalls the excitement that filled the packed gymnasium holding nearly 3,500 fans. Read an account of this historic game, and the beginnings of the Pavilion, in this ThurstonTalk article, including historic images of the '67-68 basketball team.
The Marcus Pavilion was initially named for benefactors Hal and Inge Marcus. Mr. Marcus, a member of the Saint Martin's Board of Trustees for nearly 20 years, passed away in 2017 at the age of 89. The generosity of Hal and Inge '82, who is both an alumna and retired Saint Martin's biology professor, led the school to rename the building after both of them in 2008.
This February 23 – 24, alumni will return to campus to celebrate 50 years of memories in Saint Martin's Hal and Inge Marcus Pavilion during a weekend-long Homecoming celebration. Events culminate in a pair of women's and men's basketball games with tip-off for the women at 5:15 p.m. and the men's game starting at 7:30 p.m. A full schedule of Homecoming weekend events can be found online.
College campuses can seem like 24/7 hubs of activity. They are also centers of civic pride and community history as well as true regional landmarks. The Saint Martin's Pavilion has been a noteworthy destination for 50 years. Here's to 50 more.
Enjoy an online tour or visit the Pavilion at 5000 Abbey Way Southeast in Lacey.