Remember that old proverb about how, for the lack of a nail, the kingdom was lost? The horseshoe lost a nail, so the horse lost the shoe, the knight lost the horse, the battle (lacking the knight) was lost, and eventually, everything fell apart – all for the lack of a nail.
Modern cars do not use nails, but a simple problem can throw a wrench in the works of increasingly complex operating systems. A case in point? At Olympia Nissan, a customer recently had an oil leak in their front timing cover. The problem: in order to take off one of the pulleys to access the cover, a special tool was necessary, one the mechanic they took their vehicle to didn't own. "The customer ended up having to buy a $700 tool just to get a diagnosis," says Jenna Myrfield, service manager.
Such cases are more common than you might think and as a result, getting your car serviced at a dealership can often save both time and money. "Manufacturers have a lot of proprietary information and special tools to diagnose what a car needs and get it fixed quickly and efficiently," says Myrfield. "Sometimes it's not even about an electronic diagnosis. It could just be mechanical repairs."
Dealerships have several advantages over regular auto shops, she contends, and most of them involve access to information. "Manufacturers will send out technical service bulletins and while some are available online to everyone, the newest are not. If a technician finds a problem, we have access to those bulletins to help us identify a proper fix." Lacking the most recent updates, independent auto shops may have to go through all the steps of a diagnosis, using up time and customers' money in the process.
Another advantage is direct communication with engineering service departments. "We can send an email to them and have a field service engineer come out and look at the vehicle," says Myrfield. "They have access to extended electrical diagrams to help them figure out what's wrong with the car."
And then there are those special tools. Recently, Myrfield's father called to ask her about a tire light that was on in his Mercedes. "We don't have the tools or ability to tap into the module to tell him which part of the tire is the problem," she says. "Only Mercedes can do that."
Some clients avoid taking their cars to dealerships for service because they believe it's more expensive. That's a misconception, explains Myrfield. "We spend a lot of time comparing costs to shops around us to make sure we're offering the same service at the same price. If we're talking about an oil change, the difference with us is that you're going to get recommended Nissan fluids and filters."
Customers often visit Olympia Nissan after the wrong fluids were used elsewhere, she notes. "If you put regular transmission fluid into a CVT (continuously variable transmission), it will ruin it. Some places make assumptions about which fluids they can use." Independent shops may also lack the ability to work with specific models. "We have transmission shops towing vehicles into us all the time because they don't have the capability to program the transmission module," says Myrfield.
After dealerships noticed that they were losing customers because procedures like oil changes took too long, they adapted. Chrysler Jeep created Express Lane and Nissan developed Nissan Express. "Customers were leaving because they didn't have two hours for an oil change," says Myrfield. "It's been a learning curve to get everybody on the same program, but now we can do an oil change, tire rotation, and wiper check as quickly and efficiently as Jiffy Lube or Oil Can Henry's. You'll be in and out in less than 45 minutes."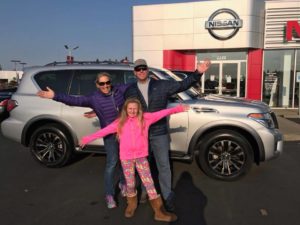 Speedy service can take clients by surprise. Myrfield remembers a woman who had taken her car to two other shops before having it towed to Olympia Nissan to have the engine replaced. "They had told her it would take two months before they could install her engine. For an equal price, we had her car done in a week. She was ecstatic."
Vehicles purchased or traded at a dealership are automatically in the system, too, she notes. "We can track any services done to the car and if it's used, we do initial maintenance before the vehicle even hits the lot to be sold. We can see recommended maintenance and let you know when it's time to do your brakes, for example. You don't have to keep track, which makes life easier."
Dealerships can often service cars more quickly and efficiently and figure out problems faster. In other words, you don't have to lose the kingdom for want of a nail – or a simple diagnostic tool that your dealer has, and your local auto shop may not.
Olympia Nissan is located in the Olympia Auto Mall and is a member of the Bruce Titus Automotive Group.  Learn more about Olympia Nissan by visiting www.olympianissan.com or calling them directly. Sales: 360-754-5525 | Service: 360-528-4791 | Parts: 360-528-4792
Sponsored