Valentine's Day, on its surface, is a day for jewelry, chocolates, flowers and a fancy dinners. That's all fine if you have the money, if you have the time, if you are part of a 'couple' and if you aren't busy raising little humans.
This Valentine's Day, in a hope to rekindle a bit of the magic, I've gathered my top five favorite alternatives to a traditional Valentine's Day agenda. Each activity is easily modified to fit your day, whether you are celebrating with the kids, hanging out with friends or making a special memory with your sweetheart. Even the Valentine's naysayers may just find themselves having a bit of little fun.
No. 5 – Plan a Day of Favorite Things
This fun option is great for kids and adults alike. Start off by brainstorming a list of your family or partner's favorite things and make a day of it. Let's say your list looks like this: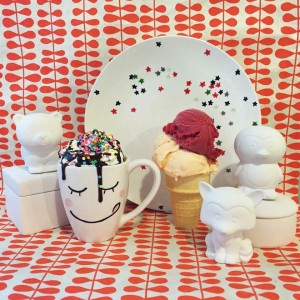 Nature walks
Arts and Crafts
Pizza
Antique Shopping
Ice Cream
Begin the day with a hike through Priest Point Park. Then, head downtown to Painted Plate to create something spectacular to commemorate the day (reservations and walk-ins welcome). While not the only option for lunch, I would recommend Old School Pizzeria and after, you'll want to stop by Finders Keepers Antique Mall with the most amazing treasures tucked away in its seemingly endless nooks and crannies. Finally, end the day with a cherry on top with a visit to Grandpa's Soda Fountain and Ice Cream Bar or, when they are closed, Hawley's Gelato & Coffee.
Working on Valentine's Day? Are the kids in school on the 14th? Easy fix. Plan the agenda, write it up and tuck it in a hand-picked or hand-made card. Your Valentine will love having such a special day to look forward to that weekend or on your next day off.
Planning a day with friends or family who enjoy a bit of competition? Turn the day into a scavenger hunt with a prize at the end. Participants collect items or snap selfies at each stop. For tips on planning scavenger hunts click here.
No. 4 – Start a New Tradition
Instead of exchanging cards and candies, think about starting a new tradition with your partner, family or friends. Wondering where to start? Borrow a few ideas from Old St. Nick.
There are so many fun things to do around the winter holidays. Why not borrow a few for Valentine's Day? Does your family delight in the antics and unpredictable behavior of the iconic Elf on the Shelf? Cupid is known for being just as fun-loving and silly. Do you like to countdown to Christmas with small gifts each day or use an Advent calendar? Start a countdown to Valentines with special notes or sweets to build up to the big day. If you are planning a Day of Favorite Things (see No. 5) you could even have a countdown with daily clues to the activities they can look forward to on Valentine's Day. Fan of Secret Santa?  Try a secret Valentine exchange at work, home, church or among friends
No. 3 – Make Something from Scratch
What better way to spend quality time with the people you care about than by creating something together? Here are a few ideas to get you started:
Make dinner and dessert from scratch
Build a LEGO masterpiece as a team
Gather your favorite photos from the past year and make a scrapbook
Create custom artwork for your home after some online inspiration
Write and decorate letters to loved ones and mail them together
Build and paint bird houses or mason bee houses to get ready for spring
No. 2 – Learn About Love in Another Culture
There are many ways to celebrate love, friendship and family. Here are a few fun traditions from around the world: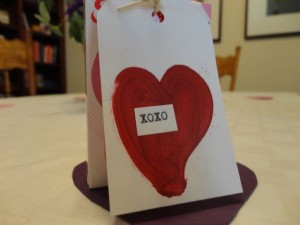 In Norfolk, England, Jack Valentine likes to knock on the doors of children's homes, leaving candies and small gifts on their porches, always running away before they can catch a look.
If you are feeling particularly brave this Valentine's Day, you may want to follow a South African tradition which involves pinning your heart on your sleeve. Each heart displays the name of the person you love – a courageous way to reveal your crush.
Trade in those traditional love notes for laughter. In Denmark, men often celebrate the day by giving women "Joking Letters". These letters contain funny rhymes or poems written on fancy paper, but they never sign their name. It is the woman's job to guess the sender and win a prize if she does.
No. 1 – Perform Acts of Kindness
Perhaps the best idea of them all, turn the Valentine's Day holiday into an opportunity to pay it forward.
Valentine's Day is the perfect day to volunteer or to make a commitment to volunteer. It doesn't matter what you choose – a local soup kitchen or shelter, your children's school, a retirement home, an animal rescue. Research local teams that clean up the environment, like Stream Team, or who pick up clutter in our parks. Check out local organizations like Homeless Backpacks who work year-round providing food and necessities to our neediest community youth.
Use this Valentine's Day to catch up with friends and family. Choose to make the extra effort to have lunch with a seldom seen friend. Have the kids call grandma and grandpa. Send an e-mail to someone you know who might be spending the day alone.
And last, but hardly least, do something for someone who least expects it. Leave a note on a neighbor's door. Offer to run errands or do chores for someone who can't or send a care package overseas to our troops. The goal is simply to try something new and remember that at the heart of Valentine's Day is the message of showing and receiving love, care and kindness. All the rest is just a bonus.
Happy Valentine's Day!
Thrifty Thurston highlights inexpensive family fun in Thurston County. The weekly series focuses on family-friendly activities throughout our community. If you have a suggestion for a post, send us a note at submit@thurstontalk.com. For more events and to learn what's happening in Olympia, Lacey, Tumwater and the surrounding area, visit our complete events calendar.