There is an old saying about towns where shops close early in the day: "They roll up the sidewalks at sundown." I used to feel that way about Olympia, but as more shops and restaurants have appeared in the downtown core, there are more reasons than ever to consider an evening walk or an après theater dessert in downtown Olympia.
The sidewalks are definitely not rolled up in front of Hawley's Gelato and Coffee, located on Washington Street across from The Washington Center for the Performing Arts. In fact, the bistro tables and chairs outside of Hawley's are likely to be filled with patrons enjoying gelato, fudge or a cappuccino up until closing time at 11:00 p.m. on weekends.
Ron and LuWana Hawley have an entrepreneurial spirit that extends through their entire family to include their four children. They spent years talking about opening a family business and looking for the right opportunity. It was almost by accident that they met Tolga Seymen, owner of Nutty Squirrel Gelato.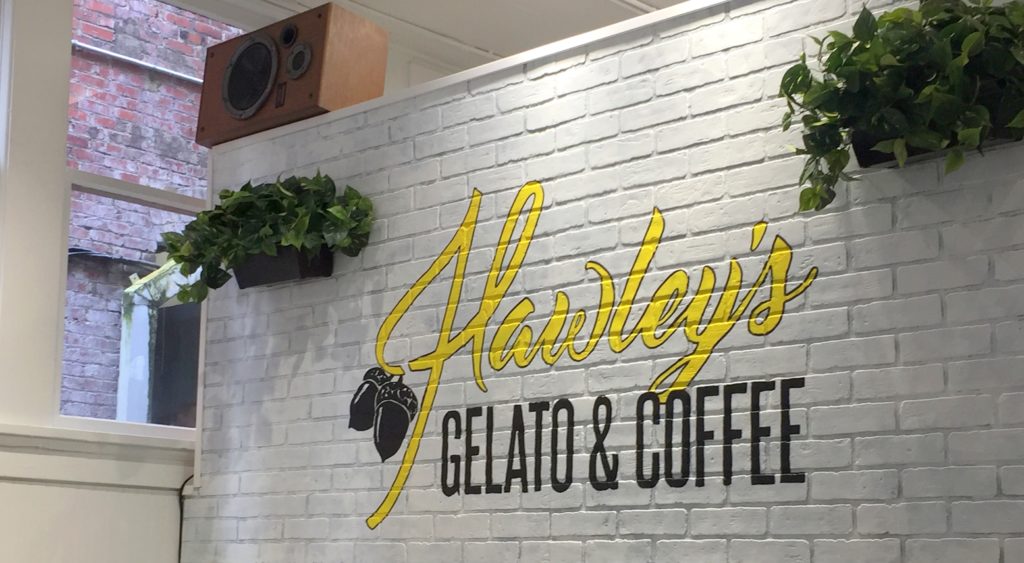 Ron and LuWana's daughter Payton worked at Nutty Squirrel while attending the University of Washington. They got to know Tolga and his family and were impressed by his passion for what he called the "art of gelato making." His shops were family-friendly and the Hawleys loved spending time with Tolga and learning about his craft. It was not long before the family knew that they had finally found their own family business.
Tolga agreed to provide his specialty gelato, voted a world's best gelato finalist in the 2017 World Gelato Tour, and LuWana began scouting locations. Originally looking in Lacey, LuWana happened to see the "For Rent" sign at 511 Washington Street, and she knew it was the perfect site. The built-in clientele of theatergoers just across the street and the charm of the area sold the family and they began renovating the shop, doing most of the work themselves.
Son Aaron is a metalworker and built the tables and fabricated countertops and carts. Daughter Jillian manages the shop's social media accounts and is the creator behind the fine art in the shop. Delaney is the photographer and her gorgeous prints of ballet dancers grace the walls. Payton Hawley is the manager and, as her mother jokes, "keeps the employees (her sibling) in line."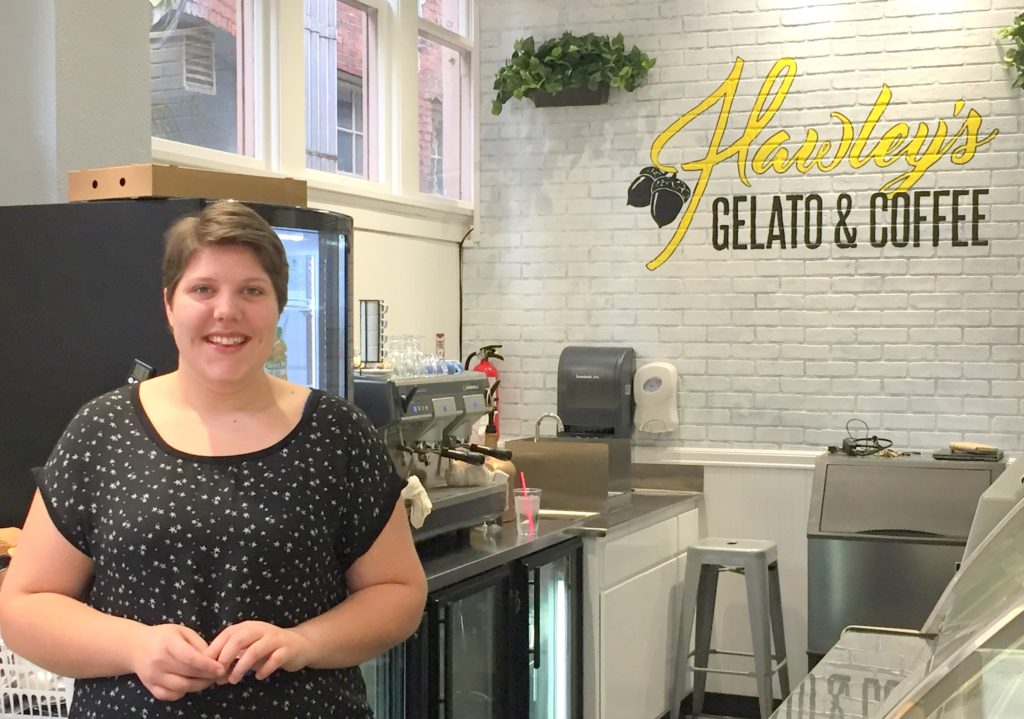 Both Ron and LuWana have full-time jobs outside the gelato shop. LuWana is a marketing, promotions and event specialist at the Lucky Eagle Casino. She arrives at the gelato shop after a full day at the casino, but has always enjoyed being busy. Running a business with her family and being in the shop, designed to be a fun, friendly place for families, makes it a delight. She has even more plans to expand the products in the store to include more candies and gift items.
However, the gelato is the star of the show. The Nutty Squirrel selects the flavors which rotate each week in the shop's case. "We always have chocolate, sea salt caramel, pistachio and staccatelia," shares LuWana. "Those are the top sellers. Then we have up to 14 other flavors to choose from," she adds. Based on the number of fingerprints frequently wiped off the glass, it looks like the delicious flavors are hard to choose between. There are always three to four sorbettos in the case which are vegan and dairy-free. After less than a year in business, Hawley's has already been chosen a Top 10 Gelato Shop in Washington State by the organization, "Washington's Top 10."
In addition to gelato, Hawley carries a large line of calico fudge, which is made in the shop twice a week. LuWana makes the fudge herself in small batches and enjoys coming up with inventive new flavors. S'mores and cappuccino are two of her recent successes. The salt water taffy is new to the shop and already a big seller for locals and tourists wanting to bring back a souvenir from the Puget Sound.
Being supportive of small businesses is important to the Hawley family and informed their choice of Santa Lucia Roasters for their house coffee. Santa Lucia is a small-batch roaster out of Centralia. "They have amazing coffee that many in Olympia haven't been introduced to yet," says LuWana. "We wanted to provide something unique and different." Founded in 2002, Santa Lucia Coffee offers only fair trade, organic beans prepared on a hand-built roaster. If you have not tried an affogato, an Italian dessert consisting of a scoop of gelato topped with a shot of espresso, I suggest you get to Hawley's and start your punch card immediately.
Delaney Hawley loves working downtown. "It is going so well, and I love getting involved in the local community," explains Delaney. "This is our first summer here in the shop and the first Music in The Park was a fun night for us." The Hawleys are members of the Olympia Downtown Association and the Thurston County Chamber of Commerce, networking and connecting with other small business owners throughout the county.
Hawley's Gelato and Coffee is open seven days a week from 11:00 a.m.-10:00 p.m. weekdays and 11:00 a.m.-11:00 p.m. Friday and Saturday. Stop in and say hello to one of the Hawleys. They cannot wait to meet you.