Access to education is a key pillar of the American Dream. For some in our region, it remains just that: a fleeting dream that seems out of reach. But thanks to the tireless work of South Puget Sound Community College (SPSCC) and tribal members – students and educators – of the Nisqually, Squaxin Island, Skokomish, and Confederated Tribes of the Chehalis Reservation, Native students can experience higher education in person, first-hand at the annual FIRE Summit.
The National Congress of American Indians reports that "Only five percent of American Indians and Alaska Natives have received graduate or professional degrees, compared to 10 percent for the total population, and only nine percent of American Indians have earned bachelor's degrees compared to 19 percent for the US population."
However, while these numbers are low, they're trending in the right direction. The National Center for Education Statistics confirms that "the number of American Indian/Alaska Native students enrolled in colleges and universities has more than doubled in the past 30 years."
Since 2008 the FIRE Summit has offered a hands-on day of learning for tribal middle and high school students. Shanon Millman Rodriguez, director of Tribal Programming at SPSCC, explains that "The FIRE Summit gives Native kids the opportunity to see themselves on a college campus and to see that higher ed is something attainable."
"This year it is about creating relationships and giving participants some tools to dream," she continues. "There will be more group activities, interactions with each other, as well as staff, faculty, and students on campus, and a chance to interact with faculty while exploring our program Pathways. I think the goal of the Summit is for Native youth to start getting familiar with college, to hear the language of college, and to create relationships with other Native youth. It also gives the college an opportunity to hear questions and concerns from Native youth."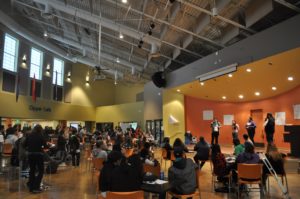 More than just a meet-and-greet, the Summit is a partnership with—and between—local Native American populations. The Nisqually Tribe, the Squaxin Island Tribe, the Confederated Tribes of the Chehalis Reservation and the Skokomish Tribe all actively participate. "The tribes participate in different ways," says Millman Rodriguez. "We have representatives on the committee from the education department and community outreach from the tribes. We also talk to the youth at the four tribes to hear what they want from the Summit. The tribes also are very generous with various donations to help support the event."
Theron Wahkinney attended the Summit in the past and now attends SPSCC where he serves as Senator of Administrative Affairs for their student government and is assisting with this year's event. "I believe the FIRE Summit is a great opportunity to show Native students different options, what college is like, and how they have the ability to succeed in college. We want to show students how education and culture can work together to help all of us."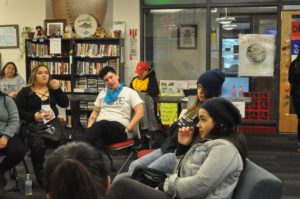 The event is a precursor to an annual FIRE Summit Scholarship. Three $1000 scholarships are granted for SPSCC's fall term. These are open to any current high school student applying to SPSCC who has participated in an indigenous cultural activity or attended the 2018 FIRE Summit. Details and application information can be found on the Summit's webpage.
In the past two years alone, the Summit has awarded five such scholarships. "This year we are doing things a little differently. We are getting the whole campus involved in a way that is really exciting," Millman Rodriguez shares.  In addition, the committee is investigating opportunities to create connection with the Native students year round. "You cannot truly build community with just a one-day event."
Bringing in renowned speakers does more than captivate interest. The Summit grew exponentially in 2015 when celebrated author and filmmaker Sherman Alexie was brought in as keynote speaker. This year's speaker is Louie Gong, an artist, educator and speaker who was raised by his grandparents in the Nooksak tribal community even as he wrestled with his diverse heritage including Nooksack, Chinese, French and Scottish roots. Louie is best known for his artistic work infusing his multi-cultural background into material goods including custom shoes, blankets and accessories through his company Eighth Generation.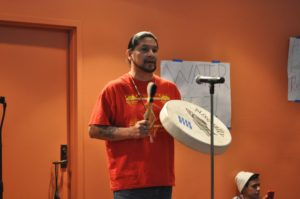 This year's Summit is Friday, February 9. Interested students can register online or contact Shanon Millman Rodriguez  at smillman@spscc.edu. After attending, questions about the scholarship program can be directed to Yolanda Machado, an SPSCC counselor, at ymachado@spscc.edu or 360-596-5318.
It can be scary to take that first step. But knowing there are people to support your path, especially when it comes to education and future careers, can make all the difference in the world. Sherman Alexie once wrote, "The dream he needed most was the dream that frightened him more."
College can seem overwhelming, but thanks to the FIRE Summit, Native students will forge a bond that leads to success.