Brett Stock entered Capital High School four years ago unsure if he would ever play basketball again.
Before his freshman year, Stock had logged plenty of minutes on the court, playing throughout middle school and even during the summer months leading into high school.
But once he became a Cougar, uncertainty set in about his future in the sport.
"I didn't really like the program at the time," Stock said. "I just wasn't into it."
Capital was in a transitional stage back then – new coach, new system and some players had either transferred or elected not to turn out.
Stock fell into the latter.
Then, prior to the start of his sophomore year, Brian Vandiver, who coached Stock in middle school, was hired as the Cougars' head boys' basketball coach – the program's third coach over a four-year span.
"Vandy coming back on board made a big difference," Stock said. "I was still iffy (about turning out) because I hadn't played in a long time. Coach Ross (Erickson) talked to me about being a part of the team and I decided I would try out."
It had been nearly a year and a half since Stock last played organized basketball. The effects of that long layoff were felt almost immediately after he stepped back onto the court.
"That first day of practice," Stock said, "was the hardest day of my life. I really wanted to quit. I'm very glad I didn't."
Stock and fellow seniors Luke Layton, Jack Collard, Dawson Landers and Isaac Yescas have played huge roles in turning around the once dormant Capital program.
When the group entered high school, the Cougars won just three games. They will exit with a conference championship to their credit and back-to-back postseason appearances.
"They've all bought into the concept of team. Our motto is, 'It's all about we, not me,'" said Vandiver, who guided the Cougars to the 3A South Sound Conference title last year, the team's first title since 2008. "This senior group has done a really good job of embracing that."
It's a group Vandiver knows well. His son, Chase, is also a senior at Capital, and while the younger Vandiver doesn't play basketball, he does participated in other sports, including football, with the group and has been friends with most of them since first grade.
"It's been great to see them grow up and mature," Vandiver said. "They've all improved as players. When they were freshmen they didn't have a good year. My first year here we didn't have a good year, but the bar has been raised because of this group. We're trying to establish an identity here. We want to compete, hold each other accountable and play hard-nosed defense. These kids have bought in to what we want to do here."
Last year's conference championship squad featured another strong senior class, headlined by 3A SSC MVP and all-state selection T.J. Mickelson.
That team came within a game of advancing to the state tournament. Several holes needed to be addressed when that group graduated. This year's seniors have more than filled the voids both on the court with its play and off with its leadership.
"Vandy has had a lot of conversations with me and Luke about how to replace the former captains," Stock said. "I didn't play much last year so it kind of freaked me out that they wanted me to be a captain. Those first few games were rough. Vandy got on me a little bit and now I think we have something going here."
One of the main contributing factors of the team maintaining its high-caliber of play, according to Vandiver, was the willingness of the seniors to step out of their comfort zones for the betterment of the team.
"When I first got here, Luke Layton won't talk. Now he's one of our captains," Vandiver said. "If you would have told me Brett Stock would be one of our leading rebounds, I wouldn't have believed you. He didn't want any contact and now he's a force. It's incidents like that. Dawson had no interest in playing defense before, and he's become such a great defensive player this year. Isaac is the most unselfish kid you can ask for, just a team guy, never complains, works his tail off every day. They've all become leaders."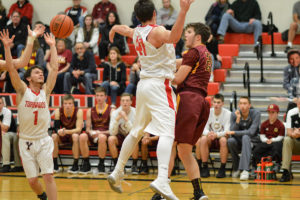 And, they are playoff bound for a second consecutive year.
"Every day I go into practice thinking, 'Is today going to be the day we're going to have a negative practice?' and we don't and it's because of that senior leadership," Vandiver said. "There's a lot of expectations now and it's hard to deal with the weight of that, but this group has been able to manage it and have been successful. To see that transformation on a personal level has been great."
Capital heads to post season play starting February 8.