The buzz surrounding Tenino's new T90 Pizza Company has been germinating for two years and has recently grown to epic proportions. This is evidenced by the buzz of activity on their Facebook page and the fan generated watch page, Tenino Pizza Watch that tracks the Pizza Company's every move. At least epic, by small town standards. The folks in Tenino and the surrounding area are wondering, when will it open and will it live up to the hype?

Juan Martinez of Don Juan's Mexican Kitchen fame is the proud new owner of T90 Pizza Company, along with partners Wayne Fournier, Tammy Schroder and Juan's wife Pascale.  Martinez and his family have garnered a reputation in Thurston County over the last five years for quality Mexican food at their Tenino and West Olympia Restaurant locations. His standards for pizza are just as high.
One might wonder, why pizza?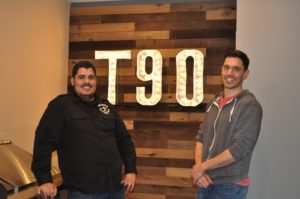 "I just wanted to venture off into something different," says Juan. "Pizza is different than Mexican food. And, there's nowhere to get pizza in town so I thought it was a good opportunity."
In addition to his experience running Don Juan's, Martinez also worked at a pizza shop for three years when he was younger. But it's chef Francesco who really brings the street cred to T90 Pizza Co.
"I am from Italy originally," says Francesco. "I have been in the restaurant business my whole life and I moved to the states 15 years ago. I helped open La Gitana which is a wood fired oven pizza place in Yelm. I worked with them until very recently and then I transitioned here with Juan's new venture. I have been making pizza for many years."
At T90 Pizza Co., the menu will not be limited to traditional Italian styles.
"It's going to be a mix of Italian and American inspired pizza," says Juan "So, we are going to do some fusion pizzas. We're working on perfecting our dough, making it more American style but still with that Italian flavor."
"I think foods," adds Francesco, "just like languages, are mixing together. I'll give you an example. When I was growing up in Italy, the alphabet we learned in school didn't have certain letters. We didn't have the W or the X. Now the language includes those because the language now includes English words. And, food is the same. It used to be strictly Italian, but now it has changed. It comes from people traveling and asking for things. They tell me in Italy now they make pizza with fries on it. And I think people are always trying to do something different. Something that tastes different."
I had the opportunity to sample five different pizzas featuring local ingredients with a group of family and friends. The first out of the oven was a Mexican Pizza on a Sicilian crust with a refried bean base, avocados, onion, cilantro, queso fresco cheese, mozzarella, chorizo, sour cream and Don Juan's orange sauce.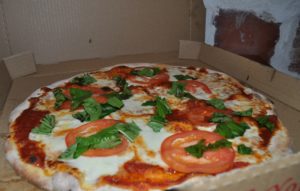 The next pizza was the more traditional Margherita with fresh mozzarella, basil, olive oil and tomatoes. This seemed to be a crowd favorite.
The third pizza at first glance appeared to be a pepperoni but upon tasting, I realized that it was chorizo which was reminiscent of a bacon flavor.
The Pineapple Pizza, of which I'm not normally a fan, was perfect with fresh pineapple, Canadian bacon, mushrooms, cilantro, mozzarella and a dash of barbeque sauce.
The final tasting was Barbeque Chicken on a New York crust. The roast chicken was perfectly cooked with a tangy sauce and mozzarella. For tasting purposes, half the pizza had olives and fresh tomatoes.
After sampling, there is no doubt in my mind that T90 Pizza has everything it takes to live up to the hype and that it will only get better as the business develops.
Some other details that will find their way onto the menu include things like a gluten free crust. Wings and other non-pizza items are in the future, too. T90 Pizza Co. also looks forward to serving a rotation of local beers to their patrons.
The restaurant has indoor seating for about twelve people but the pick-up / drive-thru window will hopefully alleviate any indoor congestion. In the summer, the T90 Pizza team looks forward to using the outdoor seating area.
"We want to have outdoor seating," explains Martinez. "We would like this to be a destination where people can come in the summer, hang out and have events. Have fun stuff happening in Tenino."
Lots of ideas are floating around for the outdoor area including outdoor games, music, food trucks and events like Octoberfest.
And don't worry, delivery is also in the plan, eventually. Just not quite yet.
One of the most amusing aspects of the journey for T90 Pizza Co. is the fact that they have been in the process of opening for two years and Tenino has taken notice. While the question, "When will they open?" has been floated on social media since the signs first went up, it is only in the last few months that Facebook group Tenino Pizza Watch has really taken off. The group was started by Julia Felix, a violin maker whose shop AG Piano and Violin is directly across the street from T90 Pizza Co. It was her vantage point which enabled her to make humorous updates about the progress across the street.
"I had noticed," explains Julia, "that the few times when T90 Pizza Co. posted an update on Facebook, they were met with a lot of comments demanding that they hurry up or saying that it was never going to open, and I felt like that could be channeled into something more fun and encouraging. Initially, I was thinking about it as some kind of a mystery, because it was taking so long to open that it was starting to seem a little suspicious. So that was the angle I used. But soon, I began seeing things happening across the street and it quickly became a process of updating people about the changes that were happening. I was pretty surprised by how quickly the group grew. But it has been really fun connecting with people all over town and I am looking forward to opening day!"
And for T90 Pizza's part, they love the attention.
"Hype is great. It's been great advertising for us and it's going to be worth the wait," says Martinez. "If there's a line around the block. We'll make it work."
"We are very skilled!" adds Francesco with a smile.
Opening day now hinges on the Health Department giving the go ahead. The ovens are warm and ready to go. In the meantime, follow the T9O Pizza Co. on Facebook and keep tabs on when the official opening day will occur.  Then, plan a trip to Tenino to discover the taste behind the hype of T90 Pizza Company.