Submitted by the Olympia Food Co-op Deli Collective
Paul Seimer eats at the Olympia Food Co-op soup and salad bar as often as possible. "I see it as daily medicine, my own healthcare plan that is sane, easy, fun and delicious," says Seimer.  "I love the diversity of the selections, different every day. And I love, love how each item seems to always be made of the absolute best ingredients. The passion of the cooks is clear as day!"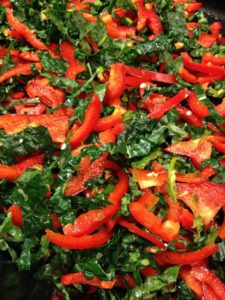 Many of us have had the experience of eating carrots on a salad bars that you can tell were shredded weeks ago and poured from a bag.  The carrots you are munching from the Olympia Food Co-op salad bar were likely delivered from a farm 20 miles away and shredded in our kitchen that morning.  We make soups, salads and pickled vegetables daily, featuring freshly chopped, organic and often locally grown vegetables. Many delight in our homemade garlic-tahini, avocado-cilantro and honey-mustard salad dressings. We make a variety of vegetarian and meat sandwiches 6 days a week. You can even start your morning with organic, gluten-free oatmeal. Check the Olympia Food Co-op website for daily offerings.
Charlie Beck and Charmaine Slaven are full time musicians and travel quite a bit between Seattle and Portland. "We love having the option to stop at the Eastside Olympia Food Co-op.  It's conveniently located to the freeway, we can make a quick stop and get healthy food and beverages from the salad bar, soup counter, or deli cooler. There are also clean, safe bathrooms. We can stock up on quality produce or bulk goods if our home pantry is running low. Our PCC membership is honored. Thanks Oly Food Co-op!"
The Olympia Food Co-op Deli department is a collective inside a collective. We are all managers who care deeply about the quality of the food we serve. We order and receive produce directly from local vendors including OlyKraut, Wobbly Cart Farm, Calliope Farm, Piece by Piece Farm and Rising River Farm.
We turn this produce into delicious and creative soups, sandwiches, salads and salad fixing. That's why you will see an abundance of zucchini dishes midsummer, taste fresh crunchy fennel in your salads and have an array of colorful potato salads this time of year. Local carrots taste ultra sweet. We enjoy supporting the farmers who live, shop and work in our community and we like to bring you delicious, diverse, fresh and healthy dishes.
Callie Jan Mills, medical assistant at Kaiser Permanente, comes to the Olympia Food Co-op salad and soup bar on her lunch breaks because it's the only option she knows in the area for fresh, healthy, organic food. "I can make good choices about the food I put in my body, knowing it comes from local farmers, who I know and want to support. I like knowing where my food comes from and that it's healthy, fresh and local."
For 40 years, the Olympia Food Co-op and our membership have supported local producers in our community. With low mark-ups for local products, every time a purchase is made from our stores, the vendor gets most of the sale. Everybody is welcome to shop. We have two locations, and both stores are open daily, 8:00 a.m. – 9:00 p.m.