Step into the shiny automotive building at South Puget Sound Community College and right away you will notice something that may be unexpected. It could be the spacious size of the building the program moved into just over seven years ago. Or, it could be the spotlessly clean look that makes you wonder if they really work on cars there. But more than likely, it will be the smiling, energetic female faces you see tirelessly hunched over an engine, working on making bio fuel or checking the electrical systems. Norm Chapman, Professor in the automotive technology department has been teaching at SPSCC for over three decades. Chapman shares that over the past five or six years, the program has become roughly 25 percent female.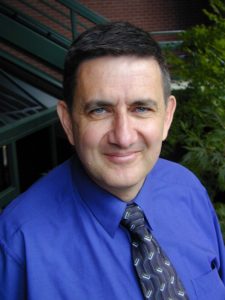 "The industry is changing. It's not a 'man's occupation' anymore," Norm explains. And, the women have found the program on their own. "Word gets out that women can be successful [in this field] and they have an interest in automotive and they just keep enrolling."
For many students throughout SPSCC's programs, a return to school is a decision for a different future. The many career and technical programs, including automotive technology, offer real-world skills that will translate to family-sustaining income when they graduate. "When these women graduate, they will make enough to support a family," says Norm. "And that's incredible for them."
Meet The Students
A handful of these career-minded women were available to talk when I visited and it was inspiring to sit down and talk with them. Each one was so enthusiastic about the program, I found myself asking questions about what certain tools were and how they worked – things I'd never found interesting before. It could be that, as a woman, it was nice to speak to another woman about cars.
Debbie Krzyska
At 61 years old, Debbie jokes that she is a "Jill of all trades and a master of all!" She says she entered the program to learn more about cars because she is, "tired of seeing people get ripped off. Especially women and seniors. It's so unnecessary."
Having worked on cars since the 70s with her dad, she knows a thing or two about vehicles. Even so, she says when she steps into the parts store, she often finds them trying to take advantage of her. "I have to say 'Wait a minute, I am the mechanic, don't even go there,'" she explains. "They will try to take advantage of me but, with my mouth, they never can," she adds laughing.
SPSCC has been an amazing experience for her. This quarter, Norm nominated Debbie for a Transforming Lives Award. She is one of nine students from SPSCC to be nominated for the award, which is given to a student from one of the 34 community and technical colleges in Washington State. Debbie will find out in January if she has won. "I'm grateful for the nomination and for my experience here," she says.
Debbie has just two classes left and has big plans post-graduation. She aims to open her own shop where she will focus on preventative maintenance and offering fair and honest service.
Hallie Green
Hallie's younger brother used to work on her car. When he passed away in 2014, Hallie decided to change up her life a bit. "He is probably the main reason I joined," she says. "I was originally going to go into accounting, but I took one look at the program and decided to do this instead. And, it's more fun."
Hallie, who is 34 years old, has just two quarters left at SPSCC. She already has a job in the industry and reported no challenges finding one, especially since she was in the SPSCC automotive program. She is an express service advisor at Olympia Nissan (part of the Bruce Titus Automotive Group). Jenna Myrfield, the service manager who hired her, says she loves having a relationship with SPSCC and hiring graduates. "It shows drive and initiative in a person to make that commitment," she explains. "I have hired two students so far and hope to hire many more."
Jenna has been in the automotive industry since 1994. "I was excited to hire Hallie," says Jenna. "Her teachers gave her a glowing recommendation. As a female, I have done as much as possible to change the idea of a 'man's world.'"
Jenna currently employs three female advisors and one male as well as one female technician. She hopes the surge in female graduates coming out of SPSCC will allow her to hire more female techs, too. "I will hire anyone who is qualified," she says, noting that SPSCC graduates certainly are.
Hallie is hoping to move up to a service manager position after graduation.
Sarah Harlan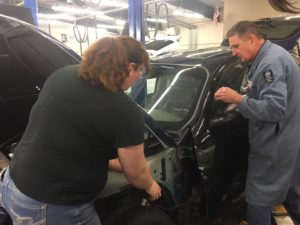 Sarah is a mother of three young children and the first of her siblings to attend college. After losing her job and getting a divorce, she found herself homeless. "I was not happy with my life and I had kids to support. It was then that I decided it was time for a change," she explains candidly. "My dad was a career diesel mechanic and both my brothers are mechanics, so it kind of runs in the family."
Just finishing up her first year, Sarah already has a large accomplishment under her belt – she rebuilt her own engine. She found a PT Cruiser for $400 but it wasn't running. "It had a blown gasket," Sarah explains. "SPSCC gave me authorization to do the engine class early so I could work on my own car in class." The first day of class she towed the car in. On the last day of the quarter, she drove it out.
"It was definitely intimidating walking in and only having one other woman in some of my classes, but SPSCC is very accepting of all the female students," Sarah says.
Sarah would like to find a long-term job at a dealership when she graduates. "I'd like to get hired by a dealership and stay there for my career. I'm looking for stability."
Chevette Nakihei
"I have always been interested in cars," says Chevette. For five years she was a heavy equipment operator in the military at Fort Lewis. "I wanted to work on them, but the only job available at the time was driving them."
That was ten years ago. Now 33, Chevette just moved back to the area from Hawaii and learned about SPSCC's automotive program. Thanks to the college's accreditations, she was able to go through the VA to get her loan.
"I started last winter and I love it," she says. "This place is awesome. The program is awesome. I love everything about it – from the teachers to how we learn and what we learn to the atmosphere and my classmates. I enjoy coming to school."
Chevette plans on having her own shop when she completes the program.
Jessica Lovelett
Jessica wasn't sure what she wanted to do as a career, until a friend got her interested in cars. "He really inspired me. He knew so much about cars and I started to help him and that sparked my interest," she explains. She has two quarters left in the program.
"It's really fun," she says. "I was intimidated coming into the program, but my current classmates really helped me with my confidence. I never had to deal with the 'oh don't let the girl do that' or anything negative, so it's been great."
Jessica isn't sure of her career path after graduation but knows it will involve automotive.
Fostering Success
A common thread from all of these women is the amazingly encouraging atmosphere of SPSCC's automotive program. And a large part of that is the teachers. Chapman, who recently won the Byrl Shoemaker Teacher of the Year Award, says, "They are going to do very well in the industry," noting the attention to detail he sees in his students as they learn very technical skills under his guidance.
In addition, SPSCC fosters business partnerships to help graduates get hired, ensuring their hard work pays off – literally. It's clear these woman are the future of the automotive industry and I for one can't wait to have them helping me with my vehicle.
To find out more about the South Puget Sound Community College Automotive Technology Program, visit the SPSCC website.
Sponsored