He's the unexpected guest, the surprise supporter.
There on the sidelines, as players for the Oly Town Artesians race up and down the field in another soccer match, is Bryan Ketola. It's the last place you'd expect to find him, coaching and helping the local semi-pro soccer team.
That's because Ketola is bound to a wheelchair, unable to walk due to a car accident 25 years ago.

"I just love soccer," Ketola said.
And he loves to be involved, sharing and caring for others.
His focus, his motivation each day, isn't what happened in the past – he broke his neck in a car accident in 1992 leaving him a quadriplegic with limited use of his hands. His focus is on what's next.
Ketola is the encourager, the "let's-go" voice on the Artesians' sidelines.
"I just try to do whatever I can," said Ketola, a 1988 graduate from Olympia High School. "I'm always trying to come up with a new challenge."
Coaching is part of that challenge. So is doing a 3K race each year during Lakefair and a 5K each April Fools Day keeping him fit and engaged.
"I do it every year to give myself a goal each year to keep myself healthy," Ketola said. "Each time I come back and try to improve my time. Each year I do shave off a couple of minutes. This year I probably shaved off six minutes."
Even though Ketola can't walk, he continues to be involved as he tries to payback others for the help he's received over the years. That payback attitude was developed as a child growing up in Olympia. His motivation to help is deeply rooted in how he was raised.
"I think it's the way I was brought up," Ketola said. "Never give up."
It's an outlook that he learned from his parents. "It's kind of a way to tell myself to keep going," Ketola said. "Just keep that drive."
It's not to prove a point. It's to show there are still things to do despite hardships.
"There are physical disabilities out there for me," Ketola said. "But there's always a challenge to life. So you've just got to keep going."
It's easy to give up. It's easy to sit back and say I can't. Ketola has the perfect excuse, a legitimate excuse to simply stay home and watch TV. But he's remained involved, doing what he can. "Some days there are ups and downs," Ketola said. "But Stacey keeps me going."
Three and half years ago, Stacey Simpson came into Ketola's life as his caretaker, assisting with his needs during the day. She was encouraged by friends to take the job.
"They said he's really a great guy. He's in a chair and he gets around very well," Simpson said. "And, they said they thought he'd be perfect for me as a job."
And, it became more than a job and a close friendship resulted. They've even talked about marriage. "I do love him," Simpson said.
She's impressed with Ketola's positive attitude. Last year, they took a trip to Disneyland going on several rides. They both like going to places like Hurricane Ridge for outings and hikes.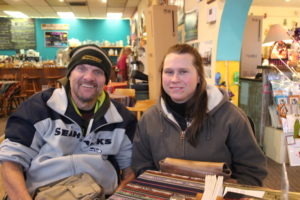 "No matter what's going on in his life, no matter how he's feeling, he still gets up in the morning with a good, positive attitude and keeps pushing," Simpson said. "Puts everybody ahead of himself."
After being a bench coach with the Oly Town Artesians during their regular, outdoor season, Ketola is continuing during the indoor season. If that means helping out programs, selling merchandise or counting how many fans are at the indoor game at the Evergreen State College, then Ketola is ready to help. He helps with Facebook and the photography.
"Whatever they need," Ketola said.
My Life Changed In Seconds
by Bryan Ketola
Walk, Run, Jump: Stop!
Not any more. Why?
When? 4 a.m. on Halloween Morning
5:05 the trooper arrived
My body laying in a ditch, the car was on its side
Made a wrong choice
Knowing I shouldn't be able to drive
People do this. I feel fine.
Wham! In seconds I broke my spine.
Looking up at the dark grayish sky,
asking myself "why?"
Scared, cold, my mind was confused.
The feeling was awkward, I couldn't even move.
As I hear voices in my surroundings,
Knowing I'm still alive.
My life changed in seconds
'cause I was drinking and driving.
The choice I made effects me even today.
I sit in a wheelchair every day.
Through these years, with a positive attitude.
This happened when I was only 22.
Ketola's life changed in 1992 when he totaled his car driving down Rich Road. He had been drinking and after dropping friends off, he was heading home, alone on a rainy night. After spending seven months in the hospital, Ketola's journey began again. This time, in a wheelchair. Rob Ogle, who grew up in Olympia and was also confined to a wheelchair, came into Ketola's life in 1996 offering help and direction.
In helping Ketola become independent, Ogle invited him on a trip to Hawaii.
"That showed me how to be very independent," said Ketola, now 47 years old. "It showed me that I could still do things."
Within a year of his accident, Ketola was visiting high schools across the state, sharing his story and warning kids not to drink and drive – a story that could save lives.
"That's why I try to get out and tell it," Ketola said. "Just always call if you need help. My mom did get that call at 3 o'clock in the morning from a sheriff who said your son has been in a bad car wreck."
Ketola's story is inspirational. It's about overcoming and persevering. Whatever the challenge, whether you're a college student struggling with a class or you're fighting to overcome an illness, Ketola's message is the same. Don't give up. Don't quit.
"It's who you are," Ketola said. "Just don't give up."
He hasn't.