After more than 18 years, the Olympic Flight Museum, just south of Tumwater, leadership has changed. As I sit down with Executive Director Sarah Hinman, I will admit she is not who I expected to be running the museum. But as we begin to talk, I realize she just may be the best thing to happen to this local, non-profit organization.

Sarah first moved to Olympia after high school when her parents decided to relocate. Always interested in helping animals, Sarah worked at many veterinary offices in the area before accepting the executive director position with Concern for Animals. This long-standing non-profit organization is devoted to providing assistance to pet owners who are struggling financially. Sarah says it was a great experience, but after four years, it was time for a change. As luck would have it, there was an opening at the Olympic Flight Museum.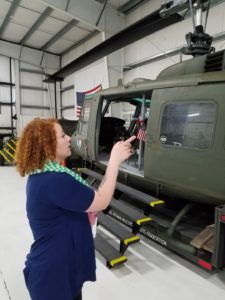 "I've always been around the aviation community, but it's never been a calling to me like it is now. This just made sense. I've spent a lot of time in this hanger before I even considered working here," Sarah explains. With multiple family members in the Air Force and Army and parents who fly radio-controlled airplanes, it seems she was bound to end up somewhere like this. And after meeting with members of the museum's board, she knew this could be just what she was looking for all along. "Luckily it worked out, and they felt the same. So now here I am."
Although the two positions have many similarities, Sarah tells me she is enjoying the respite from dealing with the highly emotional situations animals bring. "I'm pretty accustomed to multi-tasking and having a million different things going on at once, but the difference between a museum and an animal non-profit is the chaos, or what you define as chaos, is completely different."
The new position allows Sarah to bring her love of history and community together while learning more about the aviation field. However, she says it is really the people who have made the transition easy. "I'm extremely humbled by the generosity of everyone here. The volunteers are just incredible. And being surrounded by a group of military veterans just feels like home to me. I love hearing all their stories. The people really make it easy for me to come in and be excited about my position."
Sarah hit the ground running and already has big ideas. "One of the things I really want to start doing is being more actively engaged in the community so that they do know that we're here. And have some features here that make people really want to come in." Most people, myself included, know about the annual Air Show, but the museum itself often gets overlooked.
As Sarah gives me the grand tour, I quickly realize there is a lot here I have missed on previous visits. "You'll see that we have a lot of very personal items from a lot of local people. We get these crazy amazing donations from people all over the place. So, we get people from all over the world that come to see one specific plane or one specific artifact," she explains. In fact, just recently a visitor came in from another country specifically to see a Stearman biplane on display. Sarah says it is surprising to look back on the visitor log and see where people come from.
Also on our tour are displays of old military uniforms, model airplanes and many other aviation artifacts, with more in storage just waiting to be displayed. "I've been trying really hard to create a relationship with the volunteers here because they know about all of this. I am still so new, and I need to hear their stories and what this means to them. And also, what they want displayed because those are the people that lived this." It is those same volunteers who have made it possible to display a fully restored Huey helicopter which guests can climb inside and experience.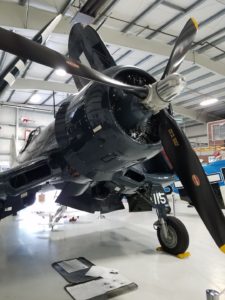 Although Sarah grew up surrounded by aviation, it was never really her interest until she came here and developed a new appreciation for it. "There's just so much history here. Every time I walk through the museum I notice something different. I feel the importance of history is to make sure it doesn't repeat itself and to learn from it. So, if this is my little piece of contributing to that cause, then this is where I am supposed to be."
The Olympic Flight Museum is open Tuesday through Sunday from 11:00 a.m. – 5:00 p.m. and offers a discounted rate for military and children as well as yearly memberships. The museum is also available to rent for private events such as weddings and reunions.