There are few things in the world that suggest permanence and a place in history quite like stone. A man who works with stone can expect, some day down the road long after he is gone, for someone to look on his work and wonder about the hands that cut it.

The same is true for stoneworkers today, whether they look for their own work to be around for generations to come, or they take old cut stone and re-imagine it into something new. That is exactly what Bill Lenker of Lenkerbrook Stoneworks accomplished outside an historic home in Tenino.
"We got the opportunity to build this wall," explains Lenker. "The client contacted me and said she had a bit of stone that she had accumulated over the years. Some of it came out of the Olympus Hotel in Tacoma, some out of foundations in town here in Tenino, and some came out of her father's house that had originally been in a logging camp.  They brought it into town on skids and built the foundation with Tenino sandstone."
That client, Jamie Kenny, lives in the Wichman House in Tenino. Dr. Frederick William Wichman (1877- 1974) was a country doctor who served the area when he moved to Bucoda in 1909 and then relocated to the Wichman House in Tenino in 1914. Doc Wichman at some time treated just about everyone who lived in Tenino, and during his 40 years of practice delivered some 1,500 babies. He was also one of the three signers of the Tenino Wooden Money during the Great Depression.
It is no wonder that Mrs. Kenny is proud of her home's history and wanted to use the opportunity of building a wall to commemorate it, and she contacted Bill Lenker to get the job done.
"We had a mish-mosh of previously used stone that had come from all over the area that we re-milled," says Lenker. "We squared it up on our big saw and tried to make it reusable again for building stone because a lot of it had been rotted out. We had to get back to the core of it because water damage is a reality with Tenino sandstone."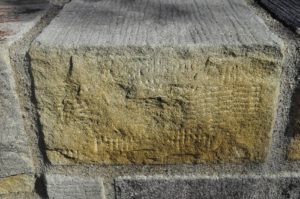 But through this process of chiseling away, Lenker gave the stone new life.
"As we built, we had a finite supply of stone, so we had to be constantly careful to make sure that we could use every square inch of base," Lenker explains.
Kenny acknowledges that this created a unique situation for Lenker. "Usually when he orders stone, he orders by the ton on a pallet. But we have this pile, and it looks like a lot. At the end when we were running low, I would have just thrown the rest on there…but not Bill," Kenny says.
Kenny started scavenging in her yard and found pieces here and there, and even her back steps eventually became part of the wall.  She was surprised to find so much lying around. But even that was not enough.
"Ian, a neighbor, pulled out these pieces," says Kenny of part of the wall. "I was in need, and he said, 'Just take them.' So, it's all Tenino sandstone.  Even the piece from the hotel."
One might wonder with all the years of collecting stone if Kenny had planned on building a wall, "No, I envisioned nothing. I was just hoarding," she laughs. "We didn't even know how much we had because we had it here and there."
But the good news is that Kenny had hired an artist who was eager to experiment.
"As we finished the wall," says Lenker, "all the different themes of each stone started to come out. You have the marks from the shot that they used as an anti-friction device for the gang saws from back in the Tenino sandstone quarry heyday. It looks like bb's, so as the stone is dragged back and forth across, it leaves this sort of tree-bark-looking texture. We did some of our own rock facing, which is when you take a smooth cut and chisel around it and girdle it, so you still have a consistent edge.  Some stone was done by quarrymen, and some stone even came out of the client's father's fireplace, so it was blackened. Each stone has a different story."
Incorporated into Bill Lenker's carefully constructed wall are three carvings by Tenino stone carver, Ed Solerno. There is the large piece which says, "The Wichman House," and includes two dates: 1901, the year the house was built, and 2017, the year the wall was built.
For Lenker it was a great opportunity to collaborate with the Tenino stone carvers.
Lenker had tried his hand at carving Tenino sandstone before when he took a class with Keith Phillips and Ed Salerno through Arbutus Folk School.  "And that was really fun," Lenker says. "Just to have those guys allow us to glean some of their knowledge, and now I'm carving in my barn just for fun. You feel like you're a part of history when you are doing that, too."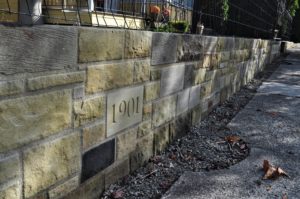 At this point, all those stones show off different hues, but in time they will weather to more consistency. In the meantime, Kenny says when she sits on her front porch on a warm day, she can pick up the scent of the wall, and amazingly, it smells like the beach.
With that scent on the air, one can almost imagine in times long past how the landscape of Tenino once looked, with an ancient sea and tributaries, sea life and sand, where a forested community, nicknamed the Stone City, now sits.