Despite a roster filled with juniors and sophomore – the large majority of which entered the season with no varsity experience – River Ridge is heading back to the Class 2A state football playoffs for a fourth consecutive year.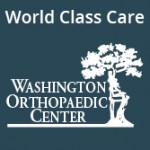 During the November 3 game, Tomasi Manu threw three touchdown passes and added another short touchdown run, the Hawks' defense came up with a late red zone stop and River Ridge dispatched visiting White River, 35-27, in a 2A District 3 playoff matchup at South Sound Stadium.
The win secures the district's No. 4 seed into the state playoffs for the Hawks, who have won three straight and six out of their last seven games after opening the season 0-2.
"We started off really slow this year," Manu said. "We start a lot of juniors and sophomores, and even some freshmen, but we knew we could do it. We have a lot of heart. We come to play with a lot of passion."
River Ridge (6-3) will face defending state champion Archbishop Murphy (9-1) in the first round. The Wildcats, the state's top-ranked 2A team, defeated Lakewood, 43-7, in the district playoff round.
"You want to play that team. Why wouldn't you want a shot to play that team just to play them?" River Ridge coach Steve Schultz said. "We'll go up there and they're supposed to beat us. Maybe being young is going to help us now. We're just going to play our hearts out."
The Hawks defeated W.F. West, 35-7, in the first round of last year's state playoffs, giving the program its first state tournament victory since 1998.
Basically every starter from last year's squad was lost to graduation, leading one to believe the string of state playoff appearances would come to an end this year, but after losing to Capital (20-15) and eventual 2A South Puget Sound League champion Steilacoom (12-6), the young Hawks started to hit their stride.
"These seniors, the five of them, have been in the playoffs every year," Schultz said. "The others when they were in seventh and eighth grade watched them go to the playoffs. So that's all they have known. It showed tonight. We made big plays in big moments."
It was the Hornets, however, who came up with the game's first big play, getting a 60-yard run on their first play before ending their opening possession with a touchdown to take a quick 7-0.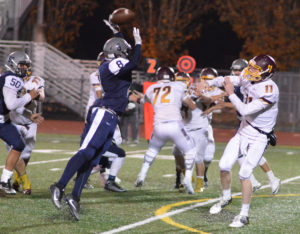 "All year our D would come out, and over half of our games, the (opposing) offense would score a touchdown on their opening drive," Schultz said. "And then on offense we'll go three-and-out. I think part of it is us being young, part of it is coming out and looking at the lights, but then after that they start to play."
That's exactly what the Hawks did as they immediately answered White River's touchdown with one of their own 3 minutes later when Manu tossed a 20-yard TD pass to sophomore Lamar Campbell.
Maleko Mino scampered in from a yard out midway through the second quarter to give River Ridge its first lead of the game at 14-7. Manu would later hit Campbell on a 22-yard scoring strike with 36 seconds remaining in the first half.
The Hornets continued to counter each TD with one of their own, and tied the game up at 21 before the intermission after Jacob Selander returned the ensuing kickoff for a score.
After a scoreless third quarter, Manu scored on a 1-yard touchdown run and later tossed an 11-yard TD pass to Keianu Trinidad to push the Hawks' lead to 35-21.
White River (7-3) cut the deficit to 35-27 with 4 minutes to play and drove down to the River Ridge 18 yard line with a minute remaining, but were turned away by the Hawks' defense in the closing moments.
"Like every single scenario we've had this year's it's been their first, and this was their first playoff game," Schultz said. "They played hard, we found a way to win because that's what we do, but there was some real young moments out there. They made some mistakes tonight that veterans don't do, but we're going to get better."
Timberline stays perfect, Yelm falls in 3A district play
The Blazers got another strong defensive performance as they ran their record to a perfect 10-0 with a 56-20 drubbing of Stadium in a 3A district playoff matchup.
Mason Simeta scored three times, including off a 55-yard interception return, and Jamin Faalogo returned a fumble for a touchdown as Timberline built a 56-7 lead. The Blazers will host a first round state playoff game against the No. 2 seed out of District 8.
Yelm saw its season come to an end with a 32-22 loss to Bethel.
Rainier ends long state playoff drought
The Mountaineers got a huge game out of Zach Lofgren as the junior quarterback threw three touchdown passes, ran for a touchdown, returned a kickoff another score and intercepted three passes to help Rainier secure its first trip to the state playoffs since 1991 with a 47-7 victory over Wahkiakum.