Picking out a new vehicle for the family can be a daunting task, but at Volkswagen of Olympia, they are ready to make it as easy as possible. Personally, I'm someone who loves car shopping, so I jumped at the chance to learn more about what's new with Volkswagen for 2018. Because we are planning to trade in our own car soon for an SUV, I was eager to see Volkswagen's offerings in this class. I'm even more excited after learning Volkswagen offers a six-year, 72,000 mile warranty on all new vehicles. This offers piece of mind and makes me even more eager to explore the 2018 Tiguan and Atlas SUV models.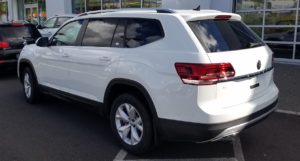 Friendly sales associate Christopher Scott leads the way, first to the redesigned 2018 Tiguan SE, a mid-size SUV. "This model is probably the most bang for your dollar," Chris explains. It's not the top of the line as far as features go, but it still has plenty to offer and is anything but basic. My first impression is how sporty it looks now with sleek styling, something even my husband would like the looks of and be willing to drive on a regular basis. The 2018 Atlas is a brand new model for Volkswagen and much bigger than the Tiguan, but retains the same sleek design aesthetic and cutting-edge design. 
Jumping in the passenger seat, Chris shows me all the leg and head room he has in the Tiguan even at a height of six-foot two. Then he climbs in the back seat to prove he is even quite comfortable back there as a tall adult. With reclining back seats, a USB port and rear vents, it's an easy place to relax.
The biggest difference in the Atlas is even more room and a standard third row seat, which Chris proves he's even able to ride in. It also jumps up the game with dual USB ports, built-in windows sun visors and its own climate controls in the rear compartment. Taking a look at the cargo space, it's obvious both these SUV's were built to provide plenty of room for all your stuff. And, with seats that fold flat, the possibilities are endless for hauling whatever you want. 
However, for me, it's mostly about comfort when I pick out a new vehicle. Both the 2018 Tiguan SE and Atlas SE come standard with leatherette heated seats, especially nice on cool Washington mornings. "They're a lot more durable than regular leather, actually, and they're easier to clean as well, which is really nice," Chris says. With a ten-way power adjustable seat, telescopic steering wheel, power mirrors, and the option of dual-climate control, it's easy for me to feel right at home behind the wheel in either of these rigs.
An AWD 4-Motion system with adjustable settings make both the Tiguan and the Atlas ready to tackle any road condition. But before we hit the road, Chris reviews the latest technology both vehicles have to offer. "We've had these brand new ones for a couple months and I'm still learning, but what's great is it's not hard to figure out," he says. The sleek display screens are easy to navigate with proximity touch and the options are truly endless. AppConnect comes standard on both vehicles. "You just plug your phone into one of the USB ports and then your phone pairs up and this screen becomes your phone. So everything is hands free, texting, navigation, all of it."
I'm pleased to find Volkswagen hasn't done away with CD players like some manufacturers, but instead hides them in the glove box with an SD port added. It's truly the best of all worlds. Also important to note are the many back-up camera options on both the Tiguan and Atlas SUV's. From parallel parking to hooking up a tow hitch, this camera makes it a cinch. The Tiguan is great at towing smaller rigs, but only up to 2,200 pounds. The Atlas has a towing capacity of 5,000 pounds.
Finally, it's time to hit the road in both these beauties. Chris is quick to point out the start-stop option on both vehicles. "Say you're driving in the city and you want to save on gas mileage. Turn on this feature and when you stop the car turns itself off." With a four-cylinder turbo-charged engine, the Tiguan still has plenty of get-up without sacrificing the gas mileage. The Atlas will give you an added punch getting on the freeway with a V-6 motor standard.
Both are quiet and offer good visibility. I feel secure on the road in both the Tiguan and Atlas as I easily navigate turns and lane changes. Plus, with Volkswagen's abundance of standard safety features I know my family will be in good hands. 
Both the 2018 Tiguan SE and the Atlas SE are worth consideration if you're in the market for an SUV. I'm found my "happy face" driving the Atlas, but both be getting a second look this spring when we are ready to buy. 
Volkswagen of Olympia is open Monday through Saturday 8:30 a.m.- 8:00 p.m. and on Sundays from 10:00 a.m.- 6:00 p.m. with a full sales team ready to answer your question and help you find your "happy face" in one of their vehicles, too.
Sponsored