Kirk started playing football in the third grade and can recall the exact week his Thurston County Youth Football League team installed the playbook.
He remembers it clearly because he wasn't there. Instead he was on a family vacation in Disneyland where learning about the execution of traps and bootlegs were replaced by Mr. Toad's Wild Ride and Splash Mountain.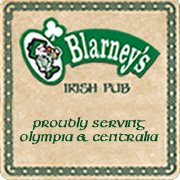 "It's one of my earliest memories of playing football," said Kirk, now a senior at North Thurston High School. "I knew nothing about football. The first game, I didn't know any of the plays. The first play we ran that season Clayton Christian ran right into me and knocked me on my butt because I went the wrong way."
That incident may, in fact, be the last time Kirk was lost on the football field.
The Rams pride themselves on a tradition of physical, no nonsense play. Kirk has more than lived up that standard and continues to add to that legacy while bleeding purple.
A three-year starter and two-time team captain, Kirk is without question the heart of the Rams.
"He's a tough, hard-nosed, gritty kid," North Thurston coach William Garrow said about Kirk, who starts at fullback and linebacker for the Rams. "He just goes hard every play. He'd never leave the field if given the chance, and he's out there giving you everything he has, every play."
It was that kind of dedication which led Kirk to being named second-team all-3A South Sound Conference at linebacker last year.
"It doesn't matter if it's offense or defense. I love the physicality of it," Kirk said. "I love running the ball, but I also love hitting too. As long as I'm out on that field, I'm happy."
However, Kirk contributes far more than just on-the-field talent for the North Thurston program.
"I will probably embarrass him by saying this," Garrow said, "but he's basically what I would hope my son becomes someday. He's the kind of kid that every parent and coach would want to have. (He's) great in school, has a great attitude, he's courteous, selfless, works his tail off, does anything you ask. He's just a wonderful human being."
There's a process into becoming a captain for the Rams. It's more than simply being selected. Players are asked to apply.
They are required to do a written exam, detailing scenarios and how they would deal with them, before participating in an interview process with the coaches. Usually players submit their applications prior to their senior season.
Kirk sent his in before his sophomore campaign.
"I didn't get it. They said I was too young. I figured I won't get selected anyways, but I wanted to go through the process," Kirk said. "I just filed that experience in my back pocket for later because I knew (being a captain) was something I wanted to do."
The approach worked as the next season Kirk was named team captain, joining Noah Winder as the only juniors to receive the honor – a rare feat in itself within the North Thurston program.
"He really deserved to be a captain last year and he's even more deserving this year," Garrow said.
A lot of has been asked of the senior in 2017 as he helps guide a young Rams team. According to Garrow, Kirk is the "focal point of the offense" as they try to get him the ball as much as they can.
"I think one incident really sums Zion up perfectly. We played a game last year against Gig Harbor. We were up in the game, but ended up losing in the last minute," Garrow said about the Rams' 28-26 loss to the Tides in 2016. "It was a heart-breaking loss for those guys. I told Zion, as a captain, I was so very sorry, that I didn't think I did the right things to help us win the game."
Kirk replied with a text of his own.
"He sent me a message basically saying, 'I love you and wouldn't want to play for anyone else,'" Garrow said. "A kid that's that mature and understands the moment and does that is rare. That really sticks out to me."
A former ball boy for the Rams when he was in middle school, Kirk has fond memories of watching from the sidelines as former North Thurston quarterbacks Ben Broeker and Ryan Mets led the squad.
It's now Kirk's turn, and he's excelling.
"There's just not many plays left. So you have to make them all count," Kirk said. "I want to see us be better than last year. I want to see constant improvement over the season from this team. It's something we're capable of. The goal is to keep that legacy of North Thurston football alive. I just want to do as much as I can for this program to keep it growing."