Welcome to 420. The landscape of legal cannabis use in Washington is worlds away from the college days of yore. (That would be the 70's for me). In case you've turned your head the other way or have been under a rock since the end of 2012, recreational and medical-use of marijuana are available for legal purchase if you are 21 or older. Using pot has not been in my sphere, though I've noticed friends having success dealing with particular medical concerns.
I decided it was time to get informed.
Help was easy to get at Gypsy Greens on the west side of Olympia. Shop manager Jeremy Howard was happy to give me whatever information I wanted and to answer all my questions. Before working at Gypsy Greens, he was a state marijuana grower and producer. His familiarity and knowledge with the products are excellent. "I've never had a job before where I don't dread going to work. I love it here," explained Howard.
People come in with a particular concern, make a well-considered purchase and then report back that they got the exact results they wanted. "The best feeling is helping someone," Jeremy added. Bud tenders, those working in the store, will do their best to answer your questions. They do not dispense medical advice, but they can explain the products.
When you go, be sure to bring your picture ID. Everyone is required to show one upon entering every time, so come prepared. You do not need a medical card. All the products are hanging from the back walls or displayed in glass cases. The variety is astounding. For my first time in a marijuana shop, my learning curve was huge.
The store was the embodiment of the 60's fantasy: everything you wanted or needed, in one place, legally. There are flowers – that's for smoking. But there are different strains for different desired experiences. Sativas are meant to enhance creativity. Indicas are for physical relaxation. Just let them know your intentions and they can direct you.
Cannabis is made up of various chemical compounds including THC or tetrahydrocannabinol and CBD, cannabidiol. THC is the psychoactive component that can produce a euphoric high. CBD is not psychoactive and can create relaxation without intoxication. This is the medicinal element that is known to be helpful with stress and anxiety relief, PTSD symptoms, fibromyalgia and MS. Every product varies in ratios and amounts of THC and CBD. Read the labels. Ask questions.
Marijuana can be ingested through beverages via premade drinks or tinctures to add to your own cocktails. You can buy tinctures and drop them directly into your mouth as well. There are chocolates, cookies and candies. You'll find wax and cartridges for inhaling, too. Also for sale are papers for rolling and various smoking filtration devices (bongs). Gypsy Greens sells Willie's Reserve, products made by Willie Nelson, known to be organic and pesticide free.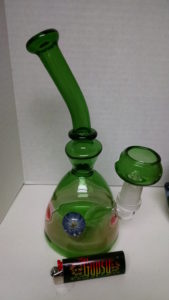 It's important to know that the effects of THC are different for every person. It depends on your body fat, what you recently ate, and your physical and mental states. Depending on which product is being used, effects can happen quickly or take up to 3 hours. For example, if you are starting with edibles, start small and give it plenty of time. Take it easy. Ask questions. Be safe.
I thoroughly enjoyed my time with Jeremy. No question was too stupid. No judgments were rendered. It was OK if I bought something and fine if I left empty handed. It was all about customer service and directing me to what was comfortable for me.
Gypsy Greens is open seven days a week and offer specials every day. Again, be sure you bring your ID and purchases are cash only. There's an ATM on site for customer use. Marijuana is not for everyone and it's helpful for many. You can decide what is appropriate for you.
This product has intoxicating effects and may be habit forming. Marijuana can impair concentration, coordination, and judgment. Do not operate a vehicle or machinery under the influence of this drug. There may be health risks associated with consumption of this product. For use only by adults twenty-one and older. Keep out of the reach of children.
Sponsored