For the owners of South Bay Pub and Eatery, it's all about reconnecting friends and neighbors. And sure enough, the day I visited, an old teammate from college was sitting at the bar. Coincidence? Perhaps. Or maybe just part of the magic.
Here are five reasons South Bay Pub and Eatery could become your new favorite hangout:
1-Prime Location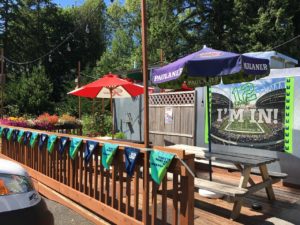 Whether you are on your way to the roller rink, coming back from a day on the water or looking to refuel from a day of cycling on the Chehalis Western Trail, South Bay Pub is the perfect pitstop. You'll find the Pub tucked quietly off South Bay Road, a haven from our busy days.
2-Family Friendly
South Bay Pub is a place for family. There are delicious eats to please every taste bud and ice-cold libations for every age. The atmosphere is welcoming and easy-going. Catch up on conversation, watch a game on the big screen and, from time to time, there is even live music to accompany your meal.
3-Outdoor Seating
While the Pub does keep the A/C running throughout the summer for your comfort, don't pass up the opportunity to dine outside. Northwest summers may heat up sometimes, but they pass before you know it. Just make sure to come inside and let someone know you are ready to eat.
Four legs?  No problem.  Dogs are welcome in the outside seating area where you will find fresh water waiting and bacon on the menu.
4-Yummy Food and Ice-cold Drinks
Tyler Wood, South Bay Pub's manager, loves Friday's the most when it comes to crafting delicious eats for Pub customers. "We do a home classic dinner meal every week. It ranges from enchiladas to meatloaf to teriyaki chicken to chicken schnitzel and surf and turf. We do a little bit of everything on Fridays."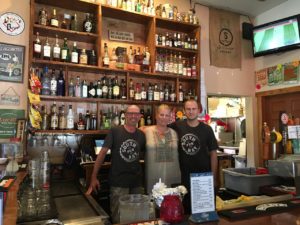 Other meals not to be missed are the Philly Cheesesteak, $2 Taco Tuesday and the Loaded Baked Potato and Steak for $10 every Wednesday.
A local favorite at the Pub is their hearty breakfast and brunch offered on the weekend. Pair yours with a fresh squeezed mimosa or a classic favorite, the Bloody Mary.
Remember, "Pub" is part of the name, so plan for your favorite beers on tap, mixed drinks from mojitos to lemon drops, or let bartender Karma Zimmer craft something seasonal and spectacular from their supply of fresh summer-time fruits.
5-Feel Like One of the Crew
The day I visited South Bay Pub was a treat.  During my interview with Tyler, I forgot I was there to work I was having so much fun. As I sat there laughing with the Pub's team, I quickly realized what makes South Bay Pub so great – I was a stranger that day, but they treated me like family.
While I am quick to credit Tyler's easy-going manner, Karma's warmth and owner Mark Christensen's sharp wit, Tyler credits the community.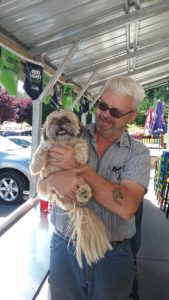 "The hospitality from our customers is mind boggling. Many of our customers appreciate the service we give them and it comes back graciously. I've had customers, (but I call them my friends), who have helped me tremendously outside of work. Moving, supplying me wood for the winter, working on my car. It's a wonderful place for everyone to network. Real estate agents, carpenters, mechanics, fisherman, welders, loggers, farmers. I'd call our customers jacks of all trades. Everyone is always wanting to help just as much as you help them. It's a great feeling."
This great feeling is paid forward by the South Bay Pub and Eatery staff throughout the year, from easy-going summers under the porch umbrellas to their annual Christmas potluck, when the owners open the pub to enjoy a meal with friends old and new.
Of all the reasons South Bay Pub may become your new favorite hangout, Mark's is the most simple: "It's always a lot of fun and the beer is cold."
And on these hot, summer days, who really needs more than that?
Visit South Bay Pub and Eatery online for hours, current specials and entertainment announcements. Or, even better, stroll on by.
South Bay Pub and Eatery
3323 Southbay Rd. NE, Olympia
Monday 3:00 p.m. to 10:00 p.m.
Tuesday – Thursday 11:00 a.m. to 10:00 p.m.
Friday 11:00 a.m. to 12:00 a.m.
Saturday 8:00 a.m. to 12:00 a.m.
Sunday 8:00 a.m. to 10:00 p.m.