Submitted by Providence Health & Services 
Providence Regional Cancer System and the Centralia Rotary are teaming up for the fifth annual community education event, Wednesday, September 27 at the Great Wolf Lodge in Grand Mound.
Register here.
"Learning Through Laughter" keynote speaker will be breast cancer survivor Susan Sparks. Comedy and cancer don't normally mix, but Sparks isn't your normal comedian. She's been a nationally touring comedian and can be seen weekly on her YouTube broadcast "Rev It Up!" and in her weekly journal "The Shiny Side Up." She's been featured on Oprah, The Today Show, CBS News and more.
Her life as an author, Harley-riding, ex-lawyer with a cowboy boot addiction who's survived cancer has taken many twists and turns.
"After significant gambles and spectacular falls, I've learned to lean into the curves. Now thousands take inspiration and hope from the laughter and wisdom I lead with," Sparks says. "Bends in the road are inevitable. But they are also where life takes flight. They are the places where we have the opportunity to face down our fears, accelerate through and become something more."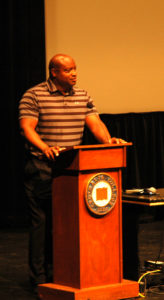 Other featured speakers for the event will be Providence providers offering information about the latest in cancer detection, prevention and screening. Speakers begin at 6:00 p.m.
Come early to enjoy snacks and beverages, and visit booths for information.
Planned exhibits include:
Providence Regional Cancer System Cancer Survivor Center
Oncology navigators
Cardiac services
Advanced care planning
Palliative care
Providence SoundHomeCare and Hospice
South Sound Breast Center
Southwest Washington Prostate Cancer Support Group
For the fifth year, snacks, beverages and accommodations provided by Centralia cancer survivor Arnie Guenther and the Centralia Rotary, via Prostate Health Awareness Through Education (PHATE). Former keynote speakers have including former Major League Baseball player Lyle Overbay, retired Seattle Seahawk Mack Strong and comedians Mack Dryden and Karen Mills.
"Learning Through Laughter" Wednesday, Sept. 27, 5:30-8 p.m., Great Wolf Lodge. To register, go to www.provregister.org. For more information, call 360-330-8535.