Tammy Questi did not set out to become the Tooth Fairy. When she was first asked to give a presentation about dental hygiene to preschool children, she went dressed as she was: a dental hygienist. However, within a few years, she began to modify her presentation to better capture the attention of her preschool audiences. Now, 25 years after that first, fateful talk, being the Tooth Fairy is an integral part of Questi's life.

"I knew I enjoyed talking with the kids," says Questi. But what truly solidified her commitment to this work was the reaction from other people. "Some of those kids I would run into in the community or at the preschool, would say things about their teeth," she says. It was these kinds of interactions that made her realize her influence, as she explains here, "They're listening. They're really getting this. This might really have an impact."
Questi started at the Steamboat Island Cooperative Preschool, the one her children attended. "One of the teachers asked me to do a little presentation for the kids about teeth," she says. "It went well, I guess, because they asked me back. And they told other people, other preschool teachers."
As more schools began to contact her, and she gained experience giving her presentation to three- and four-year-old children, she wanted to make it more interesting and engaging for her young audiences. "I felt like I needed to do something bigger and better each time until I came up with what I do now," she says. "Suddenly, I went from being a person who went in and talked to kids about teeth wearing a dental uniform to someone wearing a big fluffy pink dress and wings and a tooth brush crown."
In Questi's experience the costume helps a lot. When she visits a new school, the teachers are often skeptical that she could make a group of three- and four-year-old children sit still for a 30-minute presentation about oral health. However, she says, "Kids listen if you look like a fairy."
In her presentation Questi talks about the basics of dental hygiene: "Why teeth are important, what causes cavities, and how to prevent them–brush, floss, and eating good food." She hopes that by reaching out early with tools they can use for their whole lives, as she suggests here, "maybe just one little message might stick with a couple of these kids and save them from having to go through scary [dental] visits or pain."
She has even had a direct impact on some children and families by identifying dental health problems they did not know they had. She has many stories, she reveals, of "finding kids that were hurting that were too young to express hurt. They don't know they are in pain or why they are in pain, and… I can get them set up to go somewhere and they feel so much better."
Questi still works as a dental hygienist at McDonald Dentistry, but the majority of the presentations she gives are volunteer efforts. Mostly, she visits preschools although she has also visited elementary schools, Girl Scout troops and health fairs. One of her favorite things about volunteering is having the chance to visit new schools and meet different people all the time. Doing this work has taught her more, as she explains, "about people and the world and understanding and compassion" than anything else.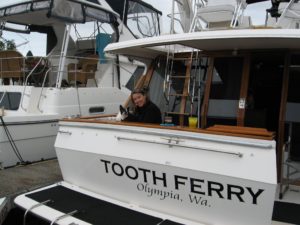 Questi's other favorite thing is the possibility of making a difference in people's lives. "I'm hoping that I'm teaching them some tools early in their lives that can follow them forever and keep them healthier," she says.
Tammy Questi may not have known, as she was giving that first presentation about dental hygiene, that she was to become the Tooth Fairy, but she has fully embraced it, wings, tooth brush crown and all. Her family even has a boat, which they call the "Tooth Ferry." Questi says that this volunteer work has not only given her an opportunity to help people, it has also changed her perspective on life. "It has become such a huge part of my life and who I am now," she finishes. "I'm Tammy, the Tooth Fairy. I wonder who I would be without it."