Across from the Billy Frank Jr. Nisqually National Wildlife Refuge are two little-known gems. One is mostly under water – the Nisqually Reach Aquatic Reserve. The other is above ground – the Nisqually Reach Nature Center, free and open to the public on Wednesday, Saturday and Sunday from 12:00-4:00 p.m.

"We want to give the public access to one of the finest sanctuaries in Puget Sound," says Daniel Hull, executive director of the nature center and aquatic reserve cohort.
Upon arrival at Luhr Beach where the nature center resides, your eyes will feast upon spectacular views of Puget Sound. The Sound makes a hairpin turn, called the Nisqually Reach, as it comes down from the northeast and flows off to the northwest.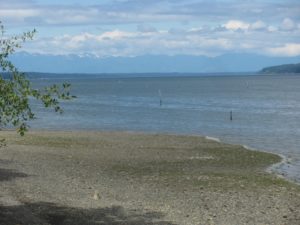 The expanse before you includes the Olympic Mountains to the left, Anderson and Ketron Islands in front of you, then Mount Rainier followed by the wildlife refuge to your right. The aquatic reserve encompasses most of the beaches and land under the deeper water in front of you and the nature center building is to your right.
The nature center includes a variety of exhibits and the sandy, rocky Luhr Beach that is sometimes under water and other times exposed, showing off its treasure of creatures, shells, and wildlife as the tides allow. Seals often swim in and out of view along with a variety of birds – some diving for food. On rarer occasions you can see an orca, porpoise or sea lion from shore but those are best viewed from a boat.
"The aquatic reserve was created to protect the habitat so these creatures will have a place to live," explains Hull.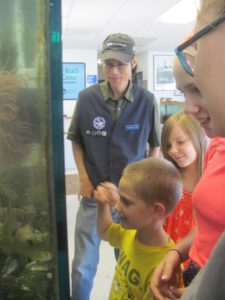 Magical things happen on these two frontiers every day. When you visit the Nature Center, skilled naturalists explain these mysteries through bubbling fish tanks that are fed Puget Sound water from a pipe outside the building. You can see, up close, preserved birds commonly found in the area, learn about their habits, and touch their feathers.
The magic doesn't stop there. If you're interested in a sea star, next thing you know, it's being pulled out of a tank for you to touch, says Hull. You'll learn that it was collected right over by Anderson Island. The experience is up close and personal, tailored to your specific questions and interests.
"All the things you see in this building are found within 5 miles of here," says Hull.
The facts, trivia and expansive knowledge that Hull and the other naturalists share with visitors are fascinating. For example, the Pacific geoduck (pronounced "gooey duck") is a species of very large, edible saltwater clam native to the west coast of North America. But did you know that it can live to 150 years old?
Visitors can study a scale model showing the relative depths of South Puget Sound waters and learn about life in the underwater aquatic reserve. Telescopes and binoculars beckon visitors to look out the wall of windows and be the first to spot an eagle or heron. Luhr Beach is a rich laboratory of sea life.
"It's unique in that it has a creek that runs right in front of it," explains Terence Lee, scientific technician.
If you want to get more involved after your visit, you can volunteer to work on research projects or serve on the Nisqually Citizen Stewardship Committee.
The Nature Center is bursting with kid camps in July and August that teach about the Nisqually watershed from the Nisqually Glacier on Mount Rainier to where it empties into Puget Sound, says April Roe, education coordinator.
Outside the center is ample free parking and an information kiosk with maps, brochures and a tide table. A couple of picnic tables sit on the far side. When the tide is low, the beach is an excellent place for beach combing or strolling. Just don't pick up any oysters – they belong to the shellfish farm next door.
Luhr's Landing boat ramp is filled with a steady stream of kayaks, canoes, paddleboats, paddleboards, fishing boats and motor boats. If you forget a life jacket, there's a friendly shed filled with free loaner jackets.
Remember to post your Discover Pass (not sold here), pick up after your dog (baggies are available in a dispenser) and pack out your garbage. You'll need a shellfish/seaweed license if you're harvesting clams, sand shrimp or seaweed.
You can enjoy live music, sip local beer and dine on fine food while viewing a Mount Rainier sunset at the center's upcoming fundraiser "Feast at the Reach" on September 9, held annually to support education and outreach.
When you leave the nature center, take one last look at the bubbling fish tanks. You just might see a starfish waving goodbye.
Thrifty Thurston highlights inexpensive family fun in Thurston County. The weekly series focuses on family-friendly activities throughout our community. If you have a suggestion for a post, send us a note at submit@thurstontalk.com. For more events and to learn what's happening in Olympia, Lacey, Tumwater and the surrounding area, visit our complete events calendar.