Grant Erickson figured it was a dislocated shoulder at the most.
He knows now that wasn't the most accurate assessment of the injury, but in his defense, the self-diagnosis came while under the weight of half of Timberline's defensive line.

A play earlier, the strong-armed quarterback had quickly rushed his Capital Cougars to the line in their hurry-up offense. The scoreless first half was winding down in the Cougars' South Sound Conference opener last year against the Blazers, and Erickson was trying to put some points on the board before the intermission hit.
Erickson knew he had more than enough weapons to score fast. What his team didn't have, however, was the right formation.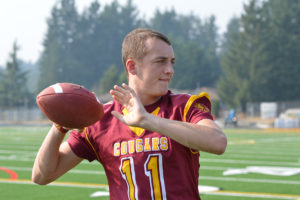 "It was the wrong (pass) protection and a couple guys went through," Erickson recalled about the play which ended his sophomore campaign prematurely.
Shortly after the snap, Erickson knew he had to eat the play and immediately tucked the ball away and braced for impact. His right shoulder absorbed the brunt of the collision as it was driven into the turf.
"I thought it was a dislocated shoulder or something," Erickson said. "Nothing too serious. Something they can put back in. There was still time for one more play."
Undeterred by the injury, Erickson got back under center and ran the final play. He credits adrenaline for that and for getting him into the locker room because the pain had subsided considerably.
That soon changed.
"Once we got in the locker room I tried to lift up my arms and I physically couldn't lift it," Erickson said. "I figured I should probably tell coach so they can game plan for the second half without me."
Unfortunately for the Cougars, they were going to have to game plan much longer than two quarters last season.
Erickson had a broken collarbone.
The doctors said he would be out at least eight to 10 weeks, ending the small chance he had of returning to the field in 2016.
Capital would lose the game to Timberline, 12-7. The Blazers went on to capture the SSC championship. The Cougars finished third in the newly-formed conference, with their only other league loss coming by a slim margin to runner-up Peninsula (15-12), before seeing their season end to Ferndale in a district playoff game.
"The hard part about being on the sideline was you felt like you could make a difference," Erickson said. "Losing by less than a touchdown to both those teams, you feel like you could have made a different in those games."
Two surgeries – one to place a screw in his shoulder and one to remove it – and a one long off-season later, Erickson is back to 100 percent and looking to make up for lost time.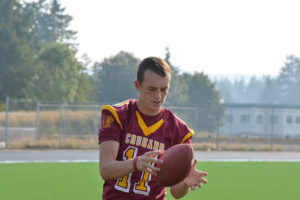 "My mom said it perfectly. She told me great setbacks equally great comebacks," Erickson stated. "And that's what I hope to do."
It will be a different look Erickson in 2017 as the junior added 20 pounds to his 6-foot-6 frame since the end of basketball season, putting him at 215.
"It's different this year. Your sophomore season you're still an underclassmen, still working out high school," Erickson said. "You always want to be a leader when you're the quarterback, but this year I have a much larger leadership role. I wanted to be a leader in the weight room during the summer. We've had a big emphasis on working hard in the weight room, and it's helped. I have a lot more confidence going into my junior year."
In addition to the added muscle, Erickson also sharped up his technique and mental approach to the game this summer through the RISE Football Academy, spending several weeks developing his fundamentals under Johnny DuRocher, a former Gatorade State Player of the Year who played QB at both the University of Washington and the University of Oregon.
"I learned a lot from (DuRocher). He was an amazing coach," Erickson said. "I just wanted to do everything I could to improve as a player."
Erickson's leadership will be called on even more following a tough summer for the Cougars. Head coach John Johnson resigned in July after 10 years with the program following allegations of lack of supervision of players at a football camp the previous year.
Darren Tinnerstet, a former Capital quarterback himself and long-time Cougars assistant, was named interim coach at the start of August.
"It's been a long summer, but we're a really close team. I've known most of the juniors and seniors since I was 6 or 7," Erickson said. "We all grew up playing together. I think we're probably one of the closets teams in the state because of all the adversity we've been through."
Injuries and coaching changes have only made the squad tighter, according to Erickson, providing them laser focus on their main goal of winning a conference championship.
"We want to get a home playoff game, and you get that by winning the conference. It all starts there," Erickson said. "The last couple years we've had to go down to Columbia River, up to Ferndale (for playoff games). We want to be the home team this year, and everyone is working towards that."
The Cougars will open their season at home on Friday, September 1 in a non-league game against River Ridge.