Dance instructor Kristen Grace, who has taught hip hop classes at Studio West Dance Academy since 2008, took a year-long hiatus from teaching to work on her own development as a dancer. It was during this time that Studio West approached Kristen and proposed an expansion of their hip hop program, adding a space exclusively for hip hop called The Beat Box Studio. This addition has brought new life to the Studio West hip hop department and the students have thrived as the program now involves over 200 students.

Watch Kristen in action, and you will not wonder why she was selected to lead the studio. When her kids are about to perform she gets them fired up with a pep talk, cheer and a round of high fives. When they are on stage, Kristen is in the audience yelling encouragement. She has an infectious love of dance, but it did not begin that the way.
Kristen started as a singer. She always enjoyed being on stage and at the center of things, but she did not grow up in a dance studio. In fact, in the early 2000s when Kristen was in high school, hip hop was just starting to creep into studios. In her family, sports were the thing, so Kristen was an athlete playing both soccer and basketball.
But she still thought dance looked fun.
"I tried out for my high school dance team on a total whim," says Kristen. "I saw them practicing one day, and I went in with no experience whatsoever and I made it. I think with my athleticism and probably my musical ear I was able to somehow scrap my way on. But I was not good. I had a lot of work to do. I just fell in love with it, and I started practicing constantly to get better. And that was the era of Brittany Spears and Janet Jackson. That image for me as a teenager, especially as a singer, of singing and dancing and being a pop star was so attractive to me. So that's what fueled my early stages of dance."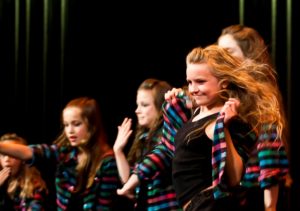 After dancing competitively in high school, Kristen went on to dance and choreograph competitively with her college dance team. Then she started looking into teaching hip hop.
"That was my first introduction to studios," says Kristen. "Eleven years ago I ran my classes like dance team rehearsals because that was all I knew. And now I have spent so long immersed in the studio world, and I'm so happy for these kids who have the opportunity from such a young age. It's such a great opportunity for growth and development and confidence for boys and girls to learn hip hop. Now, I'm really passionate about seeing what I could have learned at that age and trying to give that opportunity to them."
Kristen still dances competitively for an adult crew called Audacity Cru. In 2015 Audacity Cru made it to the World of Dance finals in L.A. "Walking onto that stage and having that rush, and thinking, these are the World of Dance finals, and we are in L.A., and these are the best crews in the world and we are here. It was for sure indescribable."
Hip hop evolves so fast that it is hard to keep up, particularly as you age through it.
"You start to see 13-year-olds who are leaps and bounds over your ability all of a sudden," laughs Kristen. "Which is absolutely incredible that now you have these kids who have been training in hip hop, just hip hop, since they were very young developing their styles. I think it can get a little overwhelming to keep up with. But I think you need to decide, 'What is your lane that you feel is your artistry?' and be confident and comfortable with it."
But finding your lane as a dancer does not mean that you cannot continue to explore and challenge yourself. Take, for example, The Beat Box's Community Class which is for all ages, including adults.
Kristen explains, "What I love about our Community Class where we have a new instructor every week is that it gives our students the ability to experience new styles all the time. In hip hop, I think it's important to have that diversity."
Now that Kristen is teaching full-time, sometimes seven days a week at various locations, it is a wonder she can keep the enthusiasm going, but she says, "For me, being in front of a class is a little like being on stage. There's an adrenaline that gets going when you start talking to the kids and seeing that light bulb that goes on in their heads."
Kristen is matter-of-fact when it comes to whether a kid will enjoy hip hop or not. "Kids will have fun if they want to have fun. It can be scary, because anything that is new is scary. So I try to help people to keep an open mind. The biggest thing that I love about dance is that it teaches kids to be a little bit vulnerable and be okay with looking a little silly. I hope I can teach kids that it's okay to be a little weird."
And trying new things does not end with those first couple of classes. Kristen says she also works with older kids on conveying emotion with facial expression.
"It will help to emote as a dancer," says Kristen, "because dance is about being a storyteller, and you don't just tell your story from the shoulders down. You have to be able to tell your story with all of your body and not say a word."
The struggle for many kids is that they may be watching too much YouTube.
"Dance class is the place to try new things," explains Kristen, "it's not the place to look cool; and it's really hard to remember that with all the videos of dancers on the internet, because all you see is the final product. You only see people looking perfect in great outfits, but it doesn't show how they got there. You don't see the struggle of how they became great."
Kristen has a vision for the future of hip hop in Olympia. Previously, if you were over the age of 18 and wanted to take advanced classes in hip hop you had to travel to Seattle.
"We are trying to flip that. There's no reason people can't come down from Seattle and take a class in Olympia. I think there's so much talent, so much art and so much support for the arts in Olympia. The more we can provide opportunities for people, the possibilities become endless."
If hip hop looks like fun, or you are interested in exploring ballet, jazz, tap and all that Studio West has to offer, fall classes are just around the corner. Visit Studio West Dance Academy online or in person to register.