During the course of our lives, we find inspiration in many things. One day, we might find it in a book or a poem. The next day it could be in a song, a sunset or a painting. And sometimes, you find inspiration in another person. Olympia's Sydney Kleingartner offers inspiration to nearly everyone who meets her.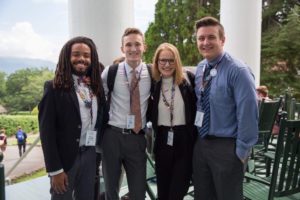 Syndey is a born and raised Olympian. She is a rising senior at Capital High School and a member of International Baccalaureate. Sydney is also a long-time participant of the YMCA Youth and Government program where she was recently elected Governor. Sydney's family has been a supporter of the South Sound YMCA for many years. When students would come to town for the mock legislature, Sydney's family would host four or five kids at a time. "I grew up every year waiting for these great bunches of kids to come stay at my house," she recalled. It was their encouragement that served as her inspiration for her own involvement when she became eligible to participate in the eighth grade.
The YMCA Youth and Government program is a national program that allows teens (grades 8-12) to participate in model government. Students are able to gain experience in civic engagement and practice democracy. Teens meet in their local and state groups periodically to discuss issues specific to their states and propose legislation. Over the course of each year, they write bills and debate them on the floor of the legislature. They are equipped with the help of local advisors and mentors that have years of hands-on experience in the field. Sydney participated through the South Sound YMCA.
When Sydney first joined the program, she was the only girl in her delegation. "I'll admit it was a little intimidating," she said. But Sydney quickly found her bearings and was voted into leadership right away. She continued to climb the ladder and become more involved with each passing year. "I always knew I wanted to eventually become Governor," she admitted, "but it seemed like a lofty goal."
Despite her uncertainty, Sydney was elected Governor in May of 2017. Although her hard work and dedication earned her the title, she stressed that she couldn't have gotten where she is without the help and support of others, from mentors and advisors to her peers in the program.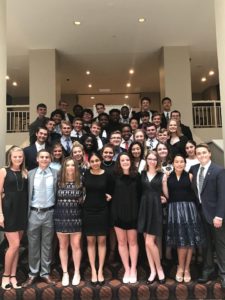 Sydney's passion for people and positive change is evident. "Being elected Governor was amazing," she said, "but it pales in comparison to connecting with people on a meaningful level." An example of her compassionate spirit is a program she created called Syd's Closet, a lending library of clothing for members of the program. The dress code for Youth and Government often requires suits, ties, dresses and occasionally formal wear. "It's hard to find clothes sometimes and it can be really expensive. I realized some people couldn't afford it and I saw a need to help."
Naturally, a young woman like Sydney has big plans for her future. She will complete her senior year at Capital High School in 2018 along with her final year in Youth and Government with the Y. She plans to stay active as an alumnus of the program. She plans to attend college at one of three universities she has her eye on, George Washington in D.C. being her first choice. Wherever she lands, she plans to study criminology and cyber security with a minor in policy and Spanish.
As Sydney has been so generous with her community and, in turn, others can support the efforts of Sydney and her fellow program members. There are many ways to support Youth and Government at the YMCA. If you work in local government, your time and expertise as an advisor is always welcome. Financial support can be donated through the South Sound YMCA to benefit the local delegation. Or, to support Youth & Government nationally, donate here.
"We have all ideas and a passion to change the world for the better and we need people to help us get there," said Sydney.
In her role as Governor, Sydney hopes to visit schools to encourage students to join Youth and Government locally. "This program has meant so much to me in terms of finding my own voice and finding out who I want to be, but also in helping other people figure that out for themselves."