Summer may be in its final month, but that doesn't mean the fun has to end. This is the perfect time of year to take advantage of great brewing and distilling events taking place around the area. With a growing craft industry in Thurston County, more people are discovering a passion for beer, cider and spirits. From pub crawls to festivals, there's something for everyone whether you're a first-timer or a professional. And if all these events have you thinking about trying your own hand at the industry, Olympia has got you covered.
An innovative new program centered around brewing and distilling is making its debut in September at South Puget Sound Community College. "It really focuses on integrating both the kind of hard industry skills around craft brewing, distilling and cider, as well as integrating a lot of business skills," says SPSCC Dean of Social Science and Business, Valerie Sundby-Thorp. You can read the full story about their new one-of-a-kind program here.
It's no mystery why this program would show up in Olympia. With such a strong history in the beer making business, starting years ago with the original Olympia Brewhouse, it's a perfect fit. SPSCC says they are proud to be working with others in the industry to bring such an important part of the area's past into its' future. Shoebox Spirits, formerly Blind Pig Spirits, couldn't agree more. "It's been a lot of fun growing with this industry. We believe Olympia is just on the verge of adding more distilleries and breweries and the future certainly looks bright."
Some great beer, cider and spirits events taking place in the coming months include:
The Olympia Brewfest on Saturday, August 5 from 1:00-8:30 p.m. at the Port Plaza. This year 30+ breweries will be on site along with live music and many food vendors. Tickets are $25 in advance or $30 at the door and they are selling fast!
Brew Five Three: Tacoma's Beer and Blues Festival on Saturday, August 5 from 1:00-8:00 p.m. at the Broadway Center in Tacoma. This block party features 30+ breweries, local food trucks, and amazing tunes. Purchase your tickets for $30 or $10 for a designated driver.
Tacoma Beer Week: Thurston County Craft Bounty on Wednesday, August 9 starting at 6:00 p.m. at Pints and Peaks in Tacoma. The festival runs all week, but this night is set aside to honor our local craft superstars. Fish Brewing, Three Magnets Brewing, Top Rung Brewing, Matchless Brewing, Triceratops Brewing, O-Town Brewing and Whitewood Cider will all be on site where brewers and staff will sample and share all night. each.

Do you have what it takes to win the stein-holding contest? Find out at the Tumwater Artesian Brewfest Photo courtesy: City of Tumwater

9th Annual Olympia Pub Crawl on Saturday, August 12 from 2:00-11:00 p.m. in downtown Olympia. Join this walking tour of pubs, bars and local restaurants benefitting the Seattle Children's Hospital for childhood cancer research and family support. Get your tickets in advance for $30 or $35 on the day of the event.

Tumwater Artesian Brewfest on Saturday, August 19 from 1:00-8:00 p.m. at the Tumwater Valley Golf Course Driving Range. With games, activities, great food and of course numerous breweries, distilleries and wineries, there's sure to be something for everyone. Tickets are $25 in advance or $30 at the gate, $20 for military and designated drivers are only $10.
Fish Brewing's 19th Annual Oktoberfest on Saturday, September 23 from 4:00-10:00 p.m. at Fish Brewing Company in Olympia. Come enjoy the start of Autumn with beer, cider, food and of course fun. Visit the event site for ticket information.

Dave White, co-owner of Whitewood Cider, will share his popular ciders at many of these 2017 events. Photo credit: Mary Ellen Psaltis.

Catch Montesano: Fish and Brewfest on Saturday, September 30 from 4:00-11:00 p.m. with a Fishing Derby taking place from 8:00 a.m.-12:00 p.m. at Fleet Park and Whitney's Detail Shop in Montesano. Enjoy craft beer and wine, local music, food vendors and a corn hole tournament. Tickets are $15 in advance or $20 at the door.

4th Annual South Sound Craft Beer Festival on Saturday October 28 from noon to 6:00 p.m. at the Tacoma Dome. This event is tailored toward all the serious beer fans out there will have 40 Washington breweries pouring over 150 different craft beers. Food will also be available for purchase and tickets are $20 in advance, $25 at the door and $15 with valid military ID. Designated drivers are $5 and receive complimentary soda and water.
Also watch for events popping up during the 7th Annual Washington Cider Week, which runs from September 7-September 17.
Thurston County's history with brewing is long – over a century in the making. But, here in 2017, we are seeing a resurgence of appreciate for the craft of making small batch beer, wine, spirits and ciders. The artisans bringing these to us are our friends, neighbors and fellow beverage lovers who have followed their dreams to create a business from their passion.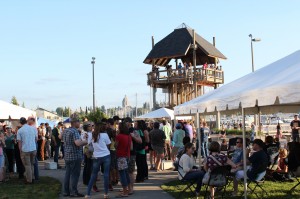 For those looking to learn more about joining their ranks and shifting from aficionado to producer, investigate the options at SPSCC's new program. With industry leaders and alongside SPSCC's talented professors, graduates will come out with more than the knowledge of how to brew or distill. They will know how to create a successful enterprise, taking their place in Thurston County history.
Sponsored