The story of how Dr. Sonya Hamberg met her husband-to-be, Shane Whisler, and joined the Lacey Family Dental practice is straight out of a romantic comedy. Sonya and Shane, both born and raised Washingtonians, happened to be in Maui at the same time three years ago. She was at a dental convention and he was in Hawaii on vacation with his family. The two met on the beach and soon realized they lived just an hour from each other. They hit it off immediately.
"When Shane came back, I could tell he had met someone special," says Dr. Jared Persinger, co-owner of Lacey Family Dental and Shane's best friend. "He was so into her, when she started coming down from Seattle it became clear pretty quickly that he had met the one. The fact that he had brought another dentist into his life still makes us all laugh."
A Perfect Match
It turned out that Sonya was not just a perfect match for Shane, but for his best friend's dental clinic as well. Sonya had been practicing for five years up in Seattle, but when Shane popped the question last year, it was time to move.
"They got engaged and Sonya was moving down to the Lacey area and wanted to buy an office," says Jared. "I was initially helping her look for one and realized, 'she would be a great addition to our practice' so last summer she became a partner. And she was actually my dentist by then, I needed a filling a few months earlier and she was the one I asked to treat it!"
Another reason he was pleased to add Sonya to the team is to serve those who prefer to see a female dentist. "Her first year here has been wonderful," he says. "She is really easy to work with and patients took to her immediately. And indeed we have seen an increase in patients who are excited to have a female dentist available."
Already Part of the Family
Sonya and Shane's wedding is August 12 and preparations are in full swing. Jared, of course, is the best man, and Sven her dog is the ring bearer (check him out in the mural!). The ceremony is taking place at Shane's mother's house in Tenino. After the big day, Sonya will be taking Shane's last name to become Dr. Sonya Whisler. While changing a professional name can cause recognition issues, Sonya is finding just the opposite to be true when she tells patients of her upcoming nuptials.
"I keep meeting patients who already know the Whisler family," she says. "Shane's mom, Jenifer, is pretty prominent in the area horse community and their family owns Whisler Communications, a third-generation company in town. So I feel even more connected to the community I love."
The Mural
In celebration of Sonya's first year at Lacey Family Dental and as part of the continued building beautification project, the group unveiled a large mural July 8 at the Lacey BBQ Festival, which can now be found on the south side of their building.
"We love making the building nicer and Lacey even more beautiful," Jared says. "The building was a small four-unit strip mall until a few years ago, with 'For Lease' signs on both sides of empty units. I think now it makes a nicer entry to the Ruddell neighborhood with a cohesive look, plus 'Toothy' our famous giant tooth sculpture and now the mural!"
The mural titled, "A Bird's-Eye Dreamscape Over Lacey," was painted by Seattle-based artist Sarah Forbes, a friend of the dentists. It is the biggest piece she has ever created. The mural is a portrayal of what you would see if you floated thousands of feet up above Lacey from that spot facing north.
There are over 30 images scattered throughout the work including Jared's and Sonya's beloved dogs, our state capitol building, a ferry and orcas in the Puget Sound, a soldier for JBLM, the Tulip Festival in Skagit Valley, and much more. Look closely and you'll see a tiny swimmer in the Hood Canal, that is Sonya's mom. Aberdeen's "Come As You Are" sign is in the bottom corner and Canada gets a maple leaf at the very top.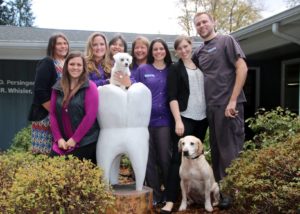 "The mural is here because of how great of a place we live in, and how happy we are to be here," adds Sonya. "This past year has been amazing and we look forward to our many more years to come in Lacey."
To see the mural in all its glory, just go the south parking lot of Lacey Family Dental, 1607 Ruddell Rd SE. For more information about Lacey Family Dental or to make an appointment to see Sonya or Jared, visit the Lacey Family Dental website or call 360-459-1600.
Sponsored