Submitted by Thurston County Board of Commissioners
The Thurston County Fair opens Wednesday, August 2, at 10:00 a.m., and it will be accompanied by some sweltering heat! Temperatures in Thurston County and the Puget Sound region are expected to exceed 100 degrees.
Fortunately, the County Fair is a great way to stay cool and beat the heat!
There's enough shade, air conditioning, shaved ice, cider slushies, cereal milkshakes and ice cold flavored lemonade for the whole herd!
Cool off in the shade listening to a Live & Local concert series, or enjoy looking at all the blossoms in the fair ground's air conditioned floral building.
The Live & Local concert series line up and other entertainment information can be found at the Thurston County Fair website by clicking on the "Entertainment" tab.
Fair events staff is setting up additional shaded areas, misters, and fans throughout the fairgrounds to help visitors beat the heat.
Stay cool and miss the rush with discount advance purchase fair passes and carnival ride armbands. You'll have to hurry though—discounts on advance purchase carnival armbands for this year's fair end on Tuesday, Aug 1.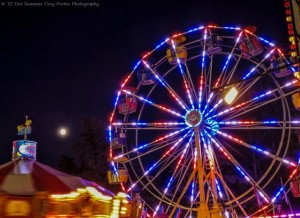 WHAT: Discount Advance Purchase Fair Passes & Carnival Ride Armbands
One-day unlimited carnival rides armband advance purchase — $25 Ends August 1! (Gate price $30)
Season Pass (40 percent off the daily admission rate) — $10 to $21
Children ages 5 and under are always FREE!
WHEN: On sale now through Tuesday August 1.
WHERE: Thurston County Fair Office at 3054 Carpenter Road SE in Lacey, 98503
Additional savings include the return of
One Buck Wednesday on August 2, where admission is just $1 per person when you bring a non-perishable food donation for the Thurston County Food Bank. Tons of other $1 deals are featured inside the fair.
Kid's Day Thursday, Aug 3. Kids 14 and under pay just $2 for admission, and carnival armbands that get you unlimited carnival rides for the day are buy-one-get-one free for your buddy (both buddies must be present at time of purchase). Don't forget, admission for kids 5 and under is always FREE at the fair!
Military Appreciation Day on Friday, Aug 4. Active duty and retired military personnel and their families can get $2 admission per person to the fair with your military ID.
The key to staying cool is at the County Fair, and with this tip from the Thurston County Emergency Management. Keep a cool head and remember the basics: drink plenty of fluids; stay in the shade; and use sunscreen, even if you're outside for only a few minutes.
To learn more about this year's events, entertainment and exhibits, contact the Thurston County Fair Office at 360-786-5453 or visit the Thurston County Fair website.