There is something truly magical about backpacking in the Pacific Northwest during the summer months. As clear skies show off the universe above, we find ourselves camping under trees, along the coast or next to waterways, enjoying the seemingly endless beauty found in our corner of the world.

With thousands of miles of trails leading to hundreds of backcountry camping sites, the Pacific Northwest makes finding a family-friendly backpacking destination like searching for a needle in a haystack. Luckily, we have a handful of backpacking trips that will be perfect for families hoping to get deeper into the wilderness this summer and to experience some place awesome. As always, when heading out into nature, be prepared, follow all Leave No Trace Principles and make sure you have the proper permits needed.
Lena Lake in Olympic National Forest
This is probably one of the most appealing, primitive backpacking destinations close to Olympia and one of the classic family trails on the Olympic Peninsula. Lower Lena Lake is only a seven-mile, round trip hike, but it leads to a breathtaking body of water that is a popular place for first time backpackers. Just an hour and 15 minutes from Olympia, the trailhead is well-marked, and the path to the campsites along the lake is easy to follow. Lower Lena Lake also makes for a good base camp for those hoping to hike up to the often-overlooked trail to Upper Lena Lake. While steep, this is a fantastic addition to your backpacking and camping adventures for families with older kids. No reservations are needed at Lower Lena Lake, but be aware that the campsites fill up quickly on weekends. 
Enchanted Valley in Olympic National Park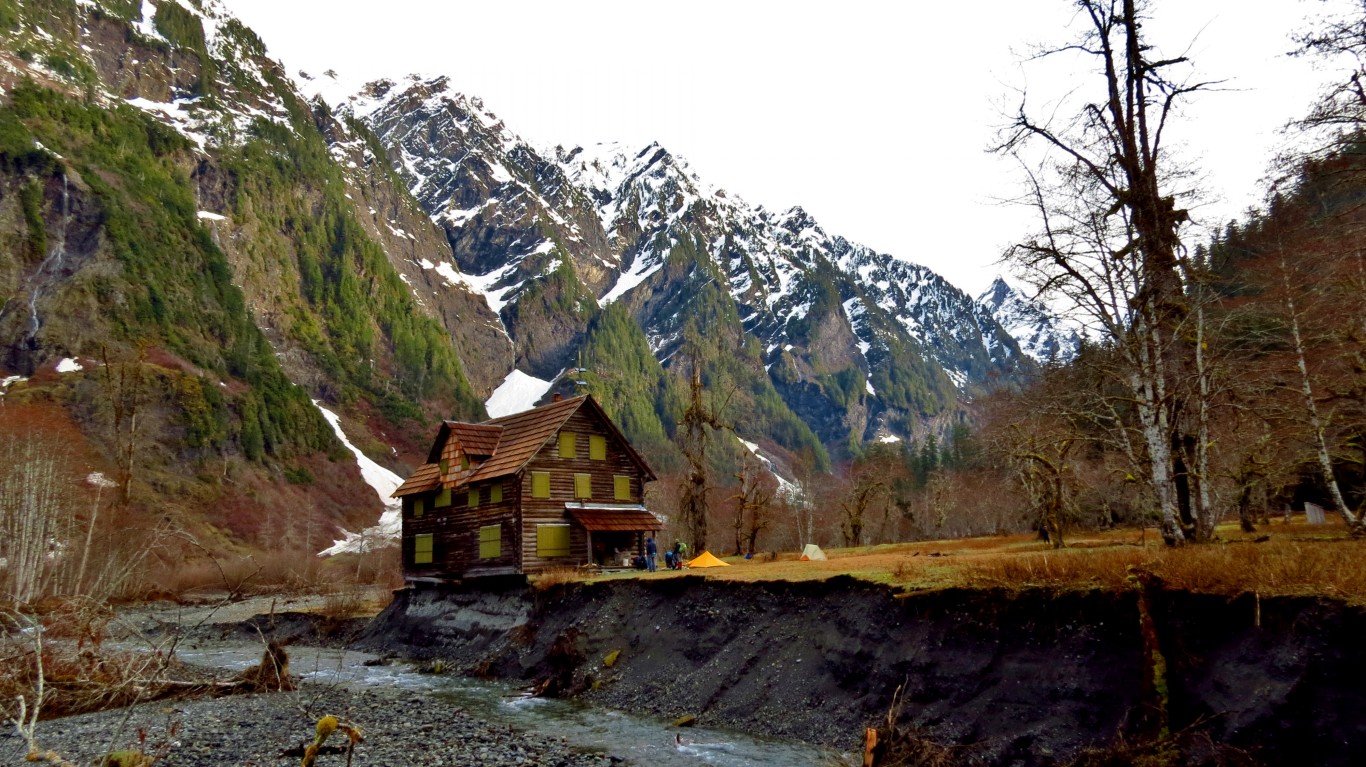 At 27 miles round trip, the distance of the Enchanted Valley backpacking trip may scare some away. However, located deep in the Quinault Rainforest, this is one of the most iconic backpacking locations in Washington State. Passing over rivers and creeks and working your way through a breathtaking, old-growth wilderness, backpackers who reach the Enchanted Valley are rewarded with breathtaking views of mountains. Hiking through tall trees and over a pristine river, you will eventually reach this incredible valley and historic chalet. Offering numerous camping areas before Enchanted Valley, the journey in means you can easily approach at your leisure. Most take three or four days to enjoy the trip fully while others power through as a quick overnight trip. Although backcountry reservations are not required, please check with Olympic National Park's Wilderness Information Center to ensure you are able to take your trip.
Ozette Triangle in Olympic National Park
No backpacking experience is complete without a trip to the rugged and wild Olympic coast. Many consider the Ozette Triangle to be the classic backpacking trip along the Pacific, and it is tough to disagree with that assessment. For a total of nine miles, this trail takes you from the remote Ozette Lake to a stretch of coast full of tide pools, sea stacks and ancient petroglyphs carved in rocks. For the best trip begin on the north trail and hike south on the beach. The trail starts out, wandering three miles through coastal vegetation, often on wooden boardwalks, before reaching the wilderness coastline. Halfway down the three-mile stretch of beach, you will reach a place called Wedding Rocks where petroglyphs have been carved on the sea stack. While not marked, a path will be visible there on low tide. Please look, but do not touch these incredible relics. Camping here in the summer requires a reservation with the park, and bear canisters are also demanded to keep the raccoons out of your food. For more classic Olympic National Park backpacking destinations, follow this link.
Greenwater and Echo Lakes near Mount Rainier
At 14 miles this out-and-back backpacking destination is a local favorite and a perfect introduction to the beauty of the Cascade Mountains. Popular as a day hike in the summer months, the two mile trail to Greenwater Lake is attempted by most of the people you will encounter. Those hoping for an actual backpacking trip should continue up for five more miles and set up a tent at Echo Lake. Perfect for hanging out by the lake, swimming or just wandering in nature, Echo Lake is a large and gorgeous destination for families of all ages. Skirting the Green River the entire time, the path gets steeper the more you hike, which is normal for a long trip in the Cascades. Reservations are not needed, but a call to the Mt. Baker-Snoqualmie Forest Service is a good idea for updated conditions.
Summerland at Mount Rainier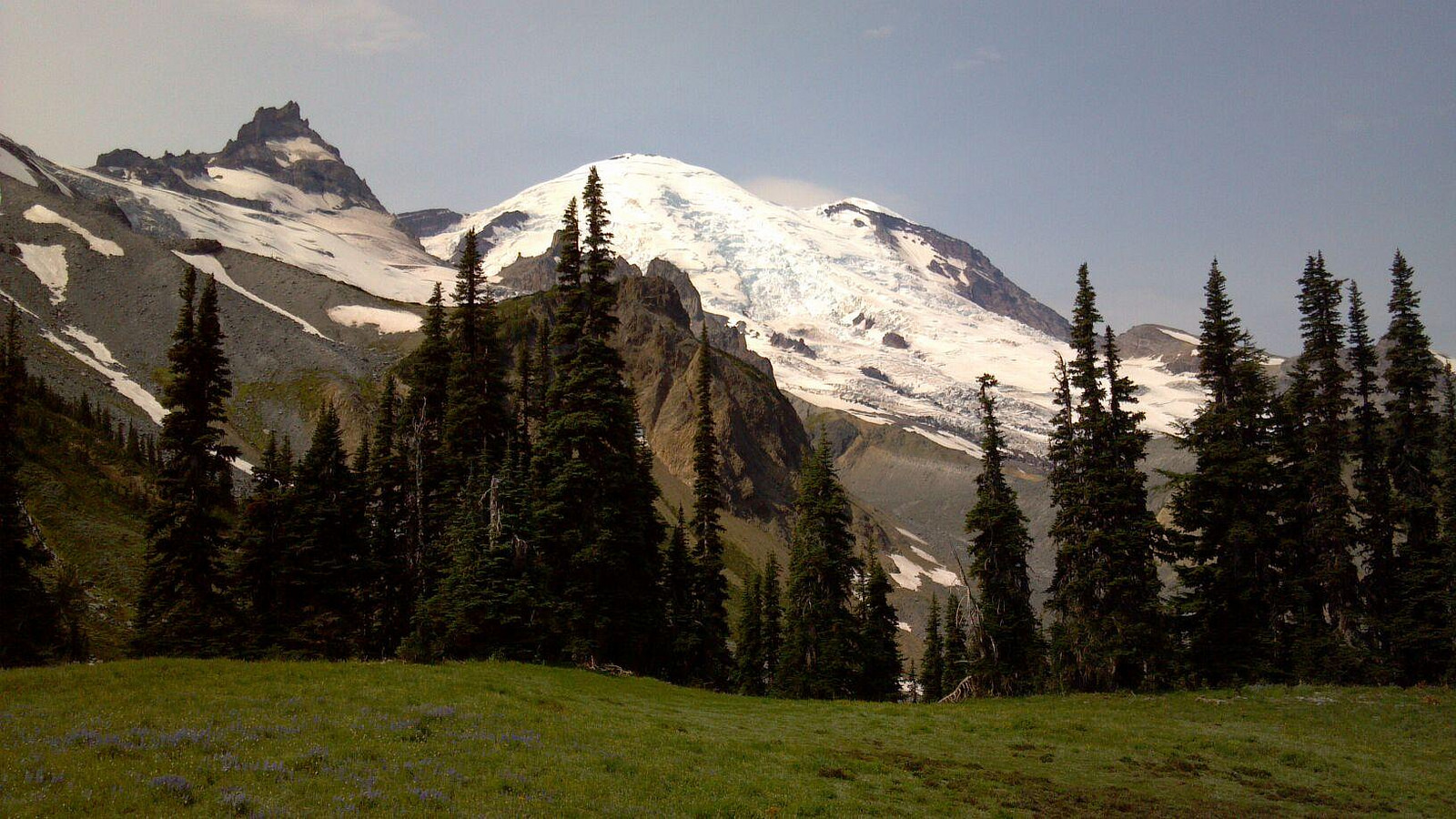 Finally, a backpacking trip in Mount Rainier National Park is an experience every nature lover needs at least once in life. While there are dozens of destinations that are gorgeous in the park, one of the classics is a backpacking trip up to Summerland. Starting below Sunrise, the 8.4 mile, round-trip hike involves one of the most gorgeous trails in the park. It starts in the forest before climbing up to the first viewpoint where the mountain shows off its glaciers and the entire volcano in a way few typically see. Gaining 2,100 feet in elevation, the trail is steep but short enough to be appealing to most levels of backpackers. The region is incredibly popular, as wildflowers erupt around the numerous camping areas and sections of trail. Before heading out on this trip, make sure you plan ahead and get your required permits and information about current conditions from a wilderness information center, a ranger stations or visitor center in the park.