Healing Hearts Ranch and its partner nonprofit HeartStrides were created by Kristy Dees and Jim Telloian after their daughter Magn's life was dramatically changed through therapeutic riding.
Born with Down syndrome, Magn was so significantly impacted by riding that Kristy and Jim decided they wanted to do the same for others with disabilities. Now, HeartStrides is expanding its offerings to reach more people, including adults, who could benefit from the unique power of a horse.
"I found that the children with disabilities really had huge changes in self-awareness and relationships," explains Kristy. "I am in long-term recovery, and so is my husband. I really saw what changes the horses made in both of us and how it helped our relationship – not only to ourselves, but with each other. I've always wanted to offer equine-assisted mental health and recovery support, and now we've been able to branch out into those areas."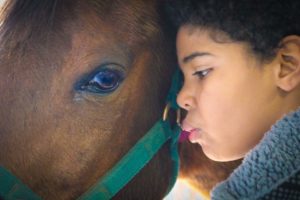 HeartStrides is still offering therapeutic riding, now through private lessons only. This allowed them to expand their service offerings to help even more people. Therapeutic riding utilizes the movement of the horse while riding. Equine-assisted learning and equine recovery support teach people how to connect to themselves and the people around them and how to live authentically. "It's personal growth oriented," Kristy explains.
The following are their new programs.
Equine-Assisted Youth Peer Support (EAYPS)
Kristy is a certified peer counselor and in the past has worked with a probation counselor who brought youth to the farm. The officer was so amazed by the profound changes, she brought her whole team to the ranch and then asked if she could bring out kids regularly. Kristy knew she had to get the program going, and, thanks to a 2017 grant awarded to them by the Treatment Sales Tax board, she was able to.
"The horses make great peer models," says Kristy. "Horses are authentic. They want to be present and be connected. They want to have their relationships be healthy and be in a calm, balanced mental state. So they can model what recovery looks like."
One youth who came to HeartStrides did not know what it was like to be still in his own mind. Kristy paired him with a very calm, quiet horse and when she entered the stall, the boy asked Kristy, "Do you feel it?" She asked him, "What?" and he responded, "It's really calm and still." Kristy suggested that this horse picked him. He knew he needed this. Kristy says that she was pretty sure that was the first time this child had ever felt calmness. His mother shared he was much calmer for two days after his experience as well.
The EAYPS is a six-week program on Wednesday evenings from 6:00 to 7:30 p.m., offered four times a year. The class teaches the following core values: honesty, hope, trust, courage, transparency, willingness, humility, forgiveness, accountability, perseverance, spiritual awareness and gratitude.
Horse Wisdom Weekend
Thanks to a one-time, anonymous donor, HeartStrides was able to host a free, equine-guided, 12-step recovery weekend for women this past May. The two-day program was full with 15 participants. Every single one of them asked to come back, and many of them requested family programs as well. HeartStrides will offer this weekend again in the future.
"The horses make such a huge difference. You can't fake it with a horse – they are really good at making us honor our emotions," says Kristy. "If you aren't genuine, the horse won't work with you. So you are rewarded for being authentic, honoring your emotions and saying what's really going on."
Operation THRIVE Warrior Horsemanship
Last year Kristy developed two pilot programs for active duty military and veterans. For one, she partners with another nonprofit, which brings soldiers in for Hippotherapy. In this case, occupational physical therapy utilizes the horses' movements for those wounded in combat or training. Kristy is the certified instructor for this program.
As a result, HeartStrides started Operation THRIVE Warrior Horsemanship. THRIVE stands for "Teaching Horsemanship, Resiliency, Virtue and Empowerment." They are offering two clinics this summer, August 4-6 and 11-13.
Tracie Lamie is a HeartStrides volunteer who is also a veteran. She went through the Horsemanship 101 class and Operation THRIVE. "It was very emotional to share my story with complete strangers and accept my limitations and disabilities," says Tracie. "But I learned it isn't my identity, and it's not limiting me anymore. Her program has empowered me. I just have nothing but great love and respect for Kristy and her herd; it's been amazing."
Healing Hearts Ranch is the for-profit side of the business. It offers Horsemanship 101 classes to anyone wanting to learn more about horses. Monies from this class help HeartStrides operate when funding is tight. You can sign-up for these classes through the Lacey Parks and Recreation.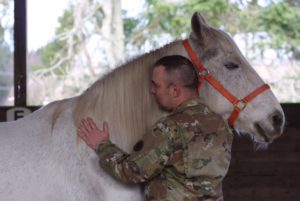 "I know we are on the road that my horses and I are meant to travel," Kristy says. "And we really rely on people's generosity to keep our programs going." For example, Jack Cameron donated a sizable amount for many of their programs and also volunteers at the stables. He waters the arena, sweeps the barn and even drove the pooper-scooper in the Fourth of July Parade. For him, it is about helping a program that he has seen impact so many.
HeartStrides relies heavily on donations and volunteers. Both are needed and welcome. To donate or volunteer, contact Kristy on the HeartStrides website, via email at heartstrides@gmail.com or via phone 360-701-6001.