Early on a Monday morning in July, a bunch of smiling five to seven-year-olds gather on the putting green outside the Olympia Country and Golf Club Pro Shop. There are a dozen kids, each with a putter in hand, taking the second in a seven-week series of lessons designed to introduce them to the game of golf.
If you ask any of these youngsters if they like what they are doing, they will answer with a hearty,  "Yes." If you ask them why, the answer is unanimous: "It's fun."

Mark Jensen is the pro at the Olympia Country and Golf Club, and he has been directing the junior program for 12 of the 15 years it has been in existence. He knows the kids have a good time, but he also is confident that the fun has a purpose. "Junior golf has always been a passionate thing for me," he says. "It's such a good sport for kids. It teaches them humility and honesty. It's a sport for life." As he points out, in team sports there are referees or umpires making the calls, but in golf players have to be honest if they want to become better.
"You have just yourself to blame if you don't play well and yourself to be proud of when you do well. But, if you accidentally have a rules violation, it's game from the standpoint that you have to call penalties on yourself," Jensen explains.
Many of the kids who learned golf through the program wind up on their high school teams, and a number have gone on to play at the collegiate level. But that is not the ultimate goal. Jensen and his staff, many of whom grew up in the program, know that golf is a lifetime sport. They want to instill a love for the game. "The majority of these kids will never play in college," says Jensen. "They are never going to turn professional. But, when they're grown up and going into business, golf is in their back pocket. They've already learned it."
Chris Levesque, whose daughters Adrianna and Lola participate, has a more pragmatic attitude. "Female golf scholarships are the number one unused scholarship. If you get them started young, they should be able to just coast right through it. Plus, it's something they'll use their whole life."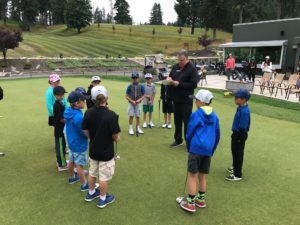 The Levesque girls are part of what Jensen calls the 5-holer and 9-holer groups. The youngest children, the ones who start first in the morning, are the 3-holers. The group names come from the number of holes each class level plays at the end of their lessons. Generally, the groups are divided by age: 5-7, 8-9, and 10-12 although some advanced players sometimes move up, and children as old as 14 or 15 have participated. This summer approximately 60 golfers are enrolled.
Each week the instructors Jensen has on his staff focus their lessons on a new skill: putting, chipping, full swing on the driving range, rules and etiquette. Drills and contests make the instruction move along, and at the end of the hour-long lesson, small groups head out onto the course to play. Parent volunteers are instrumental in helping with this portion of the program as the staff members stay back to begin instruction with the next age group. At the end of the summer, a junior tournament takes place for everyone who wants to play.
Mitch Girard is an assistant pro at the club, so he also teaches adults how to play. With adults there is a certain level of frustration, but with the kids, he suggests, "… you see them hit a good shot, and the expressions they make, they're just so happy. The kids are out just having fun. They're meeting new friends."
After the 3-holer group moves on to play a round, the instructors are able to take a quick break before the 5-hole group descends. Jensen divides them into threesomes and foursomes. On this particular morning one little girl looked at another as they headed out in separate groups and said in parting, "We're not golfing together today, but I'm still your friend, okay," and then the two embraced in a tight hug. New friends, indeed.
During their break the other instructors gathered to chat for a few moments. A few of them grew up in the program. Connor McCauley started golfing at age nine. He has been working at the country club for two summers. Now 19, he is a graduate of Olympia High School where he played on the golf team. Trace Rickard is also an Olympia High School graduate. Although he was never keen on competition, he does like to play for fun.
Greysen Hyvaz, 19, went to Capital High School where he played for four years. This is his third summer teaching junior golfers. He has been playing since he was three, but teaching gives him a new appreciation for the game. "Last year one little boy struggled so much, and this year he came out and sank his first four putts. It's nice to see the progression and know that we helped," he offers.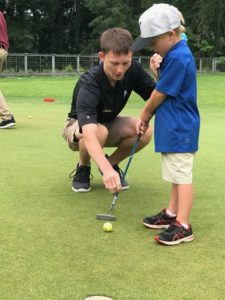 Gabe Barnes, age 18, was a four-year stand out on Capital's golf team. Barnes grew up in the program and began competing seriously when he was in eighth grade. He recently was awarded a Division 1 scholarship to play at Cal State Northridge outside of Los Angeles.
Zach Adolphsen is 14 and a volunteer. He just recently learned how to play himself, and he is planning on joining the Capital team next spring. Because he is so new to the game, Adolphsen is enjoying learning more about the sport, hanging out with the instructors and discovering the joy of traveling and playing on different courses, too.
Zach's enthusiasm is matched by the young golfers.
Vinny, age eight, plays a lot of sports. "I like golfing on the course because it's big and it's fun. I've been golfing since I was like four or three," he explains.
Nine-year-old Lola plays a lot of other sports, too, and she and her dad and a neighbor played golf just last night. "It's fun to do challenges and get it in the hole," she comments.
Twelve-year-old Cooper has been taking lessons for six summers now. He proudly says that he played 18 holes with his father just the day before. And then there are those two words again: "It's fun!"
The summer program and junior lessons at the Olympia Golf and Country Club are available to children and grandchildren of both social and golf members of the club. Junior memberships are also available to those who are age ten and older.