Kennon Maurer has been an entrepreneur all his life. Not content with just academics and a couple of extra-curricular activities, Maurer went into business for himself. By the time he graduated from high school, he had two businesses: lawn care and professional piano playing.

The lawn care business came first. It had its start when he was in fourth grade, and his uncle came over to do some work at their house. "He asked if I would help him and he said he would give me $20 to do so," says Maurer. "I went to my room and I wrote a little contract saying that 'If I work for you, you'll give me $20,' and I had him sign it and everything."
From there Maurer branched out and began to offer his lawn services to his neighbors. After a few years, he wanted more clients. "I started advertising on Facebook, Angie's List and Craigslist," he says, "And then from there I got a whole bunch of clients all over Thurston County."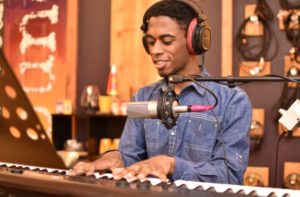 Lawn care may have been his first business, but his favorite of the two is his piano business. "My motto is: entertain and spread joy to others through music," he says. Playing piano professionally allows him many opportunities to do this. Maurer has played piano for weddings, cocktail parties, birthday parties and holiday events. He gives lessons, performs with the Evergreen Christian Community worship band and has played with multiple bands in Seattle. Any one of these things could be considered his favorite part of being a musician, "as long as I'm entertaining and spreading joy to others," he says.
Maurer has been a musician for a long time. He has experience singing, as well as playing trumpet, guitar and piano, but piano is his main focus "because of the range of the instrument," he says. "Piano helps me to be more versatile." This flexibility is reflected in the music he likes to play; when playing by himself, he enjoys jazz the most, but when playing in a band, he prefers rock.
Maurer's experience with professional musicianship started when he was 14. "I started playing in Seattle at clubs with a band called The Grey Wharf. I was actually their trumpet player," he says. From there "I got hired to be in another band, called The Calaca Kings, as their piano player." However, the business side of music really materialized for Maurer when he played piano at his brother's wedding after which other people began to hire him for their events. That is also when he made a website and started to hand out business cards. He accomplished all of this while still attending Tumwater High School and participating in the Running Start program at South Puget Sound Community College (SPSCC).
"I had to manage my time really well in order to make everything work," says Maurer, who played football, basketball and ran track on top of managing his two businesses and going to school. "If I had an event coming up, I would set a couple of hours aside and practice for the event," he says, even on days when he got home late due to sports. Now that he has graduated from high school, he has shifted his academic focus to SPSCC, where he is currently working on the prerequisite classes he needs to go to school to become a physical therapist. He thinks he will probably also play music for his whole life.
When hired to play for an event, Maurer likes to have about two weeks to prepare. He meets with clients, so he can discuss the event and music choices. "We… figure out a set list of songs that I would play or a genre that they would want," he says. Then he goes home and practices. Examples of Maurer's musical performances are available on his website and by listening on SoundCloud.
To hire Kennon Maurer for lawn care or piano performance, visit his website, call 360-789-4979 or drop him an email.
"I like being able to help people or bring joy to other people," says Maurer. He has found a way to do both – to help and to bring joy – through his two businesses.