Almost every single memory I have of my father involves him sanding on a piece of wood, working on his next piece of sculpture. At Columbus Park on Black Lake, my childhood summer haunt, he would sit on the beach, carving while I swam. Other kids would come up and ask him what he was working on, always curious.
However, if you meet long-time Olympia resident, Michael Reichmann, you probably would not immediately think, now there is an artist. He does not talk about his artwork and you will not find his pieces in any gallery around town. However, he has spent nearly his whole life perfecting his craft and I am lucky enough to get to tell his story.
Growing up in Detroit, Michigan in a blue-collar family, Michael revealed that art was not exactly at the center of his world. In fact, during elementary school, he was not even one of those kids demonstrating a vibrant creativity. "My teacher didn't like that I always drew a square and triangle and five stick figures. That was my family," he recalls.
So, the next day he took all the crayons in the box, covered the paper, and told her it was the back of a bus. This landed him some time standing in the corner. Fast forward to his high school years in an elective art class. "My teacher gave me a D- and said you have no artistic ability in your body whatsoever," Michael says, laughing.
Lacking support or formal training did not stop Michael from developing an interest in the art world. After seeing the famous "Seated King and Queen" by sculptor Henry Moore, he explains his life was forever changed. "It was the most overwhelming piece of sculpture I've ever seen, and that's when I decided what I wanted to do."
It is not easy to just go out and become an artist, but Michael must have known there was talent within him somewhere – he just had to find it. Thankfully, he had a father who was more than willing to help. With a small wood shop in his garage, Michael's dad showed him how to carve an airplane propeller and how to work with wood. It was this first experience that really shaped who he would become.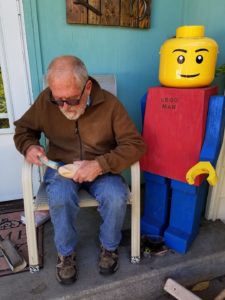 What followed were some rudimentary pieces that were, in Michael's words, "pretty bad." But he was just beginning to learn his craft. Any good artist will tell you he did not just wake up overnight knowing how to use his talent. But through these early experiences Michael began to learn to read the wood. "From the beginning it's always been about the wood. It's magic. To me you have to have that respect for the wood. It's not what you've got, it's in the material. You just uncover it. I can't tell you where it comes from," Michael explains.
While where it comes from may be a mystery, the end result is always an amazing piece of artwork. Michael tells me he is influenced by the Inuit culture, forms in nature and wildlife – all things he likes. It is that simple. "When I do a piece, I want people to pick that up and feel it. I want people just to appreciate it as an abstract piece. There's no deeper meaning. It's not more complicated than that. So many of my sculptures have changed as I'm in the process of doing them. Either I change or the wood does."
Even though Michael's pieces may not be intellectually complex, it does not mean they are anything short of amazing. Yes, he has had his pieces displayed in great galleries and taken home awards from juried art shows, but that is not what drives him. "I just carve. That's what I do. I have a storage unit full of all these pieces that I'm not sure what I'll do with," Michael says. What he usually does is give his pieces away, whether it is a thank you to his barber or a Christmas gift to a family member. "It's not that it's so great, it's just the fact that someone would make a piece of art and give it to you. That's what we all should be doing. It's the idea that you're making people aware of art," Michael explains.
Aside from abstract wood sculpture, Michael also makes half-models of boats, primarily sailboats, all from line drawings. Here, his lifelong love of sailing combines with his background as an aerospace machinist, and he is able to create just about anything. "Sailboats to me are as beautiful as sculptures – it's all about the lines and form," Michael says.
And I have seen firsthand how the half-models get the most attention in his home because people can easily identify with them. They are also some of his favorites to complete because he can relax and not have to come up with the idea, he says.
At the age of seventy-three relaxing is good, but even though Michael is slowing down, he is still making new pieces all the time. "What I can do before I die will be wonderful, and that's all. That's it. You do it just because you can do it," Michael says.
He may not be a big successful artist, but that does not matter to him. "This is something that is so overwhelming and compelling. It's not that you want to show other people. It's that you don't have a choice. I am so lucky to have been given this gift to carve because no matter where I am, what I'm doing, if I'm depressed, I'm always thinking of starting something else. Very few people in the world get to have that creative outlet. It balances you out," Michael says.
And what a fine balance it is.