While traffic circles, landscaping, pathways, electrical systems and site layout, are all elements of an educational institution, they are probably things you don't give much thought to – unless you are a parent at the first day of a new school trying to navigate the traffic circle or watch your child walk to the door from the car. However, Lacey-based engineering firm SCJ Alliance puts a great deal of thought into these exact things to ensure all students and families have a better educational experience.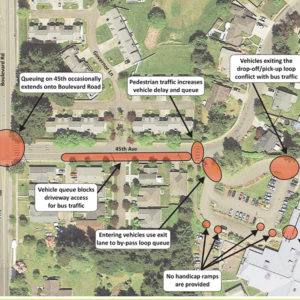 When working on an educational project – whether landscape architecture, site development or transportation – SCJ Alliance has two main concerns, safety and learning. "Education projects always feel particularly meaningful because we are supporting the betterment of our community. It's good for the soul," says Jean Carr, senior principal at SCJ Alliance. "We want to incorporate both safety and learning into our designs as much as we can."
"So often it's retrofitting older schools that no longer work," continues Carr. "We've come a long way when it comes to planning things for the safety of our students. Like how to get kids dropped off and into the school without crossing traffic and other hazards."
SCJ Alliance did an extensive two-year project for Bordeaux Elementary in Shelton that included numerous safety considerations ranging from sanitary sewer main extensions to crosswalks. Principal Carey Murray was delighted by the results, having worried about the safety of the students on the 1.2-mile stretch of road for as long she could remember. But no longer, she said, at the dedication of the new route. They also completed traffic and circulation projects at Tumwater Hill Elementary, Centennial Elementary, Michael T. Simmons Elementary, and Garfield Elementary, upgrading safety and efficiency.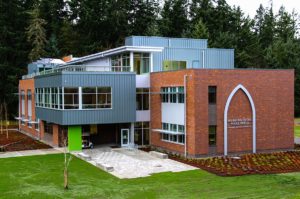 The team at SCJ Alliance understands that getting these projects right is about more than professional knowledge. They also need to understand children. "Understanding best practices, especially when you are talking about the vehicle-pedestrian-building interface where the three come together, is very important when working on projects like this," says Carr. "And then, realizing that kids move erratically and are not necessarily going to stay on the pathways or move in a straight line is vitally important to design as well. Minimizing conflict points between kids and cars is critical."
Ross Jarvis, civil engineer manager for SCJ Alliance says many of the design decisions stem from past experiences on other school projects, but also from dropping off their own kids at school and seeing how planning affects them.
When it comes to enhancing learning through design, SCJ Alliance has plenty of experience. At Saint Martin's University they were part of the design team for the new engineering building.  The design team, working together, came up with ideas to use the building and grounds as a learning tool.  Features included leaving building systems exposed so teaches can show students real-life applications of concepts learned in class.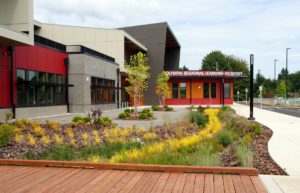 At the Olympia Learning Academy, the SCJ Alliance team led by Jeff Glander, principal landscape architect, created a green landscape that can be used as a learning environment by teachers. They incorporated rain gardens and biofiltration swales to pre-treat storm water and reduce the amount of storm water runoff. Rain gardens adorn the front of the school, parking lot and between roads on the west and south sides. Native vegetation and plants that clean and filter water were used as well. Finally, SCJ created an interactive play area and a school garden.
Community Supporters
SCJ Alliance engages in many volunteer projects year-round for students and their families throughout Thurston County as well. The company gives financial support to over 60 organizations in both Thurston and Lewis County where they have offices, in addition to four other locations across the state
"As a firm, we all understand the importance of education," says Carr, who is also the education committee co-chair for the Lacey Chamber. "Engineering, planning and the various other things we do all have high academic standards – they are rigorous programs just to get through, so I think we are all pretty wired to value education. We also each have unique experiences that reinforce that value."  For example, Carr's mother was a teacher.
SCJ Alliance Senior Vice President Bob Jewell's sister was deeply involved in the South Sound Reading Foundation and he has always been passionate about the local non-profit. SCJ Alliance supports SSRF by being the main sponsor each year for their "Readers are Leaders" fundraising breakfast.
SCJ Alliance is also a Partner in Education (PIE) at Salish Middle School. This partnership, organized by North Thurston Public Schools, allows SCJ to sponsor a STEM class each semester. They support the teacher and Amy Head, engineer and vice president at SCJ Alliance, gives guest lectures at the beginning of a unit one or twice a semester.
SCJ Alliance also adopts families at Salish Middle School during Christmas. "Christmas is a big deal for us, we all love it," says Carr. "We want to share that love by adopting families in need. We have a very whimsical tree we decorate that sits in our front lobby and the whole team gets really excited. We usually run out of families and have to go back to the school to ask for more so that everyone on the team can help."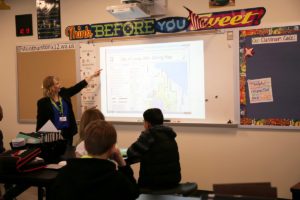 Jason Bruhn, an engineer for SCJ Alliance, locally coordinates MATHCOUNTS, a national middle school coaching and competitive mathematics program that promotes mathematics achievement through a series of fun and engaging "bee" style contests. Bruhn has been the Thurston County chapter coordinator for the National Society of Professional Engineers for 17 years.
SCJ also participates in  Math for Life through the Thurston Chamber. Math for Life is a scavenger hunt for K-12 students to local businesses where they math for a chance to win prizes. In 2016, over 700 students participated. SCJ Alliance team members also volunteer with Lacey Reads, the STEM Fair through Lacey Parks and Rec, and more throughout the year.
For more information on future projects, visit the SCJ Alliance website.
Sponsored